Dec 17, 2010 — by LinuxDevices Staff — from the LinuxDevices Archive — 8 views
Broadcom says it is now sampling a new SoC (system-on-chip) for STBs (set-top boxes) that includes a multithreaded, 1.3GHz MIPS applications processor. The BCM7422 supports full-resolution HD 3D TV, is compatible with 1080p60/50 content distribution, and offers an OpenGL ES 2.0 3D GPU (graphics processing unit), the company says.
Broadcom's 40nm BCM7422, now being manufactured for the company by several different foundries, is said to employ the company's own BRCM 5000 applications processor. The BRCM 5000, further detailed later in this story, is a superscalar MIPS32 CPU that supports two threads, is clocked at 1.3GHz, and first entered production last year in 65nm versions.
According to Broadcom, the BRCM 5000 itself provides 3000 DMIPS (Dhrystone MIPS) of processing performance, and is supported on the BCM7422 by multiple subsystem processors that, collectively, provide a further 3000 DMIPS. (Unfortunately, the company has not yet provided a block diagram.)
One of these subsystem processors, itself delivering 400 DMIPS, provides MoCA (multimedia over coax) networking and a DNLA (digital living network alliance) server/player software stack. These will permit BCM7422-based STBs to support multi-room DVR services for five or more devices, Broadcom says, adding that a lower-cost version of its SoC without the MoCA subsystem will be offered as the BCM7421.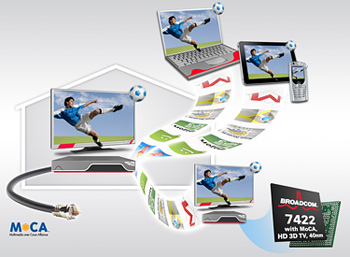 Broadcom's BCM7422 can provide multi-room DVR services
It's said the BCM7422 also features a customized high-performance (430MHz) VLIW (very long instructional word) DSP used mainly for audio processing. This is also available to support any video codec and other miscellaneous signal processing applications, Broadcom says.
As a result of all this, the BCM7422 readily operates with today's television or satellite broadcasts at up to 1080p, and with Blu-ray content. But Broadcom adds that it also works with high-definition progressive-scan formats delivering 50 or 60 frames per second (1080p50 and 1080p60).
The BCM7422 is further said to support both standards used to enable "full-resolution" 3D TV, SVC (scalable video coding) and MVC (multiview video coding). MVC, the spec used in 3D Blu-ray Disc players, uses two separate full HD streams, whereas SVC uses an "enhancement" stream for the second-eye image that can reportedly reduce bandwidth consumption by 40 percent.
Broadcom adds that the BCM7422 also includes a 2D graphics accelerator, plus a 3D graphics accelerator that supports OpenGL ES 2.0 and can push 1Gpixels per second. Further touted is "intelligent power management" plus a "unique HD FastRTV acceleration technology" that improves channel change speeds by up to 500 percent.
No information was provided about operating system support, though previous Broadcom SoCs for STBs have supported both Linux and Windows CE. The company did allow that the BCM7422 is "supported by a broad array of time-to-market web-based connected home STB software applications," including Adobe Flash Platform for TV, Webkit HMTL 5.0, Java, Qt, DLNA 1.5, and DirectFB application libraries.
BRCM 5000 background
Broadcom provides little information on its website about its BRCM 5000 applications processor, but does host and link to an informative article [PDF format] by Microprocessor Report editorial director Linley Gwennap. According to Gwennap, Broadcom does not simply license CPUs from MIPS, it also develops its own — employing them inside a wide variety of SoCs.
Gwennap adds that Broadcom is already hard at work on its next CPU, code-named "Frenzy." Set to begin sampling during 2012, this design will use instruction reordering and issue four instructions per cycle, greatly increasing both single-thread and multithread performance, and "looks like it will outperform every licensable CPU that MIPS has yet announced."
Regarding the BRCM 5000, which was originally code-named "Zephyr," Gwennap writes that it's a superscalar MIPS32 CPU that supports two threads (like Intel's Atom, but unlike ARM's Cortex-A9). It first entered production in the third quarter of last year in Broadcom's 65nm BCM7420, he adds.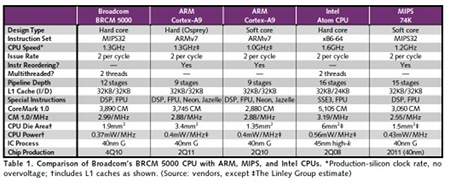 A comparison of the BRCM 5000 with the Atom, Cortex-A9, and MIPS 74K
Source: Microprocessor Report via Broadcom
(Click to enlarge)
Gwennap compares (above) the BRCM 5000 to the Atom, Cortex-A9, and MIPS 74K, noting that the 5000 is more power-efficient than the Atom and uses less die area. Its performance using two threads is better than that of the A9 or 74K, and it uses less power than they do too, he claims.
Further information
Limited further information is available on Broadcom's product page for the BCM7422. Linley Gwennap provides a different summary of information about the BRCM 5000 in this EETimes article.
---
This article was originally published on LinuxDevices.com and has been donated to the open source community by QuinStreet Inc. Please visit LinuxToday.com for up-to-date news and articles about Linux and open source.