Jul 2, 2010 — by Eric Brown — from the LinuxDevices Archive — 3 views
Merimobiles has begun selling a seven-inch tablet for $200 that dual boots Android 2.1 and Windows CE 6.0. The Witstech A81-E is based on an unnamed ARM Cortex-A8-based processor clocked to 600MHz, and is equipped with 256MB RAM, 2GB flash, Wi-Fi, Bluetooth, and an optional GPS receiver, says the online retailer.
According to multiple independent reports, including one from MobileRead, the Witstech A81-E is essentially the same device as the Wirelession W1060, which was released in December for Windows CE 6.0. Aside from the addition of Android, the spec sheets certainly match up closely. The only difference we can see is that the W1060 claimed to have 802.11b/g/n capability whereas the Witstech A81-E lists only 802.11/b/g wireless capability.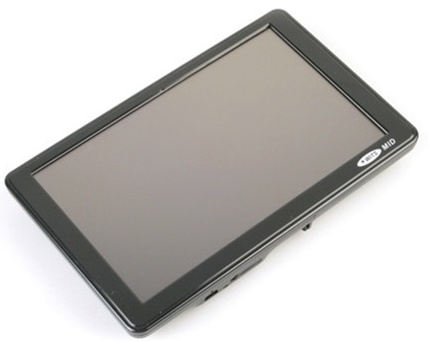 Witstech A81-E
A review of the W1060 posted by
MobileRead
last November said that the similar Witstech A81, which formed the basis for the Wirelession W1060, was moving to an Android-ready dual-boot model that would add a multitouch-ready capacitive screen, as well as accelerometers. However, neither feature is mentioned by
Merimobiles.
The Witstech A81-E dual boots Android 2.1 or Windows CE 6.0 from an unnamed ARM Cortex-A8 processor clocked to 600MHz. The tablet is further equipped with 256MB RAM, 2GB flash, and a microSD card capable of up to a 16GB, which costs $40 extra at Merimobiles.
According to Merimobiles, the W1060 has a seven-inch, backlit touchscreen display that provides a desktop 800 pixels wide and 480 pixels high. Wi-Fi and Bluetooth are standard, and a GPS module costs $15 extra, says Merimobiles.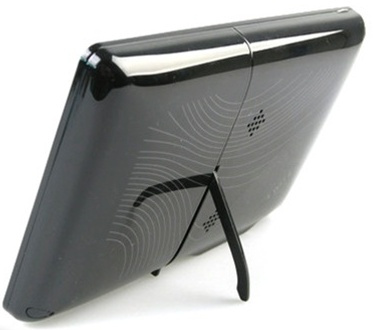 Rear view of Witstech A81-E
Video support includes AVI, MPEG4, MPEG2, WMV, and H.264, but there's no camera for taking either stills or video. Audio playback, meanwhile, encompasses AVI and MP3 formats, and the device sports a headphone jack and dual speakers, claimed to provide "3D surround" sound.
Merimobiles lists a number of bundled applications, but it's not always clear which are available on which OS installation. The only Android-specific mentions are "Google apps" and "Google maps." The A81-E is also said to offer a web browser, email, productivity apps, a photo viewer, and e-reading functions. There's no mention of ePUB e-book support, but the tablet supports PDF files, says Merimobiles.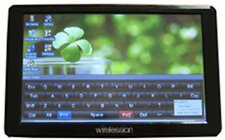 Like the Windows CE-only W1060, the A81-E is equipped with a 3000mAh battery. The W1060 (pictured at right) is claimed five to eight hours of battery life, which was was confirmed both by MobileRead's review, as well as an earlier review published by the Carrypad website, that also claimed that the device booted up in under 12 seconds, and provided good video frame rates.
Like the MobileRead review, which reported 13-14 second boot-times, the Carrypad review complained about sluggish web browsing. This was apparently because of some memory problems that hadn't been resolved in the W1060's firmware.
Otherwise, the MobileRead review found the W1060 to provide good performance, including video performance. The review also praised the display, including touch response. The reviewer particularly liked the audio capability, although the headphone output was preferred to that of the speakers.
MobileRead faulted the "MID," which Wirelession calls the W1060, for its lack of accelerometers and USB Host support, but concluded that if the web browsing problems were fixed, it would be a winner.
Features and specifications listed by Merimobiles for Witstech's A81-E include:
Processor — ARM Cortex-A8 clocked at 600MHz
Memory — 256MB of DDR RAM; 2GB flash
Flash expansion — MicroSD card for up to 16GB
Display — 7-inch touchscreen with 800 x 480 pixel resolution
Wireless communications:

WLAN — 802.11b/g
PAN — Bluetooth
GPS — optional Ublox GPS module

Other I/O — mini USB OTG port
Audio — Stereo headphone output; stereo speakers (500mW each) with 3D sound; I2S codec
Battery — 3000mAh; five to eight hours operation
Dimensions — 7.08 x 4.33 x 0.59 inches (180 x 110 x 15mm)
Weight — 13.75 ounces (0.39kg); spec listed for original W1060 only
Operating system — Dual boots Android 2.1 and Windows CE 6.0
Availability
The Witstech A81-E is currently available at Merimobiles for $200, which is said to be $100 less than its $300 list price. More information may be found here.
At presstime, the link to the China-based Witstech website was broken, but the site should be found here.
The MobileRead review of the Wirelession W1060 may be found here, and the Carrypad review should be here.
---
This article was originally published on LinuxDevices.com and has been donated to the open source community by QuinStreet Inc. Please visit LinuxToday.com for up-to-date news and articles about Linux and open source.