Jul 16, 2010 — by Eric Brown — from the LinuxDevices Archive — views
Sony Ericsson has returned to profitability thanks in part to its Android phones, and it's contemplating dropping its Symbian and Windows Mobile phones, says the Wall Street Journal. The company has found success with its Android-based Xperia X10 and Xperia Mini and Mini Pro, says the story, and the company is now prepping a mid-range Xperia X8 model.
Long-suffering handset maker Sony Ericsson today reported its second quarterly net profit in a row, following several quarters of falling market share and heavy losses, says the Wall Street Journal. The handset vendor has rebounded in part due to severe cost cuts, including slashing its workforce by a third, to around 8,000. However, it has also improved due to its successful launches of Android phones, says the story.
According to the story, Sony Ericsson CEO Bert Nordberg said that his company will make heavy use of Android in forthcoming premium phones, and that the company will probably stop building phones based on either Symbian or Windows Mobile.

Sony Ericsson Xperia X10
Sony Ericcson has had considerable success with its high-end
Xperia X10
smartphone (pictured above), as well as with its scaled-down
Xperia X10 Mini and X10 Mini Pro
models, says the story. Meanwhile, the company is preparing the mid-range Xperia X8 for release in the third quarter (see farther below).
Sony Ericsson's sales volume and market share were said to have fallen in the second quarter from a year ago, but the company managed to make a profit, adds the Journal. Net profit for the three months to June 30 was 12 million Euros or about $15.5 million, compared with a 213 million Euro net loss a year earlier, says the story.
Stockholm-based Sony Ericsson is a joint venture between Sweden's Telefon AB L.M. Ericsson and Japan's Sony Corp., and much of its handset sales are correspondingly focused on Europe and Asia more than the U.S. A Gartner study of first-quarter mobile sales worldwide listed Sony Ericsson in fifth place. Although this was the same position it held the year before, the company suffered the largest drop in sales of any other major vendor save Motorola, which dropped from position five to six in that span.
Sony Ericsson sold about 14.5 million units in 1Q 2009 (5.4 percent share), falling to about 9.9 million units in 1Q 2010, thereby dipping to 3.1 percent share, just above Motorola at 3 percent, says Gartner. Meanwhile, Research in Motion (RIM) leapfrogged both companies in that span to take over fourth place behind LG. Nokia led the handset market, followed by up-and-coming Samsung, says the study.
Xperia X8 fills out the Android product line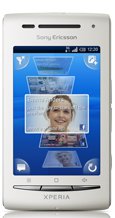 Last month, the Unofficial Sony Ericsson Blog published some photos of what appeared to be a mid-range Xperia, the Xperia X8. The phone was officially announced the day after our item ran, on June 16, and will be available in the third quarter, says the company.
The Xperia X8 features a 600MHz processor, "up to" 128MB RAM (suggesting a base 64MB install), a 2GB memory card, and a microSD slot that can hold up to 16GB, says Sony Ericsson. The phone's three-inch, 480 x 320-pixel touchscreen is slightly larger than the Mini/Mini Pro's 2.5-inch display, and the handset is further equipped with a 3.2-megapixel camera, says Sony Ericsson.
The Xperia X8 supports GSM GPRS/EDGE (850/900/1800/1900), UMTS HSPA (900/2100), and UMTS HSPA (800/850/1900/2100) cellular networks, says Sony Ericsson. The keyboard-less phone also provides Bluetooth, Wi-Fi, aGPS, FM radio, a Micro-USB port, and an audio jack, says the company. Measuring 3.9 x 2.1 x 0.6 inches (99.0 x 54.0 x 15.0mm), the phone is said to weigh 3.7 oz (104.0 g) and offer a 1200mAh battery.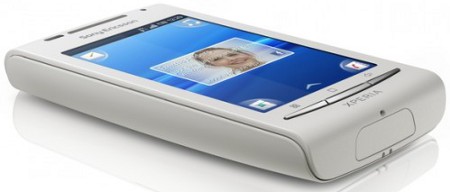 Xperia X8, side view
Buried in the fine print, it comes to light that the phone will debut with the aging Android 1.6. However, the device does offer Google Maps and other Google applications, a third-party nav package, and Android Market access, says the company.
Availability
The Wall Street Journal story on Sony Ericsson's second quarter earnings and Android plans should be here.
The Xperia X8 announcement may be found here, and the web page should be here.
---
This article was originally published on LinuxDevices.com and has been donated to the open source community by QuinStreet Inc. Please visit LinuxToday.com for up-to-date news and articles about Linux and open source.