Jan 27, 2010 — by Eric Brown — from the LinuxDevices Archive — 1 views
Cypress Semiconductor announced a touchscreen device driver for Android and Linux that supports Cypress' TrueTouch touchscreen controllers, complete with "all-points" multi-touch signaling support. Meanwhile, "Cyanogen" has hacked a multi-touch interface for Google's Nexus One phone, and Google is upgrading the Android-based phone's spotty 3G support, says eWEEK.
The TrueTouch controller family supports features including single-touch, multi-touch gesture, and multi-touch all-point support, which "can track an unlimited number of touches," says Cypress (see diagram below). The technology offers noise immunity with patented capacitive sensing, enabling "flawless operation in noisy RF and LCD environments," says the company. The touchscreen technology, including its latest TMA300 controller, is said to support mobile handsets, portable media players (PMPs), and GPS systems, among other products.


TrueTouch modes: single-touch (left), multi-touch (middle), and multi-touch all-point (right)
(Click to enlarge)
Now available for both Android and Linux, the I2C-interface device driver for TrueTouch is said to be backward-compatible for applications written in earlier versions of Android. TrueTouch customers can choose their own LCDs and touch sensors (glass or film), and can develop mechanical designs ranging from flat to curved surfaces of varying thickness, says Cypress.
Cypress Semiconductor also announced it was joining the Open Handset Alliance (OHA), which oversees the open source Android spec. The group now counts some 60 technology and mobile companies among its members.
Stated Dhwani Vyas, VP of the User Interface Business Unit at Cypress, "Our new driver has already enabled customers to rapidly integrate TrueTouch touchscreen controllers into Android-based phones coming to market."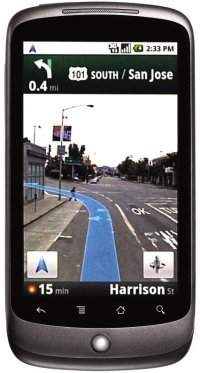 Nexus One gains multi-touch hack
"Who wants multitouch for their N1 browser?" asks well-known Android hacker Cyanogen (Steve Kondik) on the XDA-Developers site. The brief note is followed with the Android 2.1 code required to enable multi-touch capabilities on Google's Nexus One phone (pictured at right). The results of the Cyanogen hack are demonstrated in the Swedroid.se YouTube video shown farther below.
Cyanogen notes that the jailbreak will cause Nexus One owners to lose their bookmarks and browser settings by doing this. Users are also likely to void their warranty.
According to a Clint Boulton story on the hack at our sister site, eWEEK, a few Android devices, such as Verizon's modestly appointed Android 1.5-based HTC Droid Eris, offers active pinch-to-zoom capability. However, neither Verizon's Android 2.0-based Droid by Motorola or the 2.1-based Nexus One offer the feature.
According to Boulton, some speculate that Apple has locked down its multi-touch patents for the iPhone, making certain vendors wary of enabling the inherent capability said to reside within Android and the latest phones. Boulton suggests that it's possible that Google has a secret agreement with Apple to not use pinch-to-zoom on high-end Android phones.
Nexus One with Cyanogen multi-touch hack demonstrated by Swedroid.se on YouTube

(Click to play)
Google aims to fix Nexus One 3G woes
Despite the predominantly glowing reviews of the HTC-manufactured, Google-branded Nexus One, many reviewers and users have complained of spotty 3G coverage on the phone, which is available unlocked from Google, or via a T-Mobile contract. As noted in another recent eWEEK story by Clint Boulton, a Google employee named Ravi (listed as "Ivar") has posted a note on the Nexus One forum site saying that Google is preparing a fix for at least some of the 3G service problems. Ravi notes that "if everything progresses as planned, we will provide an over-the-air software update to your phone in the next week or so."
Meanwhile, on JKontherun, Kevin Tofel shows how he changed the wireless settings on his Nexus One to improve 3G coverage (see link farther below). Boulton tried the settings on his own Nexus One, however, "and the device continued to flutter back and forth between the slower EDGE and faster 3G service," he writes.
Boulton also notes that Wal-Mart has denied the recent rumor that it plans to sell the Nexus One.
Availability
The TrueTouch device driver for Android and Linux appears to be available now. The TrueTouch page at Cypress Semiconductor may be found here.
The Cyanogen multi-touch hack for the Nexus One may be found here, and the eWEEK story on the hack should be here.
The Nexus Forum post by Ravi on Google's upcoming 3G fix may be found here, and the JKontherun 3G solution may be found here. The eWEEK story on the 3G fixes should be here.
More information on the growing membership of the Open Handset Alliance may be found here.
---
This article was originally published on LinuxDevices.com and has been donated to the open source community by QuinStreet Inc. Please visit LinuxToday.com for up-to-date news and articles about Linux and open source.