Oct 17, 2011 — by LinuxDevices Staff — from the LinuxDevices Archive — views
The HTC Jetstream lives up to its name with a fast, dual-core 1.5GHz processor, 4G LTE/HSPA service, a responsive, eight-megapixel camera, and a Scribe pen accessory. Yet with its $700 price, thick 0.51-inch profile, 25-ounce weight, and relative lack of ports, this tablet's a tough purchase to justify compared to several other 10.1-inch Honeycomb devices, says this eWEEK review.
If someone were to walk into a store and play with AT&T's HTC Jetstream 4G LTE/HSPA+ tablet on a flat surface without being allowed to pick it up, they would likely be impressed by the slate's speed and processing power. The tablet runs Android 3.1 ("Honeycomb") on a third-generation, Qualcomm dual-core 1.5GHz Snapdragon, and offers a 10.1-inch touchscreen with 1280 x 800 pixel resolution.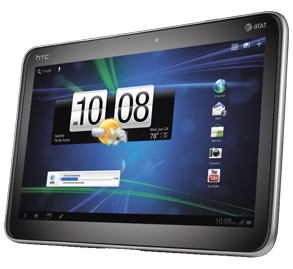 HTC Jetstream
After playing with this unit for the past several days, I can safely say it's faster than my own
Samsung Galaxy Tab 10.1
Honeycomb tablet, which uses Nvidia's Tegra 2, 1GHz dual-core chip. The Jetstream is also AT&T's first 4G Long-Term Evolution/Evolved High-Speed Packet Access (LTE/HSPA+) tablet, promising speedy network access.
Once you pick up the Jetstream, however, you realize its form factor is tragic. The Jetstream is 0.51 inches thick, compared to about 0.34 inches for my Tab, and weighs an unbelievable 25 ounces, or one pound, nine ounces. To my mind, the Jetstream doubles as a media consumption device and a lethal weapon.
Like most of HTC's tablets and smartphones, the Jetstream is contoured, making it feel unbalanced when held in one hand. And one can't hold it in one hand for long before tiring.
The Jetstream has 1GB of RAM, 32GB of storage, and no ports save the micro-USB charging port and 3.5mm headphone jack. The screen is crisp and gorgeous, and reacts quite nimbly under the fingers.
Responsive, eight-megapixel camera
The camera might be the best I've ever experienced on a tablet. Eight megapixels certainly provides for cleaner, brighter shots than the five-megapixel cameras of most tablets, and there was so little lag time I felt as though I had a high-end digital camera. The video recording in 1080p sparkled, too, and I used the 1.3-megapixel front camera to take self portraits and test video chats with minimal effort.
Battery life with the 7300mAh battery lasted me a respectable full day. This was even after viewing three hours worth of movies via the Jetstream's preinstalled mSpot movie application.
The tablet is fitted with HTC's Sense user interface for tablets, which makes customizing widgets and moving them around with press and hold gestures facile and fun. I zipped around from Gmail to Facebook to Twitter, and skipped between Angry Birds and YouTube, all without any hiccups. Google Books is also preloaded on the tablet, along with the Amazon Kindle application.
I got a little surprise when I tapped the "Internet" icon on the main homescreen and discovered it took me to a My Yahoo homepage. As with the Yahoo widgets on my AT&T U-Verse home entertainment system, I'm never far from the cozy relationship between AT&T and Yahoo. But don't worry; Google is still the default search engine on this Honeycomb gadget.
Fun with the Scribe pen
The tablet also has a special treat in that it supports HTC's Scribe digital pen accessory, enabling users to take notes and save them to Evernote's cloud, as well as doodle on the screen, and do other things. I grew to love the Scribe on the seven-inch HTC Evo View 4G Scribe. It is truly a gem of a hardware/software combo.
With the Scribe, I wrote in five different pen strokes, from pen to marker to paintbrush, and erased and highlighted them using the buttons on the pen. I also took several pictures and handwrote captions on them, sent them to friends and saved them.
I found that pretty empowering, especially for someone without a lot of artistic talent. I felt as though I had capabilities other tablet owners don't. That was nice.
The HTC Scribe digital pen is free for Jetstream buyers early on as a promotion — an $80 discount off of the pen's retail price when it's purchased alone. Scribe also integrates with the Evernote note-taking application to let users store annotated documents in the cloud, which makes for a nifty little business use case for the Jetstream/Scribe combo.
Making a choice
With its $700 price with a two-year deal from AT&T, why would anyone purchase a Jetstream when they can buy a Tab 10.1 for under $500? Meanwhile, those who don't mind a seven-inch tablet are likely to be attracted by the $200 Amazon Kindle Fire, due Nov. 15. HTC itself showed it can play the bargain game when it recently dropped the price of its more feature-rich, seven-inch HTC Flyer tablet to $300.
Somewhat assuaging is the fact that AT&T offers a new postpaid tablet option to let users subscribe to a $35, 3GB monthly data plan option with a two-year contract. Customers who do not choose a long-term commitment may elect to use postpaid for $15 for 250MB or $25 for 2GB.
Despite the Scribe delight, zippy processor, 4G network, and a superb camera, the Jetstream is not the best option in the 10.1-inch tablet space. Overpriced, lacking in features, and too heavy and cumbersome for easy handling, HTC's first 10.1-inch Android tablet could use a makeover.
Clint Boulton is a writer for eWEEK.
---
This article was originally published on LinuxDevices.com and has been donated to the open source community by QuinStreet Inc. Please visit LinuxToday.com for up-to-date news and articles about Linux and open source.