Oct 7, 2010 — by Eric Brown — from the LinuxDevices Archive — 1 views
[Updated: 10AM] — Sprint annouced Android phones from Samsung, Sanyo, and LG, all offering a new "Sprint ID" service for downloading UI skins. Sprint is readying a $150 Samsung Transform 3.7-inch QWERTY slider with front- and back-facing cameras, plus the previously announced 3.5-inch Sanyo Zio ($100) and 3.2-inch LG Optimus S ($50) — the latter also coming from T-Mobile as the Optimus T.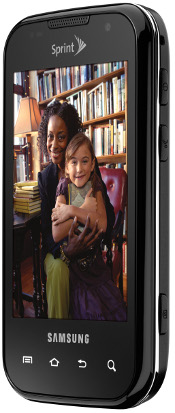 The Samsung Transform (pictured at right) and the Sanyo Zio will be available on Oct. 10, with the LG Optimus S shipping on Oct. 31, says Sprint. All prices are after $100 mail-in rebates, with two year contracts, says the company, which announced the phones at the CTIA Enterprise & Applications conference in San Francisco.
The LG Optimus and the Sanyo Zio were announced earlier this year, and the Zio, which is sold under the Sanyo brand by Kyocera, has already shipped as a pre-paid mobile option from Cricket Communications.
Ironically, the low-cost LG Optimus S, which was originally called the Optimus Chic, is the only Android 2.2 phone among the three new Sprint options. Meanwhile, T-Mobile simultaneously announced what appears to be the same phone, but called the Optimus T, but offered fewer details (see farther below).
Sprint ID brings custom skins
The three Sprint phones debut a new service called Sprint ID that enables easy personalization via free, downloadable ID packs, says the carrier. Each pack includes a mix of applications, widgets, ringtones, and wallpapers, tailored for different themes such as sports, fitness, cars, fashion, and business.
Up to five Sprint ID packs can be loaded and switched between on a single phone, and users can also switch between English or Spanish, says the carrier. Sprint is willing to tailor ID packs to specific brands, or even tailor them to customers' businesses or occupations, says the company.
The initial branded packs will come from Yahoo! and Electronic Arts, says Sprint. More will come later this quarter "and beyond" from Amazon, Blackboard, Comcast, Disney, E!, Electronic Arts, eBay, ESPN, HSN, LatCel, MTV, Notre Dame, Oprah Winfrey Network, RadioShack, Weather Channel, and Where.
Samsung Transform
The mid-range Samsung Transform is a step down from Samsung's popular Galaxy S line of 1GHz smartphones. These include the Sprint-sold, 4G-enabled Samsung Epic 4G, which also features a four-inch Super AMOLED display and a slide-out QWERTY keyboard.
The Samsung Transform combines an 800MHz, ARM11-based S3C6410 applications processor with a Qualcomm QSC6085 baseband processor, says the company. The Transform is said to be equipped with 256MB RAM and 512MB internal flash memory, and offers a 2GB microSD card for the phone's 32GB ready slot.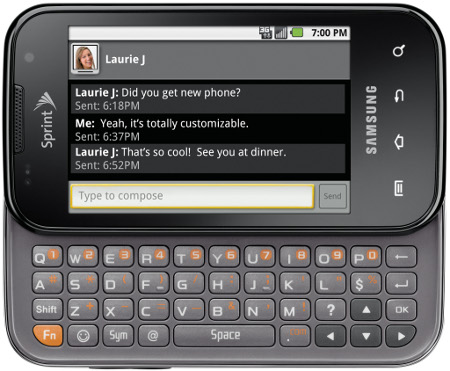 Samsung Transform
(Click to enlarge)
The Transform's 3.5-inch touchscreen features HVGA (480 x 320 pixel) resolution. A QWERTY keyboard slides out from the 5.4-ounce phone, which measures 4.61 x 2.42 x 0.61 inches with the keyboard tucked away, says Sprint.
A 3.2-megapixel camera with flash and camcorder functions, but no zoom, faces toward the rear. A separate VGA camera faces forward for videoconferencing, says the company.
Operating on Sprint's 3G network (EV-DO Rev. A) the phone is said to feature 802.11b/g, Bluetooth, and GPS. A 1500mAH battery offers up to six hours of talk time, says Sprint.
The Transform runs Android 2.1, but is scheduled to upgrade to 2.2 later this year, says Sprint. Pre-installed apps are said to include Visual Voicemail, and Google mobile services, including Google Maps and Android Market. The usual Sprint Zone apps are also available.
As noted, users can also download free UI templates as part of the Sprint ID service.
Stated Omar Khan, chief strategy officer for Samsung Mobile, "Samsung Transform is a powerful Android device, complete with front-facing camera, that takes the mobile experience to the next level with a full suite of features and the personalization options available from Android and the new Sprint ID service."
Sanyo Zio
As noted ab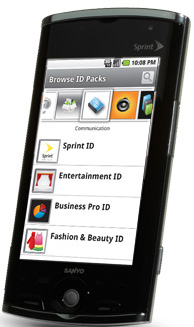 ove, the Sanyo Zio, sold under the Sanyo brand by Kyocera, has already been launched by pre-paid mobile provider Cricket Communications. Unlike the original Zio, which ran Android 1.6, however, the Sprint version (right) moves up to Android 2.1.
Sprint did not reveal the processor, but the Zio M6000 model announced in March is equipped with a Qualcomm MSM7627 system-on-chip (SoC), the same middling processor used in the $50 Palm Pixi and the low-end, Android-based Motorola Devour.
The phone includes 256MB of RAM, 512MB of flash storage, and 2GB microSD card, upgradable to 32GB, says the company.
The Zio's capacitive 3.5-inch touchscreen offers higher (800 x 480) resolution than is found on the Transform's 3.5-inch HVGA display. Other features are said to include a trackball, accelerometers, ambient light sensor, and a digital compass.
The Zio offers both CDMA2000 and EV-DO rev. A 3G cellular service, as well as 802.11 b/g Wi-Fi. Bluetooth 2.1, and aGPS. The Zio's 3.2-megapixel, autofocus camera offers 24fps video recording and 30fps playback, says Sprint.
Other features include a micro-USB 2.0 port, a 3.5mm stereo headset jack, and a speakerphone, says the company. The phone measures 4.6 x 2.3 x 0.5 inches and weighs 3.7 ounces, says Sprint. The 1130mAh battery is said to provide up to 4.6 hours of talk time.
The Sanyo Zio appears to offer the same mix of Android 2.1 applications as the Transform, including Google mobile services, Sprint Zone, and Sprint ID.
Sprint LG Optimus S and T-Mobile Optimus T

LG announced its Optimus line of phones in July, with minimal detail. Sprint's LG Optimus S and T-Mobile's LG Optimus T (see farther below) appear to be versions of the smaller Optimus Chic. LG had also announced a higher-powered Optimus One Android phone with a Texas Instruments ARM Cortex-A8 OMAP3630 processor, a 3.8-inch display, an HD camera, and HDMI/DNLA support.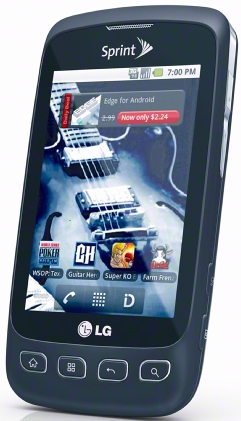 Sprint's LG Optimus S
LG plans to launch eight more Optimus phones by the end of the year, some of which won't run Android. Its Optimus-branded Android tablet, however, has been postponed until early next year to wait for Android 3.0, according to a
recent report
.
Neither LG or Sprint revealed the processor or clock rate for the LG Optimus S, nor did they mention available memory. Judging from the $50 pricetag, however, a Cortex-A8 phone this is not. It will be interesting to see how such a low-end phone can handle Android 2.2 — or on the flipside whether the faster browsing speed of Android 2.2 will be noticeable on low-end hardware.
The LG Optimus S is slightly smaller than the Sanyo Zio at 4.47 x 2.32 x 0.52 inches, but also weighs in at about an ounce heavier at 4.6 ounces. The 3.2-inch capacitive touchscreen is also smaller, with considerably lower 480 x 320 resolution.
Like the Zio, the phone ships with a 3.2-megapixel camera, in this case with 2x digital zoom, says Sprint. Other features are said to include GPS, Bluetooth, and a microSD card slot for up to 32GB of storage.
The phone's 1500 mAh battery is said to offer up to five hours of talk time. The Optimus S also supports Froyo's 3G Mobile Hotspot feature for sharing bandwidth to up to five Wi-Fi users, but only for an extra $30 a month.
In addition to offering Android 2.2, the LG Optimus S provides Android Market access, Exchange Active Sync, and Visual Voicemail, says Sprint.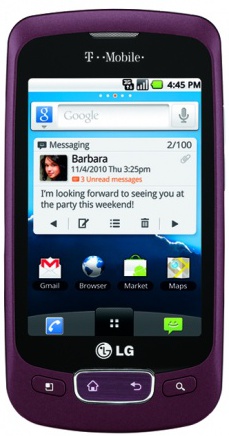 T-Mobile's LG Optimus T

T-Mobile offered even fewer details about the Optimus T, but judging from the above photo and the mention of a 3.2-megapixel camera, it appears to be essentially the same phone. T-Mobile did offer one detail not provided by Sprint: The Optimus T will ship with a 2GB microSD card, says the carrier.
T-Mobile says the phone runs the latest version of Android, without mentioning the actual version number. Judging from a mention of Google services with Voice Actions, this would appear to also be Android 2.2.
Availability
The Samsung Transform and Sanyo Zio will be available Oct. 10 through all Sprint channels, for $150 and $100, respectively, and the LG Optimus S will be available for $50 on Oct. 31, says Sprint. All listed prices are after a $100 rebate with a two-year contract.
More information on the Samsung Transform may be found here.
More on the Sanyo Zio should be here.
More on the LG Optimus S should be here.
More information on Sprint ID, available with all three phones, may be found here.
The T-Mobile LG Optimus T will be available this holiday season, says the mobile provider. T-Mobile's announcement of the Optimus T may be found here, and an eWEEK story on the Optimus T and Optimus S may be found here.
---
This article was originally published on LinuxDevices.com and has been donated to the open source community by QuinStreet Inc. Please visit LinuxToday.com for up-to-date news and articles about Linux and open source.