Jun 29, 2011 — by LinuxDevices Staff — from the LinuxDevices Archive — 1 views
HTC's Evo View 4G is now available on Sprint's 4G WiMAX network, and it's a dandy device for taking notes, says this eWEEK review. The Android 2.3 "Gingerbread" tablet is only seven inches, but it's fueled by a 1.5GHz Snapdragon, offers zippy 4G, and features a versatile stylus interface that's nicely integrated throughout the tablet.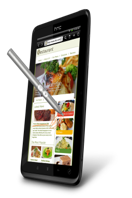 Has Sprint become the ultimate purveyor of mobile devices steeped in clever gimmicks? It sure seems that way, but if the devices are gimmicky, they're also a whole lot of fun. First was the Kyocera Echo dual-screen Android smartphone, which launched in April. On June 24, Sprint rolled out two new novelty Android 2.3 devices on its 4G WiMAX network: the HTC Evo 3D 4G smartphone and the HTC Evo View 4G tablet computer (pictured).
The Evo 3D 4G, which I reviewed last week, has two five-megapixel cameras to enable 3D photos and video, and can also display photos or play back videos in 3D without requiring special glasses.
The Evo View 4G, which I just spent the last week using as my personal tablet, has a much different trick. Like its near doppelganger, the HTC Flyer, the seven-inch tablet lets users take notes or just scribble all over the screens in fits of whimsy using the well-crafted HTC Scribe digital pen. Users can save those doodles, too.
The View 4G is petite in length (less than eight inches) and width (less than 4.5 inches) but it's chunky in the middle at slightly more than a half-inch thick. The device also mercifully weighs less than 15 ounces. Anytime you get a tablet under a pound it's a bonus.
The View 4G is encased in nondescript soft, gray plastic, and features the same rounded edges as most of HTC's smartphones, such as the aforementioned Evo 3D 4G and Thunderbolt 4G. The tablet feels really comfortable in one's palm and is super-manageable with two hands.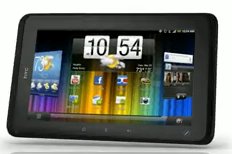 Evo View 4G in landscape mode
Right out of the box, I had two reservations about this tablet. My first concern was the limited real estate of its seven-inch, 1024 x 600 resolution screen. Apple's iPad set the standard with 9.7 inches of bold, beautiful tabletry. Motorola Mobility's Xoom and Samsung Galaxy Tab 10.1 went a bit farther with 10.1 inches and proved the ideal size for me.
My second concern was the OS. Gingerbread was built for smartphones, while the Xoom and Tab 10.1 use Android 3.0 ("Honeycomb"), built specifically with the larger tablet form factor in mind. HTC and Sprint said that the View 4G will get the Honeycomb bump, but that won't be until the launch of Android 3.2, which is tailored for tablets of seven inches.
However, Gingerbread performed well for most of the applications I tested on the View 4G, particularly those wed to the Sense 2.1 user interface HTC designed especially for its tablets. Facebook and Twitter for HTC Sense were a pleasure to use, as was Foursquare, YouTube, and Angry Birds.
Fast processor, faster 4G network
I thank Sprint's 4G WiMAX network and the View 4G's 1.5GHz Qualcomm Snapdragon processor for letting me zip quickly around the web. Users will really want to tap the 4G network to use the HTC Watch movie application, which lets users watch movies or TV shows without waiting for the file to finish downloading.
The Evo View 4G has 1GB of RAM, and 32GB of memory to store movies, photos, and applications. The tablet is further equipped with 802.11b/g/n, Bluetooth 3.0, and GPS, says Sprint. A 3.5mm headset jack, micro-USB port, digital compass, and the usual sensors are also part of the package.
Another battery bites the 4G dust
The View 4G's 4000mAh battery came up short when running on a 4G network. I rapidly burned through the battery using Watch, YouTube, Qik and other video-intensive applications. While I enjoyed eight hours of heavy use on the Tab 10.1, I got about five hours of similar use on the View 4G. Left idle, the battery burned down in a day.
The five-megapixel camera worked fine, with little latency in snapping pictures and videos. Using this shutter with the front-facing 1.3-megapixel camera, video chats via the preinstalled Qik application performed well, too.
A stylish stylus
The camera even has hooks to the Evo View 4G's note-taking and scribbling functionality, which is well-integrated throughout this device. For example, I was able to take a picture and automatically write notes or draw on it with the Scribe. When you save the file, it makes the familiar shutter sound.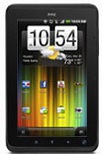 The notes application tab sits between the application launcher and Kobo reader application at the bottom menu bar, accessible on all home screens. When you tap the notes tab, you get a notebook that looks like a composition screen on which to write or draw.
Moreover, you may use the Scribe pen to tap the physical pen button on the bottom right (next to the back button) to manage drawings, change writing implements from pen to marker to paintbrush, as well as to change colors. The pen itself includes two buttons: The lower button highlights text, and the upper one erases it.
Users may take notes or draw on any home screen and save it, print it, or share it via Facebook, Flickr, Gmail, Picasa, or Twitter. The View 4G costs $400 on contract, which would be reasonable if this was a Wi-Fi-only tablet, but becomes less of a bargain when you factor in the cost of required data plans and the Scribe pen.
Rate plans for the HTC Evo View start at $35 per month for 3GB of 3G data and unlimited 4G data usage on the Sprint WiMAX network. Consumers may add GPS navigation for $3 per day or $10 per month. As with the Evo 3D, the mobile hotspot option is available for $30 per month.
The Scribe pen is included with the View 4G purchase for a limited time. When that promotion ends, it will be a pricey $80. For that reason, anyone interested in the device should snap it up now.
I had a great time with the View 4G. I don't know of any better gadget for a person who wants to take notes with a digital pen on a digital screen. As a note-taking device, the View 4G is first rate. You can certainly enjoy media on the View 4G, but I prefer something roomier and thinner in a tablet.
It's up to you to decide what you want your tablet to do. If you want to take notes or draw, the View 4G is your best option. If it's media consumption, I recommend the larger real estate of the iPad 2 or Galaxy Tab 10.1.
Availability
The HTC Evo View 4G is available now from Sprint for $400 plus a two-year contract. More information may be found at Sprint's Evo View 4G page.
Clint Boulton is a writer for eWEEK.
---
This article was originally published on LinuxDevices.com and has been donated to the open source community by QuinStreet Inc. Please visit LinuxToday.com for up-to-date news and articles about Linux and open source.