Nov 2, 2010 — by Eric Brown — from the LinuxDevices Archive — 2 views
T-Mobile announced the availability of four Android smartphones selling for under $100. In addition to announcing the new T-Mobile Comet (apparently based on the Huawei Ideos U8110) and the previously unveiled LG Optimus T, Motorola Defy, and Motorola Charm, the carrier unveiled new data plans, including a tethering and Wi-Fi-sharing service.
The Comet, Optimus T, Defy, and Charm will all be available tomorrow, Nov. 3, priced at less than $100 with a new two-year contract, says T-Mobile. All the phones have previously been announced by their manufacturers with varying levels of detail.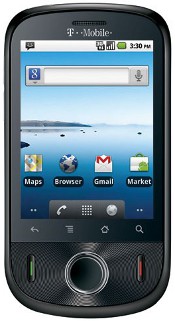 T-Mobile's new holiday data plan pricing includes a 200MB data plan that costs $10 a month with a new two-year service agreement or contract extension, or for $15 without the extension, says T-Mobile.
An alternative data plan, offered with a new or existing voice and text message plan, costs $30 for an unlimited data plan, says the company. The unlimited plan is required in order to be eligible for a new, $15-per-month "Tethering and WiFi Sharing" service, which enables Android 2.2's mobile hotspot and tethering features.
T-Mobile Comet
According to T-Mobile, the T-Mobile Comet (pictured above) is the "lowest-priced 3G Android smartphone in the T-Mobile portfolio." In addition to being made available with a standard carrier contract, the phone will also be sold to prepaid customers at less than $200 (plus taxes and fees), says T-Mobile.
Meanwhile a teaser page says the subsidized version is available for "as low as free."
The T-Mobile Comet features a 528MHz processor, a 2.8-inch touch display, Wi-Fi, and a 3.2-megapixel camera, says T-Mobile. The Android version is not listed, but the phone is said to be available with Android Market. The Comet comes in a black finish, says the carrier.
The Comet will sell for a mere $10 on contract after a $50 rebate, according to an Engadget story, and while not "free," that's pretty darn close. The story also says the phone is a version of the Huawei Ideos.
Judging from the photo and its specs, the Comet would appear to be the U8110, which Huawei first unveiled in February at Mobile World Congress along with several other Android-driven models. The 2.8-inch U8110 (pictured below) was also said to offer Bluetooth, as well as a 0.3-megapixel camera on the front for videoconferencing.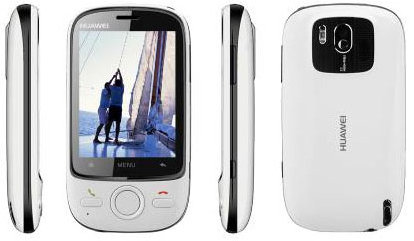 Huawei U8110
In September, Huawei formally announced the 3.8-inch U8800, the 3.2-inch U8500, and the low-end, square-screened U8300 under the Ideos brand. However, the 2.8-inch U8100 (pictured above) or another phone that would match the Comet's specs did not appear to be among them.
LG Optimus T
Early last month, T-Mobile announced that it would offer LG Electronics' LG Optimus T, but it offered relatively few details on the phone. Last week, however, T-Mobile tipped some more details on the phone, announcing that it would sell for $30, according to our sister publication, eWEEK.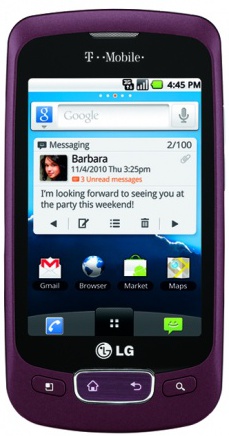 LG Optimus T
The Optimus T features a 600MHz processor, and will ship with a 2GB memory card, says T-Mobile. The phone is equipped with a 3.2-inch capacitive touchscreen, and offers a 3.2-megapixel camera with video capture, says the carrier.
Available in burgundy or titanium, the Optimus T is said to run Android 2.2. It also offers the Voice Actions for Android app, enabling users to vocalize email, messaging, placing calls, and navigating directions, says T-Mobile.
According to the eWEEK, story, the Optimus T is "nearly identical" to the LG Optimus S, which Sprint began selling Oct. 31 for $50 after a $100 mail-in rebate and with a two-year service contract.
The similar LG Optimus S measures 4.47 x 2.32 x 0.52 inches and weighs 4.6 ounces. Its ts 3.2-inch capacitive touchscreen offers 480 x 320 resolution, according to Sprint.
The Optimus S' 3.2-megapixel camera is said to offer 2x digital zoom, and other features include Wi-Fi, GPS, Bluetooth, and a microSD card slot for up to 32GB of storage. The "S" model's 1500 mAh battery offers up to five hours of talk time, said Sprint.
Motorola Defy
T-Mobile's two new Motorola Android phones have been previously announced with full details. Motorola announced the Defy in September, announcing that it would be available in the fourth quarter in Europe, along with the Milestone 2 (a version of the Droid 2). Two weeks later, T-Mobile USA announced it would offer the phone.
Equip
ped with Android 2.1, DLNA support, Android Market, and various Google apps, the Defy (pictured at left) is touted for its dust- and water-resistance. The phone is equipped with 512MB of RAM and 2GB of internal flash, as well as a microSD slot, says Motorola.
The 3.7-inch, 854 x 480 touchscreen is accompanied with accelerometers, plus ambient light and proximity sensors, says the company. Available in linen or black, the Motorola Defy is said to be further equipped with 802.11b/g/n, Bluetooth 2.1, aGPS, FM radio, audio jack, and a five-megapixel camera with LED flash
According to T-Mobile's Defy spec page, the phone measures 2.3 x 4.2 x 0.5 inches and weighs 4.6 ounces. The phone is also said to offer a 1540 mAh battery that supports up to eight hours talk time and 18 days standby.
The Defy supports WCDMA (900/2100) and GSM (850/900/1800/1900) networks, including support for HSDPA 7.2Mbps and HSUPA (2Mbps) 3G services, says Motorola. It will not support T-Mobile's 4G-like HSPA+ network, as will the HTC-manufactured T-Mobile G2 Android phone.
Motorola Charm
Motorola announced the Charm in July and said at the time that it was heading for T-Mobile later in the summer. The Charm is somewhat similar to the Motorola Flipout, but lacks that phone's side-rotating pivot mechanism. Measuring 3.87 x 2.64 x 0.45 inches, and weighing 3.9 ounces, the Charm has a permanently exposed QWERTY keyboard.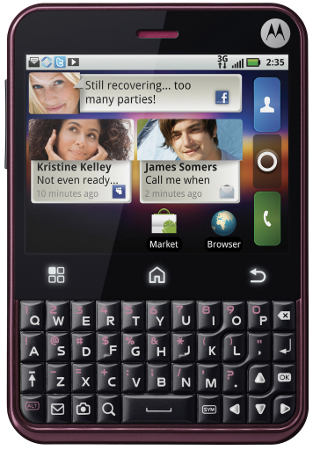 Motorola Charm
The Charm offers a 2.8-inch, 320 x 240 touchscreen with pinch-to-zoom and two finger swipe capability, says Motorola. The phone ships with a a 600MHz processor, as well as a removable 2GB microSD card, expandable to an optional 32GB card, says T-Mobile.
Other touted Charm features include GPS, 802.11b/g/n Wi-Fi, Bluetooth, and a three-megapixel camera with support for 24fps video recording. Like the Flipout, the phone also features a "Backtrack" touchpanel on the back of the device. The Charm is available in gold or cabernet finishes, says the company.
Stated Cole Brodman, chief marketing officer of T-Mobile USA, "We're heading into this holiday season with our strongest and most affordable lineup ever of Android-powered smartphones."
Availability
The T-Mobile page for the Comet may be found here, and the Optimus T page should be here. At the time of writing, however, neither of the links to further details was working.
The T-Mobile Motorola pages, however, offer full specs. The Motorola Defy page may be found here, and the Charm page should be here.
Huawei's September announcement of its Ideos line of smartphones (the basis for the T-Mobile Comet) may be found here. The Engadget item on the Comet may be found here.
---
This article was originally published on LinuxDevices.com and has been donated to the open source community by QuinStreet Inc. Please visit LinuxToday.com for up-to-date news and articles about Linux and open source.