Feb 10, 2011 — by LinuxDevices Staff — from the LinuxDevices Archive — views
AMD, which already is looking for a new CEO after the departure of Dirk Meyer in January, is losing Robert Rivet, chief operations and administrative officer, and Marty Seyer, senior vice president of corporate strategy. The move may be related to the company's shyness when it comes to moving into the tablet space, analysts say.
A month after seeing CEO Dirk Meyer forced out, AMD says two more executives are leaving the company. Robert Rivet, AMD's chief operations and administrative officer, and Marty Seyer, senior vice president of corporate strategy and the company face for many of its product efforts, are both departing, the company stated.
"Both are leaving to pursue new opportunities and are expected to remain through a brief interim period to help ensure seamless transitions," AMD spokesperson Michael Silverman said in an e-mail.

For right now, John Docherty, senior vice president of manufacturing operations, is assuming Rivet's responsibilities — he is in charge of all aspects of AMD's manufacturing process — and will report to Thomas Seifert (right), the company's chief financial officer and acting CEO until a replacement for Meyer is found.
Among Docherty's duties is overseeing the company's transition to a 32-nanometer manufacturing process and leading AMD's Global Operations Group, which touches on everything from testing and packing to supply chain, logistics, and sales and operations.
Meanwhile, Harry Wolin, senior vice president, general counsel and secretary for AMD, will oversee the company's corporate strategy unit. AMD gave no further indications about plans for replacing either Rivet or Seyer.
Meyer resigned Jan. 10 amid reports of a clash with the AMD Board of Directors over the direction of the company. According to analysts, AMD has faltered in its server chip competition with larger rival Intel, being unable in recent years to build a strong case for its Opteron chips.
However, a larger issue appears to have been Meyer's decision to forgo a strong push into the exploding tablet and smartphone spaces. Several months ago, Meyer and his executive team presented a strategic plan that reportedly disappointed directors, who were disappointed by AMD's inability to take server market share from Intel and by Meyer's laid-back approach to tablets.
During a conference call with analysts and journalists in October 2010 to announce quarterly numbers, Meyer said AMD was taking a slower approach than Intel to the tablet space. However, he said that when AMD did start bringing tablet products to the market, they would be strong offerings. That contrasted with Intel's strategy, which was outlined two days earlier when CEO Paul Otellini promised that his company will become a key player in the tablet market.
Is a Fusion for tablets finally on the way?
AMD's focus has been on its Fusion initiative, rolling out APUs (accelerated processing units) for PCs that offer discrete-level graphics technology integrated with the CPU on a single piece of silicon. So far the company has released four mobile APUs (the E-350, E-240, C-50, and C-30) and five embedded APUs (the T56N, T48N, T40N, T52R, and T44R).
While TDPs for these devices range down to 9 Watts, AMD did not mention tablets as a target for them in its announcements. According to a recent report, however, AMD will target tablets by pairing its dual-core, 1GHz C-50 with a simplified I/O controller, achieving a TDP of just 5 Watts. It's said that unlike the A50M used by the E-Series and C-Series, or the A55E used by the G-Series, the tablet-specific controller will save power by delivering only a single USB port and a lower RAM limit.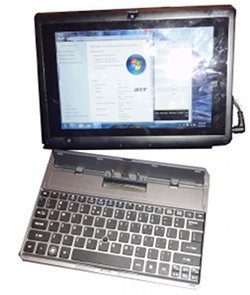 An Acer tablet equipped with AMD's 1.0GHz C-50 and new I/O controller
Source: PC Watch
A PC Watch story claimed the first tablet to use the C-50 along with the new controller will be from Acer. The unnamed device (above) will be sold with a detachable keyboard accessory and will be available "in the coming months," according to writer Kasahara Kazuteru.
Analysts have debated the merits of Meyer's decision to hold back on pursuing the tablet and smartphone markets. For a company like Intel, with its size and billions of dollars on hand, using its muscle to push its way into new areas make sense, some analysts have said.
However, AMD does not have the same finances and must be careful in what its pursues, and given that it has less than 10 percent of the world processor market, there is more opportunity for AMD to grow in the traditional server and PC markets.

Jeffrey Burt is a writer for eWEEK. Jonathan Angel contributed additional reporting to this story.
---
This article was originally published on LinuxDevices.com and has been donated to the open source community by QuinStreet Inc. Please visit LinuxToday.com for up-to-date news and articles about Linux and open source.