May 3, 2010 — by Eric Brown — from the LinuxDevices Archive — 3 views
Aigo is readying three Android-based tablets incorporating the Nvidia Tegra 2 SoC, led by an HD-ready 7-inch Aigo N700 model, says ChiniTech. Meanwhile, Compal is prepping some uCLinux-based "APA0x" PMPs (portable media players), and all signs point to HP abandoning its Windows 7 "Slate" in favor of tablets that run its newly acquired WebOS platform.
In September 2008, Aigo shipped what appeared to be the first mobile Internet device (MID) based on the Intel Atom, the Linux-based Aigo P8860D. Now Aigo is readying three updated tablets that run Android instead of Moblin, and which are based on the tablet-focused, 1GHz Nvidia Tegra 2 processor, says ChiniTech.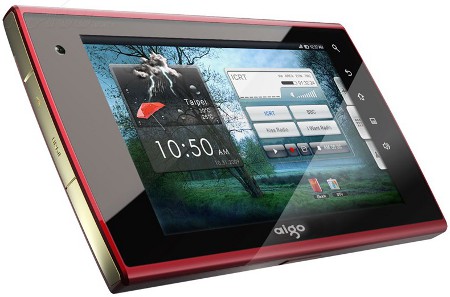 Aigo N700


(Source: ChiniTech)
The 7-inch model is called the Aigo N700, says the publication, and the 4-inch and 5-inch models are presumably called the Aigo N400 and N500. According to
ChiniTech,
the N700 is also being rebranded as the Compal NAZ-10 tablet, which was demonstrated at the Mobile World Congress show in February (see the
YouTube
video below on the NAZ-10 from
MiniPCPro
).
Neither Aigo or Compal appear to have posted any information on the upcoming tablets. Compal, however, has published specs for a new uCLinux-based portable "APA0x" media player (see farther below).
Like many of the Android tablets announced in recent months, the Aigo models are based on Nvidia's Tegra 2, also known as the T20 or Tegra 250 system-on-chip (SoC). The Tegra 2 incorporates the dual-core 1GHz ARM Cortex-A9 CPU, offers advanced 3D graphics support, and is touted as being "specifically designed for tablets."

Equipped with eight independent processors, the Tegra 2 offers up to four times the performance of previous Tegras, and can easily handle 1080p video playback, claims Nvidia. Other Tegra 2-based tablets that are expected to ship with Android this year include ViewSonic's VTablet 101, Notion Ink's Adam, and two devices, the Ultra and Gemini (pictured), from Innovative Converged Devices (ICD).
ChiniTech posted a spec sheet for the Aigo N700, which lists the presence of a 1GHz T20 Tegra processor with 1MB L2 cache, capable of supporting 1080P video playback. The device offers 512MB of DDR2 667MHz memory, plus flash-based storage ranging from 4GB to 32GB via a MicroSD slot, says the technology site.
The Aigo N700 features a multitouch, capacitive, seven-inch screen with 800 × 480 resolution, as well as an accelerometer, an ambient light sensor, and a compass, says ChiniTech. The keyboard-free device is said to measure 8.2 x 4.8 x 0.55 inches (208 x 122 x 13.95mm) and weigh a little over a pound (465 grams).
The Aigo N700 provides WiFi, Bluetooth 2.1, and 3G cellular (WCDMA/ EVDO/TD-SCDMA) communications, and integrates a 1.3-megapixel camera, says ChiniTech. Additional features are said to include dual speakers, a microphone, a 3.5mm audio jack, a USB port, and an HDMI port. The device ships with a dual-cell 3120mAh battery and a docking station, says the report.
Running Android 2.1, the Aigo N700 will feature Flash 10.1 support, as well as well as color e-book viewing via Kaixin technology, says ChiniTech. Other bundled software is said to include QQ games, an MS Office reader, and push email.
Compal's NAX-10 and APA0x tablets
As noted, Compal supplies no details on its alleged version of the device, the NAX-10. However, the YouTube video below appears to confirm specs and design features that match those of the Aigo N700. According to the video, the NAX-10 offers 16 hours of HD playback, and will ship in the second quarter for under $300.
Meanwhile, Compal's website does offer information on two uCLinux-based portable media players (PMPs) with 7-inch displays. Tipped back in February by Pocketables, the APA00 and APA01 (pictured below) appear to be identical except for some undisclosed feature that bumps the latter up to a slightly larger 8.0 x 5.2 x 0.87-inch (203.5 x 132 x 22mm) size and 20.1-ounce (590 grams) weight.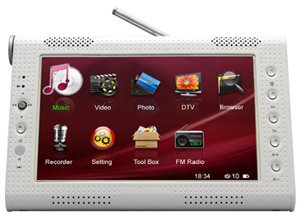 Compal APA01
Both PMPs are built on an ARM-based Sigma Design EM8622L processor (clock rate undisclosed), and offer seven-inch color LCDs with 800 x 480 resolution, says Compal. The PMPs are said to support video at up to 1080i quality.
For storage, the Compal APA0x PMPs provide a 1.8mm hard disk drive and an SD/MMC card reader, says the company. Other features are said to include 802.11b/g WiFi, a USB 2.0 Host port, stereo speakers, and an FM tuner.
The Compal APA0x devices offer DVB-T mobile TV reception, as well as AV-in, dual TV out, YPbPr, and Composite video connections, says Compal. The PMPs are also said to provide Prismatic Li-Ion 2000mAh batteries with 14.8 Watt consumption. According to the February Pocketables report there was no pricing or availability for the two PMPs.

MiniPCPro video on YouTube of Compal demo of NAX-10 from Mobile World Congress in February
(Click to play)
HP plans WebOS-based tablets
When HP announced on April 28 that it was acquiring Palm for $1.2 billion, it was widely speculated that a key motivation was to push Palm's Linux-based WebOS, previously available on the Palm Pre and Palm Pixi smartphones, into the tablet market. Now, rumors and analyst projections are suggesting that HP may go so far as to drop its plans for a Windows 7-based "Slate" tablet and focus exclusively on WebOS tablets. This would also suggest that the rumored Android version of the Slate may also bite the dust.
The prospect of HP dropping the Windows 7-based Slate gained ground on April 29 when TechCrunch cited "a source who's been briefed on the matter," to report that HP intends to kill the Slate. Written by Michael Arrington, who knows a thing or two about the ups and downs of the tablet market through his experience with the CrunchPad (now the JooJoo), writes that HP will instead offer a new tablet device later this year with an adapted version of WebOS.
Meanwhile, according to a story by Michelle Maisto in our sister publication, eWEEK, industry analysts from IDC, Ovum, and Technology Business Research agree that WebOS was a major factor in the decision to buy Palm. They also suggest that the development could hinder relations with Microsoft.
Maisto quotes a report from Ovum analyst Tony Cripps as stating, "WebOS could indeed become a major asset for HP and obviously has scope for use on devices such as tablets."
While IDC states that the move to WebOS is likely to "stress" HP's relationship with Microsoft, according to the story, Technology Business Research analyst Ken Hyers suggests that Windows will indeed play a role in HP's future tablet plans. Even if the Windows 7 version of the Slate is shelved, that doesn't mean HP will write off Redmond from tablets entirely, he suggests.
"With the release of Windows Mobile 7 at the end of the year, that gives Microsoft and HP a chance to reset the Microsoft tablet initiative," stated Hyers. "Because with Windows Mobile 7 you will have an OS that's specifically developed for a touch-screen environment."
The story does not mention what the Palm acquisition might mean for the rumored Android version of the Slate. However, it would seem to be unlikely now, especially considering the amount of money HP has just invested in WebOS.
Availability
The ChiniTech story on Aigo's N700 may be found here, and Aigo itself may be found here.
Compal's tablet page with its uClinux-based APA0x tablets may be found here. The Pocketables story on the APA0x devices from February, should be here.
The eWEEK story on HP's tablet plans may be found here, and the earlier TechCrunch story on the subject may be found here.
---
This article was originally published on LinuxDevices.com and has been donated to the open source community by QuinStreet Inc. Please visit LinuxToday.com for up-to-date news and articles about Linux and open source.