Jul 21, 2009 — by Eric Brown — from the LinuxDevices Archive — 4 views

Amid signs that sales of Intel Atom-based MIDs are suffering, Optima announced a mobile Internet device that runs Maemo Linux on an ARM/XScale processor. The Optima OP5-E uses an 806MHz Marvell PXA320 processor, and offers a 4.3-inch, 800 x 480 touchscreen and a 3.2-megapixel camera.
The MID movement seems to have run out of steam, according to some reports (see farther below), but the tablet-like format appears to have found a niche in East Asia, where handwriting interfaces are more popular. China looks to be the target market of the touch-enabled OP5-E, built by a Chinese division of Optima, since the MID offers both Chinese and English input methods.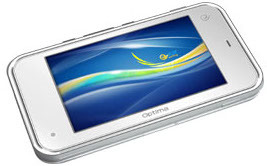 Optima OP5-E
Unlike most MIDs, which run Moblin-based distributions on the Intel Atom, the keyboardless OP5-E sports some unusual selections in both processor and Linux distro. Regarding the former, the MID uses Marvell's
PXA320
, the fairly recent generation of the XScale "Monahans" line (
purchased
from Intel by Marvell in 2006, shortly before the PXA320 chips were announced). Based on an ARM11 core, the processors are clockable to 806MHz, equipped with 256KB L2 cache and a 32-bit memory interface, and claimed to draw minimal power.


Nokia N810
(Click for details)
With the device's ARM roots, it is not that surprising that Optima opted for the Nokia sponsored Maemo Linux distribution, which runs on Nokia's MID-like Nokia Internet Tablets, such as the N810, pictured at right. (Actually, since the Nokia tablets came first, perhaps we should say "tablet-like MIDs.") Meanwhile, several other new ARM-based MIDs are running the ARM-friendly Android distribution (see farther below).
The OP5-E backs up its 806MHz Marvell PXA320 with 128MB of RAM and 256MB NAND flash, says Optima. The device is also said to ship with a 4GB memory card in a microSD slot that can support up to 16GB.
The 5.6 x 2.9 x 0.7-inch device offers a MID-standard 4.3-inch, 800 x 480 touchscreen, as well as a 3.2-megapixel camera, says the company. Communication features are said to include CDMA2000 EV-DO 3G cellular service, which can be used with VoIP software and the built in speaker and microphone to act as a VoIP phone. The MID also offers WiFi, Bluetooth, GPS, and an eight-hour battery, among other features.
Specifications listed for the OP5-E include:
Processor — Marvell PXA320 @ 806MHz
Memory — 128MB RAM
Flash — 256MB NAND flash
Flash expansion — 4GB card via "push T" microSD card reader that supports up to 16GB
Display — 4.3-inch 800 x 480 WVGA touchscreen
USB — MiniUSB
Cellular — CDMA2000 EV-DO (800MHz)
WiFi — 802.11b/g
Bluetooth — Bluetooth 2.0
GPS — GPS (Active Antenna)
Camera — 3.2-megapixel main camera; 0.3-megapixel network camera
Audio — Speaker; Mic; 3.5mm headset connection
Other features:

Vibrators
LEDs
Stylus
Buttons for full-screen, volume, power, and camera key
Simplified Chinese/English support
Pinyin, handwriting, double box input modes

Software:

Google search
Firefox
MSN, QQ, and Fetion IM apps
VoIP
Contact manager
Text messaging
Media player with MP3, WMA, WAV, AAC, AVI, MP4 support
PDF reader
Gao navigation app
Network TV (beta)
eBook reader (FBreader) supporting FB2, HTML, CHM, RTF, plain text
Photo browser
Notepad, drawing
Calculator
Weather and flight queries
Games

Battery — 2600mAh Li-Ion; 8 hours battery life claimed
Dimensions — 5.6 x 2.9 x 0.7 inches (143 x 74 x 17.6mm)
Operating system — Maemo Linux
MIDs treading water?
MID sales have been disappointing since they arrived last Fall, according to a June 5 story by DigiTimes, which interviewed sources at prominent makers of Intel Atom-based MIDs. Since the first Atom-based models went on sale early last fall, only 30,000 Atom-based MIDs have been sold, in contrast with Intel's projections of 150,000 to 200,000 units sold in the first year, says the publication. (Intel would not comment on these estimates, according to DigiTimes.)
Reasons cited by MID makers for the disappointing sales included the economic downturn, as well as the "slow-building popularity of 3G applications."
Troubles in the MID market were noted as early as last November when CCID Consulting released a MID study that also mentioned limited battery life, the immaturity of the Moblin v1 platform, and the lack of WiMAX coverage as other potential problems.
Fortunately for Intel, its next-generation, MID-oriented Moorestown CPU appears to be on schedule, according to the story, with both Quanta and Compal expecting to show Moorestown-based MID prototypes this Fall when Moorestown is expected to sample. Products should arrive in the first quarter of 2010, says the story. By then, a new MID-oriented version of the second-generation, netbook-targeted Moblin v2 may be ready to roll.
Meanwhile, ARM may prove to offer stiff competition for Intel on MIDs. A number of ARM-based MIDs have been announced, several of which are slated to run Android. The Google-sponsored stack is still being aimed at the MID format while Chrome OS will be paired up with netbooks, according to Google.
In addition to Optima's ARM/XScale-based OP5-E, other ARM-based MIDs include Routon's P760 MID, which is said to run Android. In the third quarter, Archos plans to ship a MID-like, Android-based Archos Internet Media Tablet, which runs on an ARM Cortex-A8-based Texas Instruments (TI) OMAP3440. Around the same time, GiiNii plans to ship an Android-based Movit Mini portable media player (PMP), followed by a larger portable Internet appliance tablet that can double as a digital picture frame.
Earlier this year, HY Research announced a Linux-based "Beagle MID" design powered by the TI-manufactured BeagleBoard and its ARM Cortex-A8 OMAP3530 SoC. Finally, Nokia itself is expected to soon announce a next generation N900 Internet Tablet based on Maemo 5.
Availability
Optima did not provide pricing or availability information on the OP5-E MID. More information may be found on a translated Optima page, here. The Digitimes story on MID sales may be found here.
---

This article was originally published on LinuxDevices.com and has been donated to the open source community by QuinStreet Inc. Please visit LinuxToday.com for up-to-date news and articles about Linux and open source.