Mar 25, 2010 — by Eric Brown — from the LinuxDevices Archive — 1 views
Fusion Garage is shipping a the Linux-based tablet formerly known as the CrunchPad. Rights to the "JooJoo" are still being legally contested by TechCrunch, which claims to have co-developed the device, but the 12.1-inch tablet is available anyway for $500, complete with a 4GB solid state drive (SSD), WiFi, Bluetooth, and a nine-second boot-time.
The JooJoo is based on the CrunchPad device developed by Singapore-based Fusion Garage in collaboration with technology news site TechCrunch. The device was shown in several prototype versions, but never came to market, after a falling out between the two entities, which has led to legal actions on both sides (see farther below for more on the CrunchPad and the legal dispute.)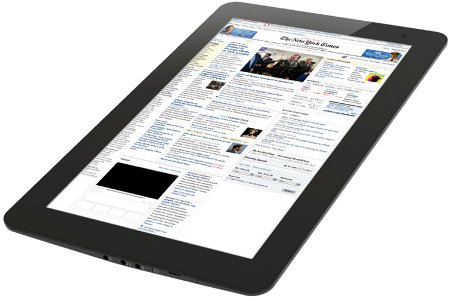 The JooJoo


(Click to enlarge)
JooJoo does not list the processor used by the tablet, but according to FCC documents for the device, reported by
Liliputing,
the JooJoo includes an Intel Atom N270, combined with Nvidia's Ion graphics processor. Like the new
Ion 2
, which is designed for the newer N450 "Pineview" Atom processors, the Ion is said to support 1080p video playback in conjunction with the Atom, a claim echoed by Fusion Garage for the JooJoo. (The Ion addition would also help explain the price increase from the projected $300 for the CrunchPad to the JooJoo's $500 pricetag.)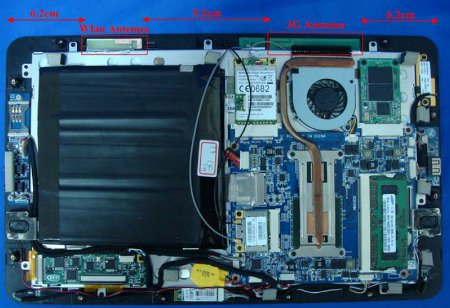 JooJoo's internal configuration


(Source: FCC)
(Click to enlarge)
As
Liliputing
points out, the Intel Atom foundation should mean that users can wipe the Linux-based stack provided by Fusion Garage, and replace it with another Linux OS, Windows, or another x86-ready operating system. A number of
Linux- and Android-based tablets
are instead using the HD-ready, ARM Cortex-A9-based Nvidia Tegra 2 processor, which is in many ways more powerful than the Atom/Ion combo, but which would make such an OS switcheroo more difficult.

JooJoo, horizontal
(Click to enlarge)
The JooJoo offers the largest capacitive touch screen of any device on the market, claims Fusion Garage. Measuring 12.1 inches (the same as the CrunchPad), the display offers a whopping 1366 x 768 resolution, and is said to support Adobe Flash 10.1 and Java. This would seem to best the
Apple iPad
on all counts. Like the iPad, the JooJoo is said to support multi-touch input.
While Fusion Garage lists 802.11b/g WiFi, the FCC documents show an image of an AzureWave 802.11b/g/n WiFi card. The FCC, which posted the internal photo shown farther above, also offers a document listing a 3G SIM card slot that is not mentioned by the company. One other detail not described by Fusion Garage is an operating temperature range of 50 to 96.8 deg. F (10 to 36 deg. C).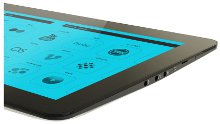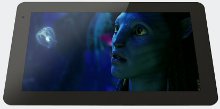 JooJoo showing port detail and custom UI (left) and playing 1080p video (right)


(Click on either to enlarge)
Other features listed by Fusion Garage include a 4GB SSD, Bluetooth 2.1, a USB port, and a webcam. The device offers all the basic audio equipment, as well as an accelerometer and an ambient light sensor, says the company. A docking station accessory is also said to be availabl

The JooJoo ranges between 0.7 and 0.2 inches in thickness.


(Click to enlarge)
Equipped with a rechargeable lithium-polymer battery, the JooJoo is said to offer five hours of web browsing via WiFi. Measuring 12.8 by 7.8 inches, the 2.4-pound device has slimmed down to a thickness of 0.7 inches on one side, tapering down to 0.2 inches on the other, says the company.
The Linux-based stack running on the JooJoo is said to be browser-based. Services include Internet applications, news, music, HD video, social media, and web browsing, says the company. Fusion Garage also claims the device boots up in a mere nine seconds.
The "gesture-based" user interface "allows easy transitions between Web sites, and turns pages in a digital publication via the movement of a finger," says Fusion Garage. A virtual keyboard is said to automatically appear when users need it, disappearing when viewing or paging through content. Despite the device's genesis as the open source CrunchPad, there appears to be no talk of open source or development tools on the JooJoo site.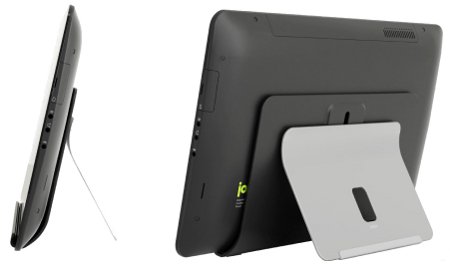 JooJoo on its docking stand
(Click to enlarge)
Specifications listed by Fusion Garage for the JooJoo include:
Memory — 4GB SSD
Display — 12.1-inch, 1366 x 768 capacitive touchscreen; multi-touch enabled; smudge resistant; 1080p video support
WiFi — 802.11b/g
Bluetooth — Bluetooth 2.1 with EDR
Camera — Video camera
Battery — Rechargable Li-ion for up to five hours using WiFi
USB — 1 x USB port
Audio — Speakers; mic; 3.5mm headphone jack
Sensors — Accelerometer; ambient light sensor
Software — Adobe Flash 10.1; Java-compliant
Dimensions — 12.8 x 7.8 x 0.2-0.7 inches (324.5 x 199 x 3.8-18.9mm)
Weight — 2.4 lbs (1.1 k)
Operating system — Browser-based Linux OS
From CrunchPad to JooJoo
The CrunchPad was announced by TechCrunc

h's editor, Michael Arrington in July 2008, and a prototype was unveiled in Jan. 2009. This Prototype B version (pictured at right) was equipped with a Via Nano processor, 1GB RAM, 4GB flash, WiFi, a camera, accelerometers, and a 12-inch, 1024 x 768 touchscreen.
Arrington's goal was to find a "dead simple" touchscreen web browsing device that was light enough to sit on one's lap while watching TV and could sell for $200, although by the time the prototype arrived, he figured $300 was more realistic.
In April of last year, TechCrunch showed off a B5 prototype (pictured below). Offering a sleeker design, the new CrunchPad also switched to an Intel Atom processor, and swapped out Ubuntu Linux and WebKit for a "bottom-up" Linux OS, and a new version of the browser.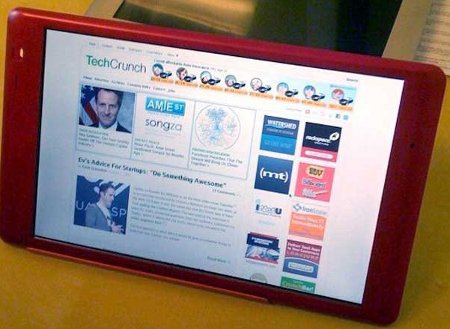 CrunchPad B5 prototype
In November, Arrington
announced he was canceling
the open source CrunchPad project due to a dispute with its technology partner Fusion Garage over ownership of the design. In early December, Singapore-based Fusion Garage announced it was
moving forward
with its own version of the CrunchPad, called the JooJoo, and refuted Arrington's claims of ownership over the device's IP.
Several days later, Arrington filed a lawsuit against Fusion Garage, accusing the company of "Fraud and Deceit, Misappropriation of Business Ideas, Breach of Fiduciary Duty, Unfair Competition and Violations of the Lanham Act," according to coverage in our sister publication, eWEEK.
In early February, Fusion Garage filed a legal motion to dismiss the lawsuit, calling the legal action between the two entities "the fallout of a failed merger." Several days later, it was announced that the JooJoo had entered full production.
"JooJoo" is an "African word" that means "magical object," says Fusion Garage. In French, "joujou" is a colloquial term for "toy," and according to eWEEK, the term was adapted into "Ju-Ju" by residents of West Africa following French colonization to refer to objects such as skulls and teeth possessed by spirits. Sounds about right.
Availability
The JooJoo is being shipped now to U.S. customers who have pre-ordered them, with expectations that the devices will arrive to customers by Mar. 29, says Fusion Garage. New Joojoo orders can be placed at Fusion Garage's JooJoo store, here, for $500, with delivery in eight to ten weeks.
The Liliputing story on the FCC's JooJoo documents may be found here, and the FCC page itself should be here.
---
This article was originally published on LinuxDevices.com and has been donated to the open source community by QuinStreet Inc. Please visit LinuxToday.com for up-to-date news and articles about Linux and open source.