Sep 15, 2008 — by LinuxDevices Staff — from the LinuxDevices Archive — 44 views

The world's largest thin-client vendor has taken aggressive steps in the fast-growing market for Linux-based thin clients. Wyse has partnered with Novell to create "Wyse-enhanced SUSE Linux Enterprise," a virtualization-ready thin-client OS expected to ship in Q4, pre-loaded on four N50L… mobile thin client models.
(Click for larger view of Wyse's Windows-based X90L mobile thin client)
Wyse announced SUSE support just over a year ago, saying at the time that the move would offer greater flexibility and choice to its customers, especially those wishing to standardize on SUSE Linux throughout the enterprise.
In an interview with LinuxDevices, Wyse CMO Jeff McNaught called out two more reasons for Wyse's decision to invest in bringing SUSE to its products. First on the list was Linux's complete openness to enterprise applications of all kinds, especially with an "industry standard" distribution like SUSE. (Wyse currently offers a less open inhouse "V6" Linux implementation). Reckoning that the majority of customers who choose Linux do so in order to run in-house software, either over the network or directly on the device itself, he said, "The challenge [with thin clients based on Windows CE and XP] was that large customers would have enterprise apps that did not run on [Microsoft's] Terminal Services [thin client technology]."
Another motivation, McNaught admitted, was HP's acquisition of Neoware, a Linux thin client specialist, last summer. That merger brought together the world's number two and three thin client vendors, giving Wyse a competitor of nearly equal size, and one arguably better positioned in a rapidly growing market. Wyse cites IDC figures forecasting that Linux will represent about 30.8 percent of the thin client market by 2011, shipping in 554,400 devices annually. Between now and then, overall thin client shipments will grow from 1 million to 1.8 million, according to IDC figures cited by Wyse. Linux's current share of the market was not given, but stood at 20 percent in 2003, when Wyse upgraded its own homegrown V6 Linux implementation to the 2.6 kernel.
Why might Linux's share of the market be growing? Wyse says, "In emerging areas such as desktop virtualization, the operating system used by client devices is becoming less relevant, as long as it is an enabler of virtualization technologies, and not the limiting factor." Presumably, this is a swipe at Microsoft's own "Hyper-V" virtualization technology, which Microsoft noncommittally said "might work" with some Linux thin client OSes. Apparently, Wyse-enhanced SUSE Linux is not among them, though it supports competing technologies that include Citrix's XenDesktop and VMWare's VDI. At the same time, the product is clearly intended for integration with Windows-based shops, with support for Active Directory authentication and an "XP/Vista look and feel."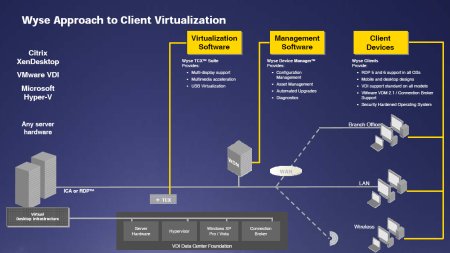 Wyse thin client architecture, including Linux and (to support Hyper-V) Windows thin clients
(Click to enlarge)
Between 1996 and 2003, Wyse had about 40 percent of the overall thin client market, according to IDC figures cited by the company in 2003. However, its share today stands closer to a third of the market, due to the emergence of "many" smaller manufacturers in Asia, McNaught said. Its installed base numbers beyond six million Wyse claims, certainly a profound testament, if true, to the longevity (compared to PCs) of thin client devices.
Wyse-enhanced SUSE Linux
Wyse appears to have last updated its V6 Linux implementation with a "maintenance" release in 2006. Moving to a community- and commercially supported release like SUSE will enable "faster software innovation, bug fixes, patches, and time-to-market versus the competition," Wyse said in a sales presentation shown to LinuxDevices. And, like an unnamed "leading thin-client Linux distribution" — presumably Neoware's NeoLinux — it will enable the "simple install of open source software through standard packages," Wyse says.
Meanwhile, features claimed unique to Wyse-enhanced Linux, compared to V6 and to the "leading" Linux thin client OS, include:
SUSE is endorsed by Microsoft and SAP
Broad VPN support including Cisco and IPSec
Built-in user profiles/lockdowns, for Payment Card Industry (PCI) approved security
An interface lets users switch between wireless/wired security
Broad remote desktop and terminal emulation support
Multimedia acceleration (ICA & RDP)
Broader USB peripheral support
Advanced driver support, for "3,000+" peripherals, Wyse claims
The last few items on the list represent the heart of the "enhanced" virtualization features of Wyse-enhanced SUSE.
Big on virtualization
Wyse-enhanced SUSE will be available with three "TCX" (thin client interface) enhancements, each aimed at redressing a traditional area of weakness for virtualized thin clients. McNaught explained. "Some customers were slow to adopt Terminal Server and [VMWare] VDI because they felt the user experience wasn't up to par, due to missing support for multiple displays, for multimedia streaming, and no USB virtualizer."
McNaught said "TCX multimedia" lets thin client users enjoy streaming multimedia, such as Internet video and Flash, much as if they were on a PC. Whereas traditional thin client software "screen-scrapes" video playing on the server, using lots of CPU and network bandwidth, Wyse cleverly took a different approach. They wrote a plugin to Windows Media Player, using the same DirectShow API that lets, for example, a video effects program operate on stream data. But, instead of processing the stream and handing it back to WMP, the plugin sends it out over GStreamer to the client device itself, telling the media player that the media was unavailable, while still keeping the control channel open, as McNaught explained it. The client then simply renders the video on its own. The trick allows an 800 percent improvement in the number of concurrent multimedia sessions, or roughly 65 virtual machines playing media files, instead of 15 on a typical set-up, Wyse reckons.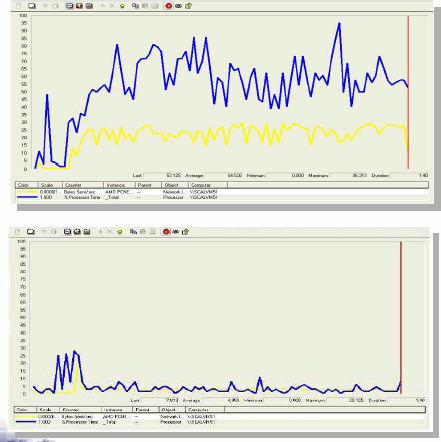 Network and CPU utilization with (bottom) and without TCX multimedia
(Source: Wyse)
For Flash playback, which McNaught describes as "one of the hardest things to remote," Wyse partnered with Desktone to integrate its dtFlash technology.
Wyse competitor Igel, meanwhile announced similar DSV technology that also redirects multimedia decoding chores to thin client PCs, as reported by our sister site, WindowsForDevices. That product leverages the PowerFuse Workspace Extender client from RES Software, but appears limited to Windows thin-client OSes, for now.
Wyse's "TCX USB Virtualizer," meanwhile, aims to deliver the same experience a PC user would have upon plugging in a USB peripheral such as a camera. That is, the appropriate kernel module is identified, and loaded on the kernel.
Finally, Wyse also promises to add support for multiple displays, in a future TCX add-on release.
Availability
Wyse-enhanced SUSE Linux will ship pre-loaded on Wyse thin client devices in Q4 2008. It will debut initially on a new "X50L" line of mobile thin clients. Two X50L models will have 12-inch displays, while two will have 14.5-inchers. Pricing has not yet been announced, but will be lower than the similar (in terms of hardware) Windows-based X90 and X90L devices, available starting at about $600.
---

This article was originally published on LinuxDevices.com and has been donated to the open source community by QuinStreet Inc. Please visit LinuxToday.com for up-to-date news and articles about Linux and open source.