Jan 3, 2011 — by LinuxDevices Staff — from the LinuxDevices Archive — views
Android is set to "explode" at the Consumer Electronics Show in Las Vegas this week, with smartphones and tablet computers including a newly revealed HTC Shift 4G phone for Sprint and a four-inch smartphone/tablet hybrid from ViewSonic. Meanwhile, Verizon Wireless is cutting the price of the Android-based Samsung Galaxy Tab tablet by $100 to $500, says an industry report.
Last week, Fortune said 2011 will be the year Google's Android operating system "explodes" across the technosphere on smartphones, tablet computers, and other devices hardware manufacturers cook up.
Time for a level set: "Explodes," or some variation thereof, is the dramatic euphemism people in the technology industry employ to proclaim that a product is set for some super-definitive growth. In this case, it's the kind that blows RIM's BlackBerry and Apple's iOS smartphone platforms out of the water.
Android fans will wince at the too-common use of the expression "Android explodes." This is because it may be turned for mischievous purposes to describe what an Android phone does when a user holds it up to his ear or what an Android tablet does when a user swipes it with her fingers.
So "explodes" may be a tad rich as a description, but if there is any event that could signal that Android is ripe for hyper growth — Fortune apparently doesn't see Android's rise to 23.5 percent of U.S. smartphone share in 2010 as "explosion" worthy — it's the 2011 Consumer Electronics Show.
The annual event commences in earnest Jan. 5 in Las Vegas, and eWEEK's Clint Boulton and Nicholas Kolakowski will be attending. Here is a preview of a handful of Android-related announcements the reporters expect to hear and see.
1) Motorola Android 3.0 tablet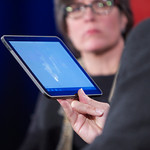 Motorola Dec. 20 issued a video alluding to a tablet computer based on Google's Android Honeycomb OS, which will be at least shown off at CES. We believe Google Android honcho Andy Rubin teased this tablet earlier in December, showing off the new 3D Google Maps for Android.
An alternative to the sector-defining Apple iPad and Samsung's Galaxy Tab, this will likely be a device to accompany Verizon Wireless' Droid line of smartphones. Last week, speculation arose that the tablet will be called the Droid Xoom, and will ship in February with an external 4G LTE modem.
2) Samsung Galaxy Player
Speaking of Samsung, the company will likely make a few Android-related announcements at CES, including a Google TV appliance and the Samsung Galaxy Player iPod rival. The Galaxy Player (pictured below) runs Android 2.2; is powered by a 1GHz processor; and features a four-inch LCD screen. Other features are said to include SoundAlive audio enhancing technology, Wi-Fi, Bluetooth 3.0, a 3.2-megapixel rear camera with a front-facing camera for video calling, GPS, HD video playback, and a microSD card slot. The Galaxy Player could be for Google's Music what the iPod Touch was for iTunes.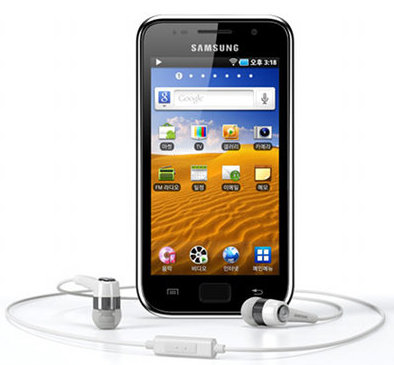 Samsung Galaxy Player
The
Google TV
bit should be bold considering rival TV makers reportedly
bagged their launches
at Google's behest.
3) HTC Thunderbolt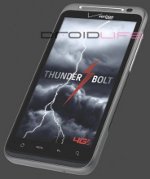 The HTC Thunderbolt, pictured at right by Droid Life, is expected to be the first 4G LTE device from Verizon Wireless. The gorgeous gadget resembles Sprint's HTC Evo 4G, complete with a 4.3-inch touchscreen, front and rear-facing cameras, and Google and Verizon branding.
Verizon CEO Ivan Seidenberg will keynote CES, where he could well unveil the gadget.
The Thunderbolt introduction at CES will likely beat or be accompanied by the 4G Motorola smartphone, based on comments Verizon COO John Stratton made to the Wall Street Journal.
4) HTC Shift 4G
While we're on the subject, it looks like Sprint is set to unveil the HTC Evo Shift, the company's successor to the Evo 4G, on Jan. 9, the last day of CES. Android Central spotted a Radio Shack sign announcing the price at $150 after a two-year agreement. If the sign rings true, Sprint will have a nice counter to Verizon's Thunderbolt and as-yet-anonymous 4G Motorola Droid gadget next week.
5) ViewSonic tablets
Dow Jones reported that ViewSonic will introduce a hybrid Android-based smartphone/tablet that can support 4G wireless connections. The device will feature a four-inch screen and let people make phone calls, says the story. Sounds a lot like the Dell Streak, which isn't good news for ViewSonic, but we'll reserve judgment until and if we get our hands on the device in Vegas.
ViewSonic has already released two larger Android tablets, the seven-inch ViewPad 7 and the 10.1-inch G-Tablet, but the latter has run into some technical troubles out of the gate.
Have we forgotten any phones, tablets or other Android gadgets? Perhaps, but these are the ones our sources put stock in, so that's how we're rolling with our expectations heading into the show. Stay tuned for the Android "explosion."
Alternatively, for some more bitter tastes to balance out the Android sugar, read Kontra's Counternotions rant on Android, as well as Royal Pingdom's reprise treatise on Android application market fragmentation.
Galaxy Tab to get price drop
Verizon Wireless is hacking the price of its Samsung Galaxy Tab by $100, offering the popular tablet for $500 and throwing in $60 worth of free movie rentals to boost sales in the New Year. Droid Life, which said the movie rentals will come via the integrated Blockbuster application Verizon includes on the Samsung Media Hub app, added that consumers who have purchased the Tab from Verizon stores in the last two weeks are entitled to a $100 refund.
Verizon Wirel

ess Nov. 11 launched its Samsung Galaxy Tab (pictured at left) for $600 without a contract, though Verizon customers can add an access plan for $20 a month for 1GB. The price point surprised analysts who thought the first vital rival to Apple's popular iPad should start at least at the iPad's entry level price point. Verizon's $600 Tab price point is $100 more than the entry-level iPad Wi-Fi version and only $30 less than the starting Wi-Fi + 3G version AT&T sells.
Samsung did manage to sell over one million Tabs, but that's worldwide, including in the U.S. on Verizon, AT&T, Sprint, T-Mobile, and U.S. Cellular, all of which offer the gadget at different price points. AT&T sells the Tab for $650 plus $15 for 250MB or $25 for 2GB of storage. Sprint and T-Mobile began selling the Tab for $400 with two-year contracts, though T-Mobile has since slashed the price to $350.
eWEEK tested the Tab on Verizon's network and found it to be solid despite the seven-inch screen size that had us asking for more real estate to access applications.
It's unclear when Verizon will go public with its price cut. At publication time, the Galaxy Tab price on its website remained at $600.
Clint Boulton is a writer for our sister publication eWEEK.
---
This article was originally published on LinuxDevices.com and has been donated to the open source community by QuinStreet Inc. Please visit LinuxToday.com for up-to-date news and articles about Linux and open source.