Dec 30, 2010 — by Eric Brown — from the LinuxDevices Archive — 1 views
Motorola's first Android tablet will be called the Droid Xoom, and will ship in February with an external 4G LTE modem, say industry reports. Meanwhile, photos have leaked of a purported HTC Thunderbolt 4G phone due to be announced by Verizon next week at CES, and more evidence piles up for Honeycomb being Android 2.4 instead of 3.0.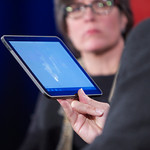 Long before Google's Andy Rubin briefly showed off a new Motorola tablet (pictured), announcing that it would run the upcoming, tablet-optimized "Honeycomb" version of Android on an Nvidia Tegra 2 processor, rumors have been buzzing about the tablet.
That buzzing has now turned into a loud drone. A little over a week after Motorola posted a honeybee-themed teaser video suggesting that it will announce a Honeycomb tablet next week at CES, two Android sites have supplied a name and a few more details on the tablet.
Yesterday, DroidLife pegged the name of Mot's tablet as the Droid Xoom, and said that contrary to previous reports, it would not offer an internal 4G modem capable of hooking up to Verizon's new LTE network.
Later yesterday, AndroidandMe followed up with additional info, including the proposition that Verizon will sell an optional LTE modem for the tablet that plugs into a PCI Express (PCIe) expansion slot. AndroidandMe notes that this makes sense considering that Verizon's 4G network currently reaches only 38 markets. In addition, "most people will not want to pay the $50-80 monthly fee for 4G data," says the story.
Motorola will indeed unveil the Droid Xoom next week at CES, but will not ship it until Feb. 14 after heavy Super Bowl advertising on Feb. 6, says AndroidandMe. The launch will apparently coincide with the release of Honeycomb, which the site says is indeed Android 2.4, not Android 3.0. That Feb. 14 date also marks Valentine's Day, the opening of the Mobile World Congress show in Barcelona, and the day Verizon is expected to launch the iPhone 4, says the story.
HTC Thunderbolt blasts into view
Last week, Verizon posted a Tweet reading: "Jan 6 at #CES: #Android and #LTE – could it be like peanut butter and chocolate? YUM!" Now, DroidLife has leaked a dozen images of an Android-running HTC smartphone destined for Verizon, said to be called the Thunderbolt.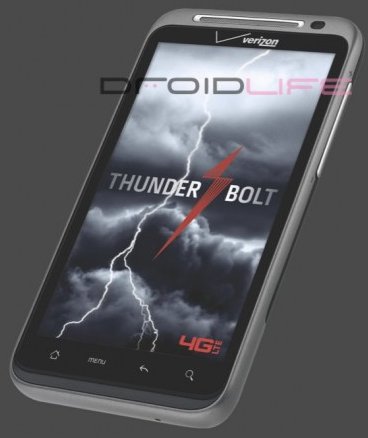 HTC Thunderbolt


Source: DroidLife
The phone is expected to be one of the half-dozen 4G-enabled devices that Verizon CEO Ivan Seidenberg will announce in an 8:30 a.m. (PST) CES keynote address on Jan 6 in Las Vegas, according to a
story in our sister publication eWEEK
.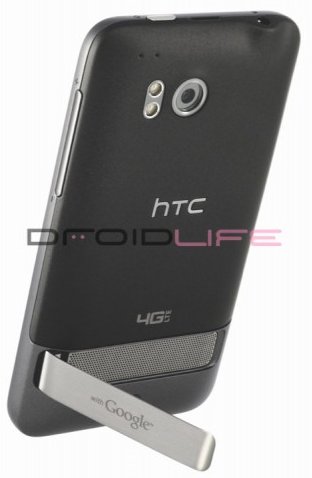 Rear view of Thunderbolt
Source: DroidLife
DroidLife
had few details on the phone, saying only that it looked like the 3.7-inch
HTC Desire
. For its part,
eWEEK
sees a greater resemblance to Sprint's 4.3-inch, 4G-ready
HTC Evo 4G
, and says that the Thunderbolt "appears to feature a 4.3-inch touch screen, front and rear-facing cameras, and Google and Verizon branding."
The 4.3-inch screen speculation appears to be based on the Evo 4G connection, as well as the appearance of a stand on the back of the device.
Last week, HTC posted a teaser web-page saying that it planned to be "the first to 4G, again." The statement was accompanied by an image of a squarish smartphone under a black drape, as well as a note that read "Find out January 6."
The new phones will enable consumers to take advantage of Verizon's new 4G network, based on LTE (long-term evolution) technology. The third of the fourth major U.S. carriers to launch a 4G network, Verizon flipped the switch on Dec. 5, offering coverage to 38 cities and 60 airports. Sprint's network uses a different 4G technology called WiMAX.
Evidence piles up for Honeycomb 2.4
Like AndroidandMe, a number of Android-specific sites have been checking their site analytics logs and noticed devices accessing the site running Android 2.4, but not Android 3.0. Yesterday, PocketNow announced its first Android 2.4 visitor in its logs. The publication then asked another larger, undisclosed site to check their logs. This second website discovered 15 Android 2.4 visitors and only two Android 3.0 visitors.
Also yesterday, AndroidPolice reported it has received 15 visits from Android 2.4 devices in the last month, but none from Android 3.0 devices.
Both sites noted that Android devices can be hacked to falsely display incorrect version numbers, which is presumably behind the two Android 3.0 visits. Yet the Android 2.4 visits would appear to confirm growing speculation that Honeycomb will be Android 2.4, and will ship in February or March, while Android 3.0 won't be announced until at least May, at the Google I/O event.
---
This article was originally published on LinuxDevices.com and has been donated to the open source community by QuinStreet Inc. Please visit LinuxToday.com for up-to-date news and articles about Linux and open source.