Apr 12, 2011 — by Eric Brown — from the LinuxDevices Archive — 12 views
Texas Instruments (TI) announced an "OpenLink" project, which has released a battery-optimized, open source Linux wireless driver stack for mobile devices. The initial release will support Wi-Fi, Bluetooth, and FM communications on TI's WiLink WL1271/3 and WL1281/3 chips, running on the ARM Cortex-based BeagleBoard and PandaBoard boards under Ubuntu, MeeGo, and Android, says the company.
Texas Instruments (TI) announced the OpenLink project last week, with the stated goal of offering a standardized set of native Linux drivers and wireless tools to open source developers working with the chipmaker's ARM processors on battery-powered mobile devices. Today, in conjunction with the Embedded Linux Conference 2011 in San Francisco, TI and OpenLink.org followed up by announcing the availability of OpenLink's first open source release.

The new first drivers and tools are based on work done at Kernel.org's wireless project, and are available for TI's WiLink combo devices, the WL1271/3 and tiny WL1281/3 (pictured at right and below left). The drivers and related tools are optimized for the chips' 802.11b/g/n Wi-Fi, Bluetooth, and FM radios, says TI.
The solutions are initially aimed at the TI OMAP-based BeagleBoard (ARM Cortex-A8) and PandaBoard (Cortex-A9) open developer platforms (see farther below). Software support is said to be offered for "popular Linux-based OSes such as Android, MeeGo, and Ubuntu."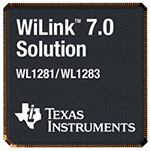 The release comprises TI's OpenLink drivers for the WiLink chips, enhanced with "native kernel benefits such as tested technologies, faster time-to-market, and simplified re-integration when upgrading from one kernel version to the next," says TI. The driver stack is said to include low-power software features and enhancements that were previously available only in proprietary solutions. These power-saving features include support for driver suspend/resume, runtime power management, and wake-on-wireless techniques, says the company.
The new OpenLink.org site, meanwhile, offers source code, development projects, and community support, says the chipmaker. Specific features are said to include hardware support, forums and wikis, as well as project registration, sharing, maintenance, and tracking.
Announced in Feb. 2010 under the brand name "WiLink 7.0," the tiny, 65nm-fabricated WL1281 and WL1283 chips were billed as the industry's first chips that provided 802.11 wireless local area networking, Bluetooth personal area networking, an FM transmitter/receiver, and GPS. TI's previous WiLink 6.0 WL1271/3 chip, which are also supported by OpenLink, provide all of the above except for GPS.
Both the WL128x and WL127x chips are available in single-band 2.4GHz only (WL1271 and WL1281), and dual-band 2.4GHz/5GHz versions (WL1273 and WL1283) models.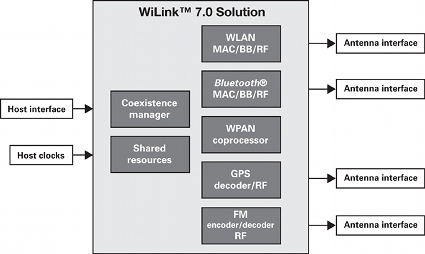 A block diagram of TI's WiLink 7.0 (WL128x)
(Click to enlarge)
The initial OpenLink release does not appear to support the WL128x GPS capabilities. The project says it will expand to "support other technologies such as ANT, Bluetooth Low Energy, and ZigBee, however. Both the WL127x and WL128x support Bluetooth's ANT and Low Energy modes, but do not support ZigBee. This would suggest that more TI wireless chips will be given the OpenLink treatment. Meanwhile, TI says nothing about plans to support GPS.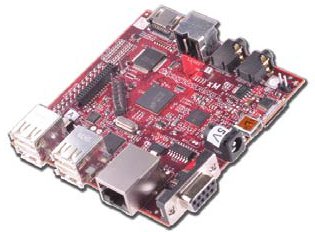 BeagleBoard-xM
The OpenLink drivers appears to support both the original OMAP3530-based
BeagleBoard
, clocked to 720MHz, and the newer
BeagleBoard-xM
(pictured above), which is based on TI's 1GHz DM3730 update. Both Cortex-A8 based boards are distributed by Digi-Key and backed up by a thriving open source BeagleBoard.org community.

The OpenLink WiLink drivers also support the new PandaBoard (pictured at left), which is similarly distributed by Digi-Key and supported with a developer community. Built around the Cortex-A9-based, dual-core, 1GHz OMAP4430 system-on-chip (SoC), the $174 PandaBoard offers 1GB of DRAM, USB, DVI, and HDMI connections. The 4.0 x 4.5-inch board targets smartphone and mobile device development using open source Linux distributions such as Android, Angstrom, Chrome, MeeGo, and Ubuntu.
Stated Oz Krakowski, open source community manager, wireless connectivity solutions, TI, "We're enabling built-in kernel access to TI's latest WiLink combo solutions, bringing low power wireless communication to battery-operated mobile devices such as smartphones, tablets, eBooks and industrial PDAs. We intend to continue sharing our expertise with regular OpenLink submissions to the Linux kernel."
Availability
The initial OpenLink solution for WiLink chips on BeagleBoard and PandaBoard platforms is available now for free download. More information may be found at OpenLink.org.
Today, April 12, OpenLink will offer an OpenLink WLAN Hacking Workshop using a BeagleBoard target at the Embedded Linux Conference (ELC) 2011 in San Francisco, at 4:40 p.m. at Sakura B/C.
---
This article was originally published on LinuxDevices.com and has been donated to the open source community by QuinStreet Inc. Please visit LinuxToday.com for up-to-date news and articles about Linux and open source.