May 18, 2010 — by LinuxDevices Staff — from the LinuxDevices Archive — 4 views
Imagination Technologies announced it has licensed its latest Powervr SGX Series5XT IP for GPUs (graphics processing units) to Texas Instruments (TI) for inclusion in forthcoming OMAP SOCs (system on chips). Following a similar agreement earlier this month with Renesas, the collaboration will "define a new zenith of graphics performance for mobile platforms," the company claims.
Citing a "multi-use license agreement" with TI, Imagination Technologies said the chipmaker will deploy the Powervr SGX Series5XT IP in future OMAP SoCs. The technology will "exponentially increase the attraction and usability of user interfaces, the speed of browsers, the realism of games, and the impact of navigation applications," the company says.
The newly announced agreement follows one announced earlier this month with Renesas, which "will deploy the technology in future SoC designs for the mobile market." As detailed later in this story, TI and Renesas have already used earlier Powervr IP in a variety of products, along with many other chipmakers.
First announced in January, Imagination Technologies' Series5XT SGX IP is based on a second-generation Universal Scalable Shader Engine (USSE2), delivering "significantly better throughput" than the earlier Series5 USSE shader engine. It's said the architecture scales from 100MHz to 400MHz "and beyond," delivering performance of 35 million polygons per second and a pixel fill rate of one gigapixel per second when running at a mid-range 200MHz.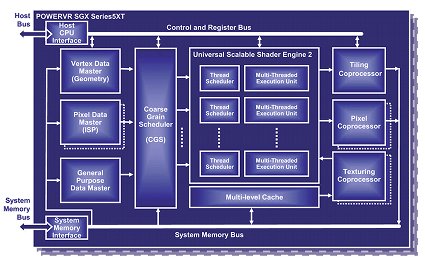 A block diagram of Imagination Technologies' Series5XT SGX IP
(Click to enlarge)
Backwards-compatible with the earlier Powervr MBX and SGX Series5, the Series5XT SGX IP supports "all industry standard mobile and desktop graphics APIs and operating sytems," according to Imagination Technologies. For example, it's said compatibility extends to Android, Linux, Symbian, as well as Windows CE, Vista, and XP. The company adds that OpenGL ES 2.0, OpenGL EX 1.1 + Extension Pack, desktop OpenGL 2.0, Open VG 1.1, and the relatively new OpenCL 1.0 are all supported.
Beyond this, the Series5XT SGX IP will be available with multiple cores, Imagination Technologies says. Initial implementations include the two-core, four-pipeline SGX543, along with the 16-core, 64-pipeline SGX543MP2-16.
Commenting on the latter, Rik Myslewski wrote in a March article for The Register, "That's one hell of a lot of concurrent pixel and vertex shading." Because all data/pipeline/thread management is done in hardware, applications will be able to utilize any and all cores on a Series5XT SGX-based device without modification, he added.
Background
Imagination Technologies — whose investors famously include both Apple and Intel — has seen its IP used in a bevy of x86 and ARM processors. In March, Imagination Technologies announced that more than 250 million devices had shipped with Powervr technology, including many in the mobile phone, media player, and embedded markets.
ARM processors that include Powervr graphics IP are said to include:
Apple's A4
Freescale's i.MX31
Marvell's PXA310/312
NEC's EMMA 3TL, EMMA Mobile/EV2
Renesas' SH-Mobile 3, 3A, G1, G2, G3, Navi1, Navi2G
Samsung's S3C2460, S5L8900, S5PC100, S5PC110, S5PC510
SiRF's SiRFprima
TI's AM3517, OMAP2420, OMAP2430, OMAP2530, OMAP3420, OMAP3430, OMAP3440, OMAP3450, OMAP3515, OMAP3530, OMAP3620, OMAP3621, OMAP3630, OMAP3640, OMAP4430, OMAP440
Intel, meanwhile, has used Powervr graphics IP in its Pentium-based SoCs, the CE3100, CE4100, CE4130, and CE4150. The Imagination Technologies core is also employed in the SCH US15W northbridge/southbridge, notable for accompanying the chipmaker's very first Atom processors, the Z5xx "Silverthorne" chips.
Hossein Yassaie, CEO of Imagination Technologies, stated, "We are delighted to confirm that we have extended our long-standing relationship with TI. Our core technology continues to be vital to the significant and growing success of TI's OMAP processors, an industry leading mobile and embedded SoC platform."
Remi El-Ouazzane, VP and GM of TI's OMAP platform business unit, stated, "The increasing quantity and sophistication of mobile device applications puts challenging burdens on the industry to enable the superior graphics capabilities with the necessary low power consumption. TI successfully meets those expectations with the integration of Imagination's Powervr cores."
Availability
More information on Imagination Technologies' Powervr SGX Series5XT cores may be found here. Rik Myslewski's March article for The Register may be found here.
---
This article was originally published on LinuxDevices.com and has been donated to the open source community by QuinStreet Inc. Please visit LinuxToday.com for up-to-date news and articles about Linux and open source.