Jun 20, 2011 — by Eric Brown — from the LinuxDevices Archive — 82 views
Sigma Designs announced an IPTV set-top-box (STB) reference design that uses HomePlug AV powerline networking to transmit HD and 3D IPTV streams to TVs around the home. The Ultra-Thin Reference Platform runs Android, Linux, or Windows CE on a new, low-power SMP8670 media processor, and integrates Z-Wave RF technology for non-line-of-sight remote control and home automation, says the company.
Sigma Designs has offered a somewhat similar STB reference design that uses an earlier SMP8652 processor, and similarly features HomePlug AV and Z-Wave support. However, the Ultra-Thin provides a faster, lower power new SMP8670 processor (see farther below), and appears to be the first Sigma design to support Android. The company demonstrated its first Android-based, HD-ready STB design back in August 2009, based on MIPS' Android port, and the Ultra-Thin appears to be the final result.
Sigma Designs Ultra-Thin


(Click to enlarge)
The Ultra-Thin Reference Platform can decode multiple HD IPTV streams, offers both HDMI and S/PDIF outputs. Measuring a compact 4 1/8 x 3 1/8 x 1 1/4 inches, the Sigma Ultra-Thin plugs directly into AC power outlets using Sigma's
CG2110 HomePlug AV with ClearPath
implementation of the
HomePlug AV
1.1 powerline networking technology.
The design reduces cost and cable clutter, and more importantly enables the Ultra-Thin to stream HD video, voice, and data over standard powerlines, claims Sigma Designs. The company says its ClearPath technology can deliver DVR, HDTV, and 3DTV to every power outlet in a home — even within multi-phased homes, across surge protectors, and through EMI filters.
Of course, the TVs, STBs, or other devices receiving the signals would need compatible technology to receive the signals. It's not clear whether ClearPath devices are required, however, or if any HomePlug AV compatible device will do.
Sigma's ClearPath implementation uses all three powerline wires — phase, neutral, and ground — to deliver faster throughput than other HomePlug AV solutions, claims the company. It is also said to be the only MIMO (multiple in, multiple out) technology currently available over powerline.
Z-Wave enables home automation control
The Ultra-Thin also integrates Z-Wave RF technology, a rival short-range wireless alternative to ZigBee, commonly used in home automation. Z-Wave replaces an IR remote control, enabling the Ultra-Thin to be plugged into an outlet out of sight behind the TV.
Z-Wave, which is presumably implemented here via Sigma's SD3402 controller, uses the 900MHz ISM frequency instead of ZigBee's more crowded 2.4GHz band. Z-Wave is touted for providing less radio interference and lower power consumption than its rival.
Designers can also choose to enable Z-Wave for home automation duty. The box can communicate with over 500 Z-Wave compatible devices available on the market from 170 manufacturers, including lighting, door locks, and thermostats, says Sigma Designs.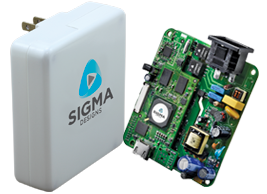 HPAV 8670/2110 Ultra-Thin enclosure and development board
The Ultra-Thin is said to be available in a development kit called the HPAV 8670/2110. The kit ships with Linux or Android software development kits (SDKs) aimed at IPTVs and STBs, but also supports Windows CE. The kit includes development tools, schematics, bill of materials, Gerber files, and documentation.
A development board is available, as well as a choice of two enclosures, with HomePlug AV powerline technology compatible with U.S. and French power networks, respectively. Devices aimed at other regions require a power adapter, says the company.
Sigma SMP8670 SoC
The SMP8670 system on chip (SoC) updates Sigma's line of MIPS-based SMP86x line of media processors, including the SMP8654 and SMP8655. The SMP8670 is targeted at thin clients, a term that Sigma appears to apply primarily to STBs, as opposed to general-purpose thin client computers.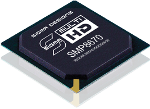 Sigma has yet to post detailed specs on the SMP8670 (pictured), but claims that the SoC is 40 percent faster and consumes 30 percent less power than previous Sigma thin-client processors.
Sigma doesn't say how many MIPS cores are used, although the previous SMP8654/5 used three cores. Sigma does reveal that the SoC offers an audio DSP (digital signal processor), as well as a security processor that supports a wide variety of Digital Rights Management (DRM) and Conditional Access (CA) solutions.
One apparent enhancement over a previous SMP8652 model is integrated HDMI 1.3a support. Supported media formats include AVCHD, DVD-Video, DVD-R/-RW/+R/+RW, CD/-R/-RW, and Picture CD (JPEG), says Sigma Designs. TV standards support is said to include ATSC, DVB, ARIB, and IPTV.
The SMP8670 offers "1.25x HD" decoding, as well as 3D video support, says the company. The SoC is also said to provide video processing features including motion adaptive de-interlacing and 12-bit xvYCC processing.
The SMP8670 supports Android, Linux, and Windows CE, according to Sigma Designs. The SoC is optimized to run "Over-The-Top" (OTT) applications, as well as graphically rich environments including Adobe Flash and Adobe AIR for TV, says Sigma Designs.
Stated Thinh Tran, chairman and CEO at Sigma Designs, "With the Sigma Ultra-Thin, telcos and cable companies, as well as any IP-based TV and video companies, can enable users to self-install their set-top-box for dramatically reduced deployment costs."
Availability
Sigma Designs offers no availability information on the Ultra-Thin Reference Platform, but it appears to be ready now. More information is available on its HPAV 8670/2110, which appears to be the name of the hardware/software development kit for the Ultra-Thin design. More on the new SMP8670 processor may be found on its SMP8670 page.
---
This article was originally published on LinuxDevices.com and has been donated to the open source community by QuinStreet Inc. Please visit LinuxToday.com for up-to-date news and articles about Linux and open source.