Aug 11, 2010 — by Eric Brown — from the LinuxDevices Archive — 2 views
Amahi released a "Plug Edition" version of its Amahi Linux Home Server for the Marvell Plug Computer, and is sponsoring a contest giveaway of Ionics' Stratus version of the device. Meanwhile, Marvell announced "PlugIN," its first-annual developer camp for the Plug Computer, to be held on Aug. 18 in Santa Clara, Calif.
The Amahi Plug Edition is free software based on the Fedora-Linux-based open source Amahi Linux Home Server software for desktop computers. In May of last year, Amahi and Intel demonstrated an embedded version of the software called the Home Digital Assistant (HDA), which runs on devices running Intel Atom N270 processors.
Like the HDA, the Amahi Plug Edition provides media sharing and backup on integrated media servers and home routers, says Amahi. Designed to be loaded onto the tiny Marvell Plug Computer reference design, which plugs into a wall socket, the Amahi Plug Edition is a media savvy networking server for the home, says Amahi.
The Amahi Plug Edition can run a wide variet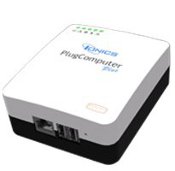 y of apps, from simple file sharing utilities to iTunes streaming, wikis, and backup programs, says Amahi. Soon, it will also offer DLNA media streaming to Sony or Samsung TVs and DLNA-ready set top boxes, the company adds.
Running on a typical Plug Computer, Amahi Plug Edition is said to draw about three Watts idle, seven to eight Watts while booting, and about four Watts (with bursts of six Watts) while streaming a full movie to an Apple iPad or sending a full 1080p stream to an HDTV. The latter can be done with Amahi's "very popular" Videos5 app, says Amahi.
The Plug Edition software is free, and the product page points to major suppliers of Plug Computer hardware. It does not appear, however, that anyone is selling devices with Amahi Plug Edition preinstalled.
Members of the open source Amahi community write native Amahi apps using Ruby on Rails (RoR), which is Amahi's preferred development environment. Other development options include PSP, Python, and Perl. Amahi is also said to offer access to an online app store.
Contest winners to receive free Ionics Plug
Amahi's theme/app contest is open to registered Amahi.org developers, who are encouraged to produce an Amahi theme or app and submit it by Aug. 22. Six winners will be announced the next day.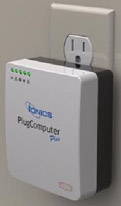 Each winner will receive a Ionics Stratus Plug Computer (pictured above right, and at left), with Wi-Fi, Bluetooth, and Z-Wave, for wireless home controls, says Amahi.
One of several Plug Computer-based Ionics Plug devices, the Stratus device also offers first-generation Plug Computer reference design such as the 1.2GHz Marvell 88F6000 ("Kirkwood") SoC. The first-gen Plug Computer also offers 512MB of DRAM, 512MB of flash, and a gigabit Ethernet port.
The Plug Computer design has been used in a wide variety of networking server products, including Cloud Engines' popular Pogolug. It has also been supported with a variety of open source software customized for it, including the Real Time Logic (RTL) BarracudaDrive application web server.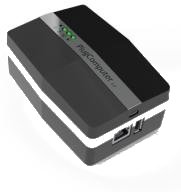 In January, Marvell started sampling a Plug Computer 3.0 design (pictured at right). The new version features a 2GHz Marvell Armada 300 processor, and adds built-in Wi-Fi, Bluetooth, and a hard disk drive. At the time, Marvell said that Plug Computer 3.0 development kits would be available through Plug Computer vendors such as Ionics, as well as Globalscale Technologies, and Universal Scientific Industries Co.
Marvell debuts PlugIN developer camp
Marvell's first-annual PlugIN conference will be held on Aug. 18 in Santa Clara, Calif. Registered attendees will receive a Plug Computer onsite, says the company.
The event is aimed at existing Plug Computer developers, as well as any Linux, Java, or Android developer, tester, designer, or entrepreneur, interested in working with Plug Computer reference platforms, says Marvell.
PlugIN is designed to foster creative and innovative Plug Computer applications ideas, and bring together the Plug Computer network and community, says the company.
PlugIN will feature technical presentations and demonstrations from Plug Computer partners including the aforementioned Ionics, as well as 4Home, Oracle, Eyecon, and Global Scale Technologies, says Marvell.
In addition, Simon Milner, vice president of Marvell's Enterprise Business Unit, and other members of Marvell's Plug Computing team will give technical presentations. Afternoon breakout sessions will focus on Linux, Java, Android, and business development, says the company.
Availability
More information on the Amahi Plug Edition, as well as the Theme and App contest, may be found here, and more detailed information on the Amahi Plug Edition, including installation details, may be found here.
More on the Ionics Stratus Plug Computer may be found here.
Marvell's PlugIN will be held on Aug. 18 in Santa Clara, Calif. at Marvell headquarters. More information, including registration details, on Marvell's PlugIN may be found here, and more on the Plug Computer platform may be found here.
---
This article was originally published on LinuxDevices.com and has been donated to the open source community by QuinStreet Inc. Please visit LinuxToday.com for up-to-date news and articles about Linux and open source.