Aug 8, 2011 — by LinuxDevices Staff — from the LinuxDevices Archive — 2 views
Team Tiny Core announced a new version of its small-footprint, in-memory Linux desktop distro. Tiny Core 3.8 includes faster shutdown, updates to the BusyBox tool collection, improved searching, and the ability to re-download non-installed extensions, among other enhancements.
Tiny Core Linux is designed to reside in RAM, and can fit into just over 10MB, according to Team Tiny Core. Components that are said to reside entirely in memory include: the Linux kernel, the BusyBox tool collection, as well as minimal graphics based on Tiny X.
Configured to boot from a CD-ROM, pen drive, or "frugally from a hard drive," Tiny Core Linux boots extremely quickly. The distribution offers minimal desktop features, less than exhaustive hardware support, and "represents only the core needed to boot into a very minimal X Window desktop, typically with wired Internet access," says Team Tiny Core.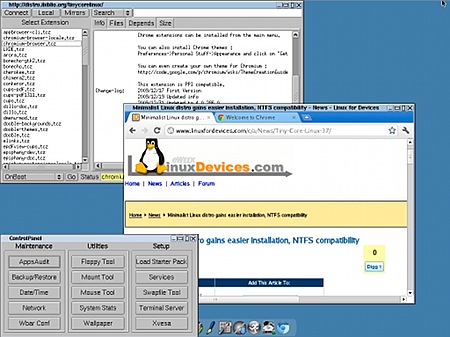 Tiny Core Linux 3.8
(Click to enlarge)
The desktop is, however, extensible by installing applications (such as the Chromium browser shown above) from online repositories. App extensions can reside in RAM, or can be mounted from or installed into a persistent storage device, says Team Tiny Core.
We last heard from Tiny Core in June, when version 3.7 was released. It added read access to NTFS partitions, included new icons for Editor and Run, and introduced "starter packs" that simplify downloading tools, among other enhancements.
Tiny Core 3.7 also saw the debut of a new "multi-Core" ISO image — just over 40MB in size — that contains both Tiny Core and Micro Core installations, the former including a desktop and the latter offering a command line interface. Updated starter packs (install.gz, network.gz, and grub4dos.gz) were said to simplify first-time installation.
In the newly released version 3.8, the multi-Core version is now a hybrid ISO, making it easier to install the operating system on a flash drive, Team Tiny Core says. The BusyBox tool collection has been updated to version 1.18.5, and AppsAudit can now automatically fetch missing dependencies and report "stale" extensions.
The complete change log cited on the Tiny Core forum is as follows:
AppsAudit — dependencies menu grouping and added "Fetch Missing Dependencies"
AppsAudit — updated error reporting and now reports stale extensions
AppsBrowser — clear Search&Provides field upon results
Wallpaper — Improved GUI, now with a single window
screenshot to display file name created upon completion
mnttool — added a refresh button
wbarconf — support for no initial .wbar
busybox — 1.18.5 new depmod applet and audit of required applets
tc-audit added "fetchmissing" to fetch missing dependencies
tce-load — now allows re-downloading non-installed extensions to better handle download failures
tce-setup & tce-load to ensure busybox calls thus avoiding conflicts with various gnu utilities
rc.shutdown — removed sleep to improve shutdown speed
search.sh — improved searching by title results and support for fat file-system
provides.sh — support for fat file-system
tce-setup, tce-load, and loadpack.sh — alias for new depmod applet
.profile — new user login sudo issue resolved
rebuildfstab and tc-config for AOE support
tc-functions getpassword to support backspace during input
tce-setup for loading "tce" directory on cdrom and installable via updates to tc-install & tc-grub4dos
multicore.iso now uses extension directories for network, install, or grub4dos
new icons for AppBrowser and AppsAudit
In July 2010, the release candidate for Tiny Core version 3.0 appeared. That version introduced the move up to Linux 2.6.33.3, made an optional 64-bit kernel available, included the Ext4 file-system, and provided improvements to virtualization and the "compressed swap in RAM" feature.
The enhanced compressed swap in RAM feature was said to "run more and longer" and result in fewer crashes due to insufficient RAM. Other improvements were said to include "new tmpfs root always," which meant that it was no longer possible to exhaust RAM in an "embed" boot via files, said Team Tiny Core.
Availability
The changelog for Tiny Core Linux 3.8 can be found here. General info on Tiny Core Linux may be found on the homepage, here.
Jonathan Angel can be reached at [email protected] and followed at www.twitter.com/gadgetsense.
---
This article was originally published on LinuxDevices.com and has been donated to the open source community by QuinStreet Inc. Please visit LinuxToday.com for up-to-date news and articles about Linux and open source.