Mar 2, 2010 — by Eric Brown — from the LinuxDevices Archive — 1 views
The Small Form Factor Special Interest Group (SFF-SIG) has adopted Lippert's CoreExpress specification for computer-on-modules (COMs). The group says version 2.1 of the 2.6 x 2.3 inch (65 x 58mm) format adds DisplayPort support, plus reserve pins to enable future support for USB 3.0.
The CoreExpress format was introduced by Lippert as a proprietary standard two years ago, and first appeared in April 2008 in the form of the CoreExpress-ECO module (see background farther below). Now, the format is open to the embedded community, which can develop CoreExpress modules and applications without regard to confidentiality or royalties, says the SFF-SIG industry group. Use of the CoreExpress logo, however, requires membership in SFF-SIG.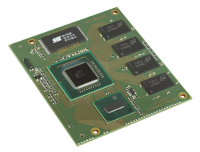 Lippert's CoreExpress-ECO
Featuring a single, all-digital 220-pin surface-mount connector, the CoreExpress format is designed to weigh 28 grams and measure 2.6 x 2.3 inches (65 x 58mm). Version 2.1 is upward-compatible from the current CoreExpress 2.0 version published by Lippert, and includes enhancements proposed by SFF-SIG members during the evaluation process.
Enhancements are said to include support for the DisplayPort interface, and the addition of sufficient reserve pins to enable upward compatible support for USB 3.0 in the future. In addition, the connector used by CoreExpress modules has been confirmed to operate at the speeds required for PCI Express Generation 2.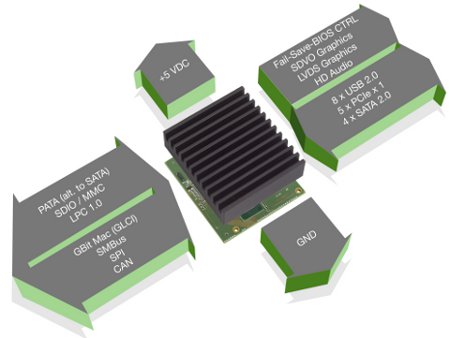 CoreExpress 2.1 block diagram (simplified)
The format's single connector baseboard interface eliminates the registration problems frequently found with two-connector COM products, and its all-digital design reduces system noise and EMI, claims SFF-SIG. The single interface supports peripherals including PCI Express, RGMII Ethernet SATA, CAN bus, USB 2.0 LPC bus, SM bus, and SD/SDIO/MMC 8-bit, says the industry group. Audio/video interfaces are said to include High Definition Audio, 24-bit LVDS, backlight control, and SDVO, which is now said to be multiplexed with DisplayPort (see block diagram and spec list below).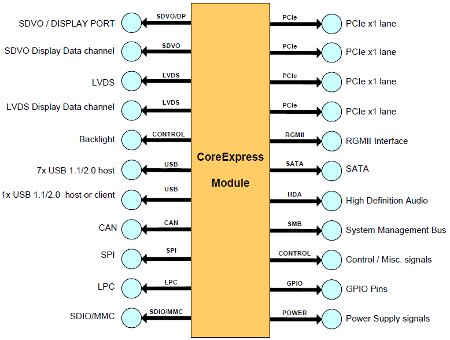 CoreExpress 2.1 block diagram (expanded)


(Click to enlarge)
CoreExpress 2.1 interfaces are said to include:
5 x PCIe x1
8 x USB 2.0 host (or 1 x client)
4 x SATA 2.0 (alternatively 1 x PATA)
1 x SDIO/MMC (8-bit)
1 x SDVO graphics
1 x LVDS graphics (24-bit)
1 x Gbit MAC (GLCI)
1 x LPC 1.0
1 x SMB
1 x SPI
1 x CAN
1 x HD audio
1 x Fail-Safe-BIOS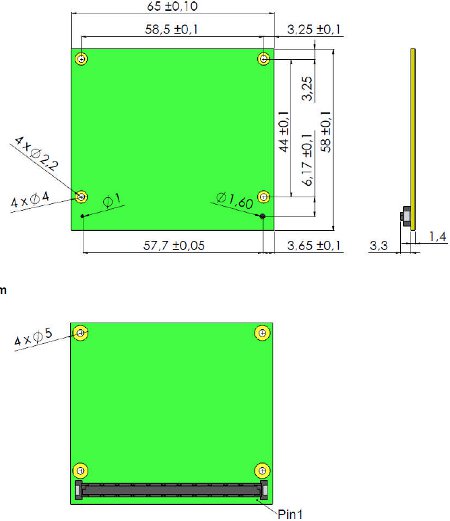 CoreExpress 2.1 dimensions


(Click to enlarge)
CoreExpress background
Lippert announced the CoreExpress format and its plans to produce a "CoreExpress-Menlow" module based on it in February 2008. The module launched as the CoreExpress-ECO in April of that year, when it was touted as the first available Intel Atom-based board. The company followed up in Sep. 2008 with a version bumping the soldered-on RAM up to 2GB.
Still the company's latest module using the format, the CoreExpress-ECO is available with Intel's Z530 (1.6GHz) or Z510 (1.1GHz) chips. With the faster processor option and 2GB RAM, the device is claimed to consume "around five Watts.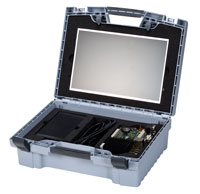 Lippert now offers a CoreExpress ECO-Evaluation Kit (pictured) that supports the module. Available in a carrying case, the kit contains the CoreExpress-ECO module with 1.6GHz Atom Z530, mounted on an EPIC-format carrier board, and equipped with a 13.3-inch, 1280 x 800-pixel TFT display panel, says Lippert.
Cables, a power supply, and documentation are also said to be supplied. The board supports both Linux and Windows XP pre-installed on the included Compact Flash disk, says the company.
SFF-SIG background
The SFF-SIG is primarily known for ushering in its PC/104 Express competitor, called the Stackable Unified Module Interconnect Technology (SUMIT) format. SFF-SIG members, several of which can be expected to release CoreExpress products, include founding voting members WinSystems, Via, VersaLogic, Octagon, and Ampro, joined by newer voting members AdLink, Congatec, Diamond Systems, Kontron, Samtec, and now, Lippert. The general membership list has seen some turnover, with Portwell now joined by Arbor, Acces I/O Products, Alps Electric, and Apacer.
In its statement today, the group touted CoreExpress as "the smallest x86 computer-on-module in the market." This description appears to forget the 2.36 x 2.36 Mobile-ITX format announced by Via last December, and said at the time to be the industry's smallest COM format. Subsequent to that announcement, Via announced its Epia-T700, a Mobile-ITX COM combining a 1GHz Via Eden ULV CPU with a VX820 chipset. (For more details, see our earlier coverage, here.)
Stated Paul Rosenfeld, SFF-SIG President, "The dynamic and vibrant nature of SFF-SIG enabled the group to move rapidly to embrace the CoreExpress Specification. Eight companies participated in the review process which was completed within a 90 day window."
Stated Peter Lippert, President of Lippert Embedded Computers GmbH, "I'm thrilled that CoreExpress has achieved the status of an open standard through SFFSIG. This is an ideal vehicle to make advanced CoreExpress technology available to the entire embedded community."
Availability
The CoreExpress 2/1 Specification is now available for download from the SFF-SIG, here.
More information on Lippert's CoreExpress ECO-Evaluation Kit may be found here.
---
This article was originally published on LinuxDevices.com and has been donated to the open source community by QuinStreet Inc. Please visit LinuxToday.com for up-to-date news and articles about Linux and open source.