Apr 7, 2006 — by LinuxDevices Staff — from the LinuxDevices Archive — 13 views
Toshiba America Electronic Components (TAEC) is sampling two highly integrated MIPS64/DSP-based SoCs (system-on-chip processors) for digital TVs with hard drives and DVD players. The TC90400XBG and TC90400FG are available in complete hardware/software reference designs, adding low- and mid-range options to TAEC's family of HDTV reference designs based on MontaVista Linux.
Both TC90400 SoCs are said to support global free-to-air and pay-TV standards, including ATSC, DVB, and ARIB. They can decode dual standard-definition streams, or a single high-definition (HD) stream. Both can display content at a "standard" resolution of 720×480, TAEC says, or at HD resolutions up to 1080i. Both chips also support 480i resolution output, to support VCRs, or to "feed CRT TV to display digital transmission," TAEC says.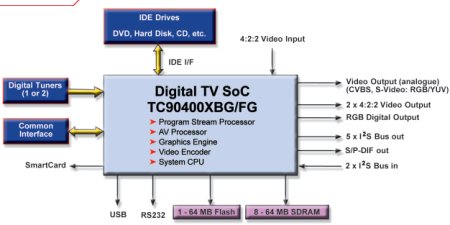 TC90400 interface diagram
The TC90400-series SoCs are based on a 64-bit MIPS RISC host processor core, clocked at 180MHz, along with three DSP cores. They support a unified 16-bit DDR memory architecture, said to save cost by allowing the same memory bank to be used for both system and graphics memory. The SoCs also support NAND, as well as NOR flash, another cost-cutter, according to TAEC.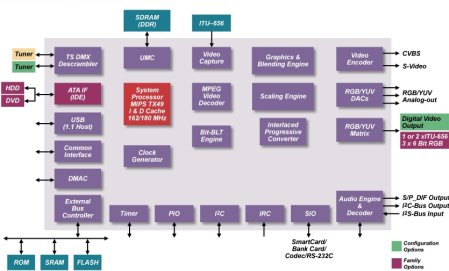 Toshiba TC90400 diagram
(Click to enlarge)
Features listed by TAEC for both TC90400-series SoCs include:
A 180MHz TX49/L3 64-bit MIPS RISC core with 8KB instruction cache and 8KB data cache, a unified memory system, a DDR SDRAM controller, plus NAND and NOR flash memory support
A transport stream processor that is fully compliant to ATSC, ARIB, and DVB standards. It provides simultaneous de-multiplexing of up to three streams, has two TS inputs, supports hard-disk drive recording or playback, and has a descrambler for Multi2, DES/TDES, DVB, and AES
A video decoder for standard-definition decoding. It supports either single or dual MPEG-2 ([email protected] and [email protected]) decoding and MPEG-1 decoding. It also offers both fixed and variable bit rate up to 15Mbits/sec, has trick-mode support for hard-disk drive playback, and single I-frame decoding
A video decoder for high-definition decoding. It supports MPEG-2 decoding for [email protected] for the ATSC and BS-Digital standards. High-definition decoding can be displayed in half horizontal resolution up to 960 x 1080 and is 720p or 1080i compliant. It also has high-definition to standard-definition down-conversion for display in standard-definition resolution
Built-in audio processor with MPEG-audio, Dolby AC-3, and AAC decoding. It provides multi-stream decoding for up to three streams and audio post-processing with several firmware options
A graphics engine with two planes for YUV/graphics, video scaling from six to 1/16, alpha blending, and progressive scan with I/P conversion through line-interpolation
Provides a wide range of interfaces and peripherals
Has power-down and standby operations
Packaging — the TC90400XBG is housed in a 272-pin PBGA package, while the TC90400FG is offered in a 208-pin QFP package
Embedded OS — supports MontaVista Linux
TAEC's Linux-based digital TV reference design family
The new TC90400-series SoCs support streaming high definition video to "half horizontal resolution or standard-definition" displays, adding low- to mid-range options to the company's line of Linux-based digital TV reference designs. Higher-end reference designs are also available, based on the currently shipping TC81240A SoC, which supports high-definition streams to high-definition displays, TAEC says. Additional products under development will "round out" both high- and low-end reference design options over the next 12 to 18 months, according to the company.
TAEC says its digital TV portfolio includes "all hardware and software development requirements," including reference designs, drivers and firmware, operating systems, ATSC middleware, and application and user interface development tools. Currently available components include…
Hardware:

TC81240A global digital TV reference system
TC90400 global digital TV reference system
TC90400 LCD digital TV reference system
TC90400 digital-to-analog TV converter module

System software:

Linux operating system port support as well as driver and firmware for each chip

Middleware:

ATSC, DVB, and ARIB middleware that supports worldwide TV standards

Application development tools and an electronics programming guide
Shardul Kazi, VP of TAEC's ASSP division, stated, "Our digital TV rollout is a continuation of our overarching strategy to offer complete platform solutions for focused segments. Our customers face a highly competitive market, and a streamlined design process is essential."
Noting that the US Congress has mandated a conversion to digital terrestrial transmission by 2009 in the US, he added, "Our TC90400XBG and TC90400FG single-chip ICs are highly integrated, cost-effective SoC solutions for the next generation of digital TVs and set-top boxes and can support hard-disk drive and DVD implementations. Suitable for both terrestrial- and pay-TV environments, they provide a common platform for US, European, and Japanese standards. We offer a complete hardware evaluation platform as well as application-specific modules based on the TC90400 family to help our customers reduce product development time significantly and get a jump on competition."
Availability
The TC90400XBG and TC90400FG are currently available as samples, and are in volume production, Toshiba says. Pricing ranges from $10.00 to $18.00 in 100,000-piece quantities.
Reference boards now available include the TC90400 global digital TV reference system, TC90400 LCD digital TV reference system, and TC90400 digital-to-analog TV converter module.
Toshiba is a MontaVista investor.
---

This article was originally published on LinuxDevices.com and has been donated to the open source community by QuinStreet Inc. Please visit LinuxToday.com for up-to-date news and articles about Linux and open source.