Jun 21, 2010 — by Eric Brown — from the LinuxDevices Archive — 3 views
Toshiba announced a netbook that runs Android 2.1 on a 1GHz, ARM Cortex-A9 based Nvidia Tegra 2 processor. The Toshiba AC100 is equipped with a 10.1-inch, 1,024 x 600 display, and offers eight hours battery life, seven days standby time, and suspend from resume of less than one second, claims the company.
The Toshiba AC100 is one of the first Android netbooks to be formally announced by a major PC manufacturer (see farther below for background). Toshiba Europe GmbH intends to distribute the AC100 in Europe, the Middle East, and Africa in the third quarter, says the company.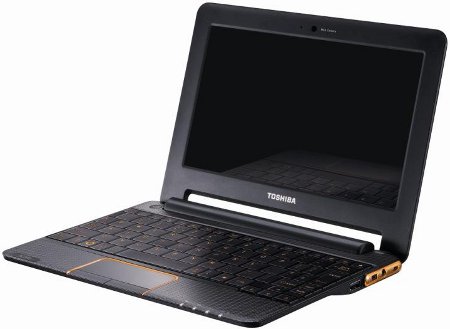 Toshiba AC100
(Click to enlarge)
A year ago, Toshiba was listed by Qualcomm as one of the companies
planning to release "smartbooks"
— small-scale netbooks and tablets — based on its Snapdragon processor. While the company has chosen the Snapdragon for its Windows Mobile-based TG01 smartphone, however, the company has instead opted for the
Nvidia Tegra 250
for its first Android-based smartbook.
More commonly known as the Tegra 2, the system-on-chip has been a magnet for Android tablet designs in recent months. Equipped with dual 1GHz ARM Cortex-A9 cores, the processor also offers a variety of coprocessors, and can stream 1080p HD video while offering "days" of battery life, according to Nvidia.
The AC100 is equipped with 512MB DDR2 RAM and an SD/MMC card slot which provides storage up to 32GB. Beyond that, one must rely on the USB 2.0 port for connecting to external storage. A separate mini USB port is offered, presumably, to charge the battery.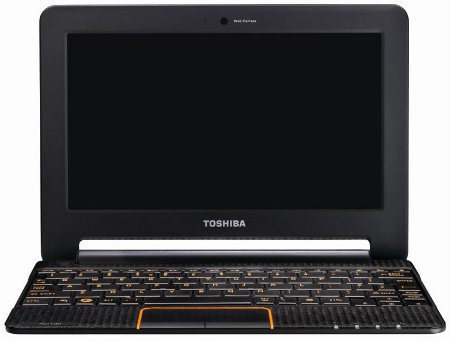 Front view of Toshiba AC100
(Click to enlarge)
The 10.1-inch, 1,024 x 600 display does not appear to offer touchscreen support, but a standard touchpad is supplied. No Ethernet port is offered, but 802.11 b/g/n comes standard. Some models offer Bluetooth 2.1 and/or "mobile broadband" support, says Toshiba, but GPS does not appear to be one of the options.
Other standard features include a 1.3-megapixel webcam, and an HDMI port, says the company. A microphone and an audio out port are also said to be available.
Measuring 10.32 x 7.47 x 0.55/0.83 inches and weighing less than two pounds, the AC100 is touted for its eight-hour battery life, which is said to include mixed browsing and video playback. The netbook can last up to a week on standby, adds the company.
Although boot time was not listed, suspend from resume takes less than a second, providing "a smartphone-like 'always-on' capability," says Toshiba.
The company is touting the AC100 for its personalization features and the ability to download Android 2.1 applications and widgets. However, Android Market access is not provided, according to a ComputerWorld story on the AC100. The story quotes a Toshiba Europe executive as saying that the company is working on various app download options for users.
Preinstalled apps include a messaging client, Opera Mobile browser, an email client with POP3 support, as well as IMAP and Exchange apps, says the company. Also supplied is the Toshiba Media Player, as well as the Documents To Go app for viewing and editing Microsoft Office files, says the company.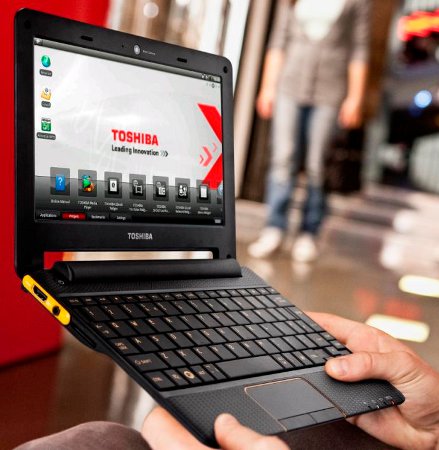 AC100 showing Toshiba's version of Android 2.1


(Click to enlarge)
Up to five home screens are provided on the homegrown Toshiba Home Menu interface, which lets users set up the home screen to change automatically depending on location. The switch is based on a SSID (service set identifier) supplied via WiFi. For example, this would enable a different set of icons and widgets appear based on whether a user is at the home or office.
Specifications listed for the Toshiba AC100 include:
Processor — Nvidia Tegra 250 @ 1GHz
Memory — 512MB DDR2 (333MHz)
Flash expansion/storage — Up to 32GB SSD via SD/MMC card reader
Display — 10.1-inch (25.7cm), 1,024 x 600 TruBrite display with LED backlight
Wireless communications:

802.11 b/g/n
Bluetooth 2.1 +EDR (on some models)
"Mobile broadband" (on some models)

I/O:

1 x USB 2.0
1 x mini USB
Audio out/mic in combo socket
HDMI port

Camera — 1.3-megapixel webcam with integrated microphone
Dimensions — 10.32 x 7.47 x 0.55/0.83 inches (262.1 x 189.8 x 14/21mm)
Weight — Starting at 30.7 oz (870 g)
Operating system — Android 2.1
Netbook vendors flirt with Android
ARM-based netbooks running Android have been shipping for over year now, since the release of Skytone's Alpha 680. Most, however, have been developed by smaller Chinese companies targeting the $100 to $150 price range with seven-inch models running on low-cost ARM9 processors. Many of these also support optional Linux and/or Windows CE installs.
As mentioned, however, the Toshiba AC100 could be one of the first Android-powered netbooks offered by a major laptop manufacturer, and one of the first to offer a more substantial ARM Cortex processor. Acer has shipped its Intel Atom-powered Acer Aspire One D250-1613 and new D260 netbooks, but they both use a stripped-down version of Android designed to act as a fast-booting dual-boot option sitting alongside the main OS course: Windows 7.
HP, meanwhile, has posted some images and specs for an Android-based Compaq AirLife 100 netbook said to be heading for the U.S. The Compaq AirLife 100 will offer a 1GHz Qualcomm Snapdragon processor, 512MB of RAM, 16MB of flash, a 10.1-inch display, and GPS capabilities, the company says.
In the past, Dell has also been rumored to be working on an Android netbook. In fact, a number of netbook vendors, including Asus, flirted with Android netbook designs last year, but then determined that the early versions of Android were not sufficiently capable of running on netbooks.
However, with Android 2.x and higher, and the arrival of more capable ARM processors such as the Tegra 2, vendors appear to be giving Android a second look. Meanwhile, other vendors will wait for the netbook-focused, Linux-based Google Chrome OS later this year.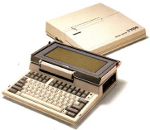 25 years of Toshiba laptops
The AC100 was announced in a multi-product debut intended to celebrate the 25th anniversary of the T1100 (pictured), which Toshiba calls the "first mass-market laptop," according to the ComputerWorld story.
Toshiba announced the AC100 along with an interesting dual-screen tablet called the Libretto W100, which runs Windows 7 Home Premium on an Intel Pentium U5400 processor. The Libretto lacks a keyboard, but offers a virtual keyboard on its two seven-inch LED-backlit touchscreens, which fold together within its clamshell case. (See WindowsForDevices.com for complete coverage, here.)
Like most PC vendors, Toshiba is a Windows starlwart, and as far as we know has never released a Linux-based netbook, let alone an Android model. Typical models include its recently announced Dynabook UX/24, also known as the NB250, which runs Windows 7 on Intel's Atom N455. As reported by our sister publication, WindowsForDevices, the UX/24 includes a 10.1-inch screen, a 250GB hard disk drive, and a WiMAX 4G radio.
Toshiba and Fujitsu to merge handset businesses
Toshiba has also been a staunch Microsoft supporter in its Windows Mobile smartphone business. That may be thrown into question, however, as the company merges its handset business with Fujitsu. According to our sister publication, eWEEK, the two companies will merge their handset operations in October to create Japan's second-largest cellphone maker.
Fujitsu will hold a majority stake in the joint venture of 70-80 percent, according to the story. The company is said to be interested in Toshiba's smartphone expertise to augment its own feature- and specialty-phone business.
Fujitsu is also part of a newly announced Japanese consortium, headed up by mobile provider NTT DoCoMo. The group says it is developing a new application platform for mobile phones for a 2012 launch that will be compatible with Linux, Symbian, and possibly Android.
Stated Thomas Teckentrup, GM, Product, Strategy and Development Division, Computer Systems Group EMEA, "Our smart companion, the AC100, is a member of the mobile internet device segment that combines the best of two product categories: like a smartphone, it is always on, whilst offering the convenience of a clamshell netbook with a bigger screen and a full size keyboard."
Availability
The AC100 will be available in the third quarter throughout Europe, Middle East and Africa. Pricing was not mentioned. The announcement may be found here. The ComputerWorld story on the product launch should be here.
---
This article was originally published on LinuxDevices.com and has been donated to the open source community by QuinStreet Inc. Please visit LinuxToday.com for up-to-date news and articles about Linux and open source.