Feb 13, 2006 — by LinuxDevices Staff — from the LinuxDevices Archive — 3 views

Trolltech announced three design wins for Qtopia Phone Edition (QPE), its software stack for Linux-based phones. The wins include a dual-mode phone from Wistron NeWeb, a "peer-to-peer WiFi VoIP" phone from Accton, and a tri-band GSM/GPRS smartphone with camera and TV-out from Amoi.
Trolltech will demonstrate the three Qtopia design wins at the 3GSM conference in Barcelona this week.
Wistron NeWeb's high-end mobile WiFi phone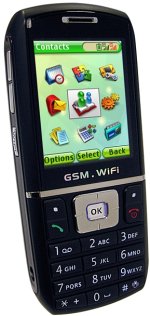 WNC's GW1
(Click to enlarge)
Wistron NeWeb Corporation (WNC), of Taiwan, expects to begin production of its Linux/Qtopia-based "GW1" (GSM/WiFi 1) design in Q2, 2006. It expects the phone to be marketed in Europe and Asia later this year.
The GW1 design supports "dual standby" operation between cellular and 802.11b/g VoWiFi (VoIP-over-WiFi) networks, the company says. Other advanced features include POP3/IMAP email, Web browsing, MP3 and MPEG-4 playback, up to 40 downloadable polyphonic ring tones, and some IPTV (Internet Protocol television) capabilities.
Subsequent GW-series models will support CDMA and other 3G technologies, according to WNC.
Trolltech CEO Haavard Nord stated, "The WNC phone represents the first GSM/Wi-Fi phone made using the new capabilities of Qtopia Phone Edition and its Wi-Fi framework." said Trolltech CEO Haavard Nord.
Trolltech added VoIP support with the Qtopia 2.2 release last November. Analyst firm ABI said last summer that it expected VoWiFi-enabled mobile handsets to catch on, because they offer better indoor usability.
NWC is among the world's largest ODMs (original design manufacturers) in the ICT (information and communication technology) sector, Trolltech says. ODMs design and manufacture products that are rebranded and marketed by other companies. WNC specializes in wireless networking, and personal communications products, as well as antennas, and has previously produced several "dual-mode" mobile phones capable of roaming between cellular and WiFi radio networks.
NWC first announced the GW1 last month. The company is also reportedly designing phones that run Intrinsyc's Windows CE-based feature phone OS.
Accton's peer-to-peer WiFi VoIP phone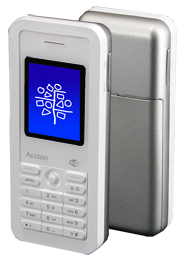 Another Taiwanese ODM, Accton Technology Corporation, has opted to use Qtopia in an embedded peer-to-peer WiFi VoIP phone. The VM1188T phone will enable "anyone with an Internet connection" to place "free, high-quality phone calls," Accton claims, without booting up a computer.
Claimed features of the VM1188T include voice quality similar to POTS (plain old telephone service) phones, compatibility with 802.11b/g access points, and support for both PSTN (public switched telephone network) and SIP (session initiation protocol) calls, provided a trunking gateway is available at the central office.
The VM1188T stores SSID and security key configuration data for each access point, and connects automatically, Accton says. It will be available with a combination charging cradle and access point that supports interference reduction through MSSID (mesh SSID).
Accton expects to ship its WiFi VoIP phone to its customers in early Q2 of this year.
Nord stated, "Linux is an ideal operating system for Accton's complex, full-featured devices, and Qtopia gives them a proven technology for developing customized, innovative applications and user interfaces for this platform."
Accton EVP of R&D, Ken Lu, stated, "Trolltech's Qtopia on Linux made it possible for us to create this spectacular new device in a period of just two months."
In the past, Accton has focused mainly on carrier class switches and other network infrastructure products. In addition to the VM1188T, it appears to be developing a video conferencing phone.
Amoi's tri-band GSM/GPRS smartphone with camera and TV-out
Chinese mobile phone manufacturer Amoi says it will begin making Cellon's C8000 Linux/Qtopia smartphone design. Cellon announced the C8000 design in September, calling the product its top-of-the-line smartphone design.
The C8000 is a tri-band (900/1800/1900 MHz) GSM/GPRS candybar phone featuring a 2.2-inch QVGA TFT touchscreen display with 262K colors, handwriting recognition, a 1.3MP CMOS camera, and video camcorder capabilities supporting QVGA (240×320) or CIF-resolution video (288 x 352) at greater than 15 frames per second. The design also features a unique application selector switch actuated by the user's hand position, which Cellon says allows users to switch between camera, phone, and data entry modes "with the turn of a hand."
Nord stated, "Cellon's C8000 platform demonstrates the flexibility Qtopia is designed to offer."
Jason Sun, CEO of Cellon, stated, "Qtopia meets the commercial and functional requirements of our customers, some of which are amongst the world's largest mobile phone operators/manufacturers."
Trolltech describes Cellon International as the "world's largest independent design house for wireless devices." Cellon spun off from Dutch electronics Giant Philips in 1999.
Amoi is a Chinese phone manufacturer with offices in Singapore, the US, and soon, in Europe. It claims to have a yearly production capacity of 10 million GSM/GPRS phones, and two million PHS (personal handyphone system) phones.
---

This article was originally published on LinuxDevices.com and has been donated to the open source community by QuinStreet Inc. Please visit LinuxToday.com for up-to-date news and articles about Linux and open source.