Jan 26, 2012 — by Eric Brown — from the LinuxDevices Archive — 1 views
Canonical unveiled a search-oriented Head-Up Display (HUD) interface that will debut in April's Ubuntu 12.04 ("Precise Pangolin"). Aiming to reduce dependence on menus and eventually replace them with the help of gesture and voice interactions, HUD could find its way into future versions of Ubuntu designed for smartphones and tablets, as well as the recently announced Ubuntu TV platform.
While many Ubuntu users are still reeling over the new Unity interface, they ain't seen nothing yet. When Ubuntu 12.04 ships in April, the Linux distro will debut a new alternative Head-Up Display (HUD) interface that can bypass menus via intuitive, predictive search, according to a blog announcement from Ubuntu creator and Canonical executive Mark Shuttleworth.
Long-term service (LTS) releases tend to be on the boring side since they're billed as rock-solid releases that will be supported over a long period — in this case for three (desktop) or five (server) years. Yet, Ubuntu 12.04 ("Precise Pangolin") will not only be the first LTS release with the Unity desktop — giving thousands of enterprise users their first taste of the radical touch-focused desktop environment — but it will also show off the new HUD concept, which attempts to eventually do away with menus altogether.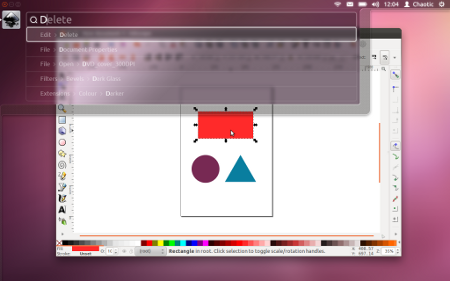 Head-Up Display (HUD) search interface
(Click to enlarge)
Following up on last October's
Ubuntu 11.10
("Oneiric Ocelot"), Ubuntu 12.04 will offer the first formal introduction to HUD, presumably in beta form, as an alternative to the mainstream Unity menu system. Right now, HUD is available as a very early prototype version.
As demonstrated in the video demo below, in Ubuntu 12.04 HUD will act primarily as a smart look-ahead search function that operates through the app and system (indicator) menus, according to Shuttleworth. Dubbed the "intenterface" because it is designed to guess what a user intends to do, HUD is said to offer a vocabulary UI (VUI) with fuzzy matching, and is capable of learning what a user does most frequently, enabling it to prioritize tasks.
A demo of HUD


Source: Canonical
(Click to play)
"It covers the focused app (because that's where you probably want to act) as well as system functionality," explains Shuttleworth. "You can change IM state, or go offline in Skype, all through the HUD, without changing focus, because those apps all talk to the indicator system."
The next step in HUD's development is to add some form of "discoverability" — the ability to find functions users might not be aware of. This is an obvious advantage of menus that may not be so easily reproduced in a search-based interface.
While the immediate impact of HUD is to keep users' hands on the keyboards rather than being interrupted by mousing around menus, over time the project will begin to integrate touch, gesture, and voice recognition, writes Shuttleworth.
"We want to make it easy to talk to any application, and for any application to respond to your voice," Shuttleworth explains.
The voice integration, which Shuttleworth cautions will take "some time," has led some to compare HUD with the iPhone's new Siri speech interface.
HUD earns mixed response from Linux community …
In a survey of Ubuntu users who saw the Shuttleworth blog announcement, ZDNet's Steven J. Vaughan-Nichols found a surprisingly positive, albeit still mixed, response to HUD. Surprising, that is, considering the backlash Canonical received over Unity.
For example, Vaughan-Nichols quotes William Shotts, creator of LinuxCommand.org, as saying he'll give HUD the "benefit of the doubt" because he feels the keyboard-centric new interface might "relieve some of the frustration that 'power' users feel about Unity."
Writing on ReadWrite Hack, meanwhile, Linux mover and shaker Joe Brockmeier also seems to be keeping his mind open about the technology. "It seems like a usable alternative to existing application menus," he writes, although he notes that the discoverability issue will be a challenge.
… but may have a role in Ubuntu smartphones, Ubuntu TV
HUD yet again shows how serious Canonical is about moving beyond the desktop to bring Ubuntu to a host of new mobile devices and other consumer electronics devices. In most of these devices, screens are small and keyboards are often absent except for virtual versions. While the initial HUD version aims to revive the keyboard's dominance in relation to the mouse, voice control over mobile devices appears to be the eventual goal.
In November, Shuttleworth laid out plans to bring Ubuntu to smartphones, tablets, TVs, vehicle smart screens, and kitchen appliances. This fully scalable, mobile support won't be fully baked until LTS version 14.04 arrives in April 2014, says Canonical.
Earlier this month at CES, Canonical demonstrated an IPTV platform called Ubuntu TV that aims to compete with Google TV. Based on Ubuntu Core and Ubuntu 12.04 — and incorporating the Unity UI layer and Ubuntu One cloud service — Ubuntu TV will meld cable/satellite TV service with Internet content, featuring unified search, channel guide, time shifting, optimized apps, and links to mobile devices.
Once voice and gesture support enters the HUD picture, the technology might be a natural for all these platforms.
Eric Brown can be reached at [email protected].
---
This article was originally published on LinuxDevices.com and has been donated to the open source community by QuinStreet Inc. Please visit LinuxToday.com for up-to-date news and articles about Linux and open source.