Jan 10, 2012 — by Eric Brown — from the LinuxDevices Archive — 2 views
Canonical used the Consumer Electronics Show to demonstrate an IPTV platform — Ubuntu TV — that will directly compete with Google TV. Based on Ubuntu Core, the upcoming Ubuntu 12.04 ("Precise Pangolins"), the Unity UI layer, and the Ubuntu One cloud service, the offering aims to meld cable/satellite TV service with Internet content, featuring unified search, channel guide, time shifting, optimized apps, and links to mobile devices.
Canonical developed its controversial Unity desktop interface for the Ubuntu Linux desktop distribution to, in large part, reflect an ongoing transition from desktop computing to mobile and embedded devices. Now it's working hard to drum up some customers in non-PC platforms, starting with a web TV service called Ubuntu TV.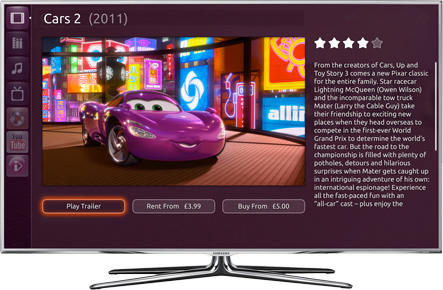 Ubuntu TV

As reported by several sources — including ZDNet and IDG News — Canonical demonstrated Ubuntu TV at this week's CES show in Las Vegas. The company also posted a website on Ubuntu TV that includes specs for device requirements (see farther below).
According to ZDNet, Ubuntu TV sets could appear as early as this year, and will compete directly with the Android-based Google TV as well as Apple TV. Ubuntu TV integrates content search, time shifting, online box office, personal cloud, Internet content, apps, and disk media functionality across web- and broadcast realms, says Canonical. A single remote is said to interact with Internet and commercial TV content.
The platform is based on Canonical's emerging Ubuntu Core foundation for embedded devices, as well as the upcoming Ubuntu 12.04 ("Precise Pangolin") due in April. Pangolin is one of Ubuntu's rare long time support (LTS) releases, and will be supported through 2017, giving device manufacturers the stable platform they seek. In addition, Ubuntu TV makes use of the Ubuntu One personal cloud service.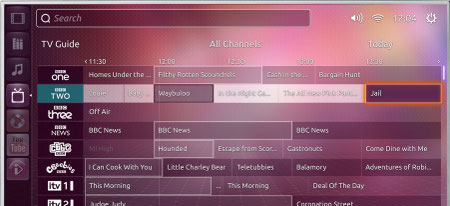 Ubuntu TV channel guide
(Click to enlarge)
Apps will be available in the Ubuntu Software Center, optimized to run on Ubuntu TV, just as Google is now bringing more Android apps to Google TV. Ubuntu TV will also ship with apps for Android, iOS, and Ubuntu Linux, enabling media to be shared with other devices.
With these mobile connections, users will be able to start watching a video on one device and then finish up on a TV or vice versa. The mobile app connection is key because there are no plans to offer an open web browser on the Ubuntu TV device itself, according to IDG News.
Like Google TV and Ubuntu, as well as the XBMC and MythTV interactive TV projects, Ubuntu TV is open source and free for the taking. The platform is protected by the still relatively rarely used GPL v3 license.
As with Google TV, however, additional fees crop up. For example, companies that want to distribute an Ubuntu TV branded device must pay a per-unit service fee in order to cover Canonical's engineering, maintenance, quality assurance, consulting, and third-party licensing fees, says the company. In addition, Canonical will ask for "post-purchase services revenue from the sale of content, applications and subscriptions."
With Ubuntu TV, Canonical has planned an ambitious role for itself, including maintaining a box office that lets viewers browse and purchase movies and TV shows online. Canonical itself will "manage relationships with online services, streaming services, and content distributors globally," according to the company. Login information and payment details will be securely stored in a personal cloud account, based on Ubuntu One.

Ubuntu TV
Source: Canonical
(click to play)

Device requirements
Devices based on Ubuntu TV will run on both ARM and x86 processors, and require 1GB of memory, 512MB of video memory, and at least 2GB of storage. Further storage will be required for personal video recording (PVR), says the company. A single remote is said to interact with both Internet- and commercial TV content.


Ubuntu TV architecture
(Click to enlarge)
Ubuntu TV televisions or set-tops will also require hardware-accelerated video supporting 1080p video, as well as a TV tuner that supports broadcast, cable, and satellite TV. Required connectivity includes Wi-Fi and Bluetooth, as well as HDMI, CEC (consumer electronic control), digital audio out, gigabit Ethernet, and USB host ports, says Canonical.
Still no web TV winner
Normally, mainstream pundits would be quick to dismiss any attempt to break out of the Linux desktop world into big-time consumer electronics. However, Ubuntu TV has received quite a bit of attention over the last two days, in part due to the fact that both Google and Apple have so far failed to gain many customers for their platforms.
As ZDNet's Jack Schofield notes, however, Canonical has yet to announce any deals with TV manufacturers, and will face an even greater challenge in doing so than the much larger and better-financed Google and Apple. Google, for example, continues to count Sony as a partner, and has recently received interest from LG and Samsung.
On the other hand, IDG News quotes Canonical CEO Jane Silber as saying Canonical offers numerous advantages to OEMs (original equipment manufacturers), compared to Google TV or Apple TV. Canonical is a "neutral party," she noted, and doesn't tie its platform to content, allowing manufacturers to develop their own offerings and forge their own revenue-sharing partnerships.
In a separate embedded-oriented tack, Canonical also used CES to show off its Ubuntu Linux-based, Genivi-compliant Ubuntu IVI Remix distribution, and announced the availability of a related in-vehicle infotainment (IVI) system developed with AllGo Embedded Systems. (We plan to cover the AllGo news in a separate roundup of Genivi-related news from CES.)
---
This article was originally published on LinuxDevices.com and has been donated to the open source community by QuinStreet Inc. Please visit LinuxToday.com for up-to-date news and articles about Linux and open source.