Nov 1, 2011 — by LinuxDevices Staff — from the LinuxDevices Archive — views
Ubuntu will eventually run on mobile devices including smartphones, tablets, TVs, vehicle smart screens, and kitchen appliances, promised Canonical CEO Mark Shuttleworth. Canonical's Linux distro has already made a start with its touch-friendly Unity interface, but Ubuntu will not go fully mobile until Ubuntu 14.04 LTS in April 2014, said Shuttleworth.
Canonical is planning on throwing its hat into the increasingly crowded mobile operating system space, according to the company's founder. Ubuntu will power tablets, phones, TVs, and "smart screens" by 2014, Ubuntu's founder and former Canonical CEO Mark Shuttleworth wrote on his blog Oct. 31.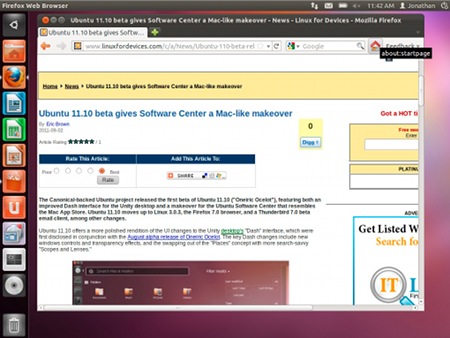 Ubuntu's Unity desktop (with supplied Firefox 7.0 browser)
The Unity desktop interface in the latest version of Ubuntu released this month, Ubuntu 11.10 (above), "was designed with this specific vision in mind," Shuttleworth wrote. "By 14.04 LTS Ubuntu will power tablets, phones, TVs and smart screens from the car to the office kitchen, and it will connect those devices cleanly and seamlessly to the desktop, the server and the cloud."
Canonical expects this long-term support version of Ubuntu will be ready to hit the market in April of 2014. Unity is intended to provide a single core interface framework that scales across all screens and supports all toolkits, according to Shuttleworth.
The investments Canonical has made on interfaces would translate well to touchscreen scenarios, and "with a little love and attention, will work equally well in mouse, keyboard or stylus-driven environments," Shuttleworth wrote, adding that there will be no screen size restrictions for Ubuntu. "We will see our work on the Ubuntu platform land in a variety of formats current and yet to be invented," he wrote.
Along with regular updates to the Ubuntu operating system twice a year, Canonical releases long-term-support versions of its server and desktop versions of the Ubuntu operating system, which are supported for five and three years, respectively. Canonical released version 11.10 earlier this month, with the Unity desktop as the default interface. The next release, Ubuntu 12.04, will be the first LTS version to have the new Unity desktop interface.

The Unity interface is still controversial in the Ubuntu community, in part because it's focused as much on touchscreen netbooks and tablets as it is on the mouse- and keyboard-driven installed base of Ubuntu users. Ubuntu has already appeared on several tablets, including new Ekoore slates such as the Python (pictured at right) and Sharp's Netwalker PC-T1 (below left).

Still, Canonical has never appeared to seek out tablet partnerships actively. In 2010, Shuttleworth denied rumors that tablets were in Ubuntu's future, saying that the Unity touch support was primarily aimed at the still fledgling category of touch-enabled netbooks and laptops. By early this year, however, Canonical executives had begun mentioning tablets as possible Ubuntu targets.
Meanwhile, Ubuntu IVI Remix has been selected as one of five compliant Linux distros by the Genivi Alliance for its open source, automotive in-vehicle infotainment spec. Ubuntu IVI Remix is based on its embedded ARM oriented Ubuntu Core technology.
A crowded mobile OS market
Never before, however, has Canonical mentioned smartphones as a likely destination for Ubuntu. Here, Canonical will face considerable competition, including Apple's iOS, Google's Android, and even Microsoft's Windows Phone 7. Research In Motion will still be trying to compete, and Microsoft's upcoming Windows 8 will feature both a desktop interface and the company's mobile Metro UI.
Aside from Android, other Linux-based mobile aspirants include the Intel- and Samsung-backed Tizen open source project, which will combine the Linux Foundation's struggling MeeGo platform with the LiMo Foundation mobile Linux middleware, built upon an HTML5 platform. Samsung may instead choose to focus on its own Bada mobile platform, which can run on either on Linux or a real-time operating system (RTOS).
Meanwhile, HP's WebOS may still be acquired by a third party and given another shot. Other potential mobile Linux projects include Mozilla's Boot to Gecko (B2G) distro project, but like Tizen, B2G is said to be years away.
Despite all this competition, Shuttleworth sees possibilities because most users are no longer "exclusively loyal" to a single technology provider and are willing to run a "diverse" set of devices running various operating systems to get online. "There is no winner in place yet," continued Shuttleworth. "This opportunity remains wide open, but only to products that deliver excellent experiences for users, across a full range of device categories."
Cloud focus
Canonical is also trying to push Ubuntu Server into cloud deployments, and it seems clear that cloud infrastructure will play a big role in Ubuntu's mobile plans. According to Shuttleworth the "storage, syncing and sharing capabilities" of the Ubuntu One personal cloud service available to Ubuntu users are "not just a convenience but a requirement."
This is especially true as users increasingly share content and use diverse devices, argued Shuttleworth, perhaps as a reference to Apple launching its iCloud service. Ubuntu One's support for other operating systems shows "the ability of Ubuntu to play nice with others," he writes.
The Ubuntu founder noted that Canonical has good relationships with Intel, Advanced Micro Devices (AMD, and ARM, as well as with PC and device manufacturers such as Dell, Hewlett-Packard, Asus, Lenovo, Acer, and IBM. Canonical will have to "provide the heavy lifting" to get in the ballgame, but there will be opportunities for the broader community to get involved, according to Shuttleworth.
"We are determined to bring more free software to more people around the world and building that future hand in hand with device manufacturers is the best way to do it," he wrote.
More details will be released at the Ubuntu Developer Summit in Orlando, Fla., from Oct. 31 to Nov. 4.
Fahmida Rashid is a writer for eWEEK. Eric Brown also contributed to this report.
---
This article was originally published on LinuxDevices.com and has been donated to the open source community by QuinStreet Inc. Please visit LinuxToday.com for up-to-date news and articles about Linux and open source.