Aug 17, 2010 — by Eric Brown — from the LinuxDevices Archive — 5 views
Canonical released a multitouch and gesture stack for Ubuntu 10.10 ("Maverick Meerkat"). uTouch 1.0 offers a gesture API and recognition engine for Meerkat, which recently shipped in its third alpha, offering Software Centre improvements and a Netbook Edition revamped with Canonical's "Unity" UI stack.
The uTouch 1.0 stack provides an end-to-end touch-screen framework "from the kernel all the way through to applications," says a Canonical blog posting announcing the stack.
Major uTouch features are said to include an open source gesture recognition engine called uTouch-grail, and a gesture API called uTouch-geis, a modified implementation of the GEIS (Gesture Engine Interface and Support) interface. The uTouch-geis APIs enable applications to obtain and use gesture events from the uTouch gesture engine, says Canonical.
The uTouch stack builds upon multitouch work begun in Ubuntu 10.04 ("Lucid Lynx"), for which Canonical "worked to get additional touch hardware supported in the Linux kernel, particularly the Dell XT2, HP tx2 tablets and the Lenovo T410s laptops," says the company blog.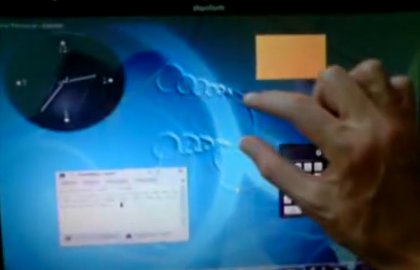 uTouch is based in part on ENAC's multi-touch code, demonstrated here with ripple effects.
Canonical says it has collaborated on the technology with the Linux kernel and X.org communities to improve drivers and add support for missing features. The uTouch stack is based in particular on contributions from the following projects:
Stephane Chatty at ENAC — multitouch hardware support in the kernel (pictured above)
Peter Hutterer at Red Hat — Multi-pointer X and proposed multitouch protocol for future version of X
Carlos Garnacho of GNOME — multi-touch work in X and GTK
Canonical says it is also working on improving touch support in Ubuntu with better toolkit integration of gesture APIs, touch support for legacy applications, and new applications that make use of finger-based interactions. These projects will be implemented in upcoming Ubuntu releases up to Ubuntu 12.04, the company adds.
States Canonical, "Touch will be part of the Ubuntu Netbook, Desktop and Light products from 10.10 and beyond."
Shuttleworth: Four-finger touch support coming
In an interview with ComputerWorld yesterday, Ubuntu founder Mark Shuttleworth said that Canonical is working on four-finger touch support for a future Ubuntu release. He also repeated his claim that Canonical is not primarily interested in the red-hot tablet market, but rather with touch-enabled desktops and netbooks.
"We don't have a tablet edition, but you could certainly use Ubuntu for tablet with this," Shuttleworth told the publication. "Our focus is on the desktop and netbook." He was said to have added, "I think all of the major notebook companies will put in multitouch."

A number of Ubuntu-based tablet computers and MIDs have shipped with touchscreen support, but without multitouch support or other Ubuntu-generated optimizations. These include Ekoore's ET10TA10 and NorhTec's Gecko Info Pad. In April, Sharp announced an Ubuntu Linux-based MID/tablet PC with a five-inch resistive touchscreen called the Netwalker PC-T1 (pictured).
Ubuntu 10.10 reaches third alpha, shows off Unity UI
On Aug. 5, Ubuntu 10.10 reached its third alpha release, and is scheduled for a final stable release in October. The "Maverick Meerkat" alpha 3 release features Linux 2.6.35 and GNOME 2.31, among other enhancements.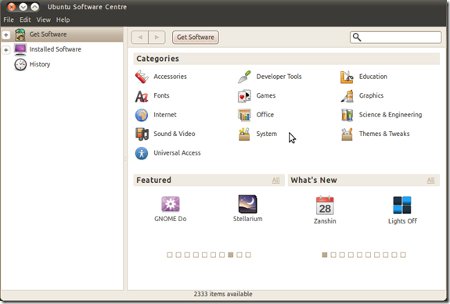 Ubuntu 10.10's Software Centre storefront make over
Source: OMG Ubuntu
According to
OMG Ubuntu,
the most notable changes are found in the Software Centre, which offers an improved storefront housing feature (pictured above), and a "tweet this app" feature that works with the open source microblogging client,
Gwibber
.
A revised History side-pane in the Centre now lets users browse all installations, removals, and upgrades by day or search term. Users can also use the feature on the Ubuntu One Music Store to tweet a link to favorite tracks on Rhythmbox, says the story.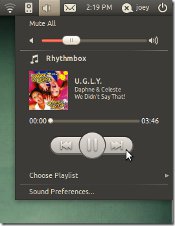 Other new features include a "controversial" Sound Applet, says OMG Ubuntu which published the screenshot shown at right. "Some people love it, some people loathe it," says the story. "Either way it's going to be there and, for fans of it, Alpha 3 brings a chorus of improvements including a working scrubber, working controls and the first steps towards playlist support."
Ubuntu 10.10 also features a technology that is closely related to the uTouch stack — a new netbook- and tablet-oriented desktop environment called Unity.
Announced in May along with a fast-boot version of Ubuntu called Ubuntu Light, which is also driven by Unity UI enhancements, Unity is now partially enabled in the alpha 3 release of Ubuntu 10.10 Netbook Edition (UNE), as shown below.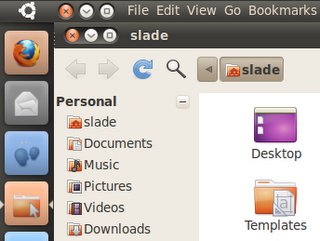 Ubuntu 10.10 Netbook Edition, showing Unity enhancements
Source: OMG Ubuntu
Unity offers a single global menu bar for all applications, and aims to make the most of the limited display space on a netbook by maximizing the available vertical pixels for web browsing, says Canonical.
The Unity design pushes the bottom panel found on UNE to the left of the screen, freeing up the space for launching and switching between applications. The panel's trash and Show Desktop options, meanwhile, have been removed.
Another key focus for Unity is touch input. The left-hand launcher panel has been expanded with larger icons to make it more touch-friendly. The panel is also said to support fast switching and drag-and-drop between applications.
The 10.10 version of UNE has switched to the Banshee media player enabled as the default. In addition, the date/time indicator now has a "real" calendar widget, and the default photo management application has been switched to Shotwell, says Canonical.
Availability
The Canonical blog on uTouch 1.0, which is available now for free download, may be found here. The ComputerWorld story on uTouch may be found here.
The release notes for Ubuntu 10.10 alpha 3 may be found here. The OMG Ubuntu story on the alpha 3 release should be here.
---
This article was originally published on LinuxDevices.com and has been donated to the open source community by QuinStreet Inc. Please visit LinuxToday.com for up-to-date news and articles about Linux and open source.