Dec 10, 2009 — by Eric Brown — from the LinuxDevices Archive — 213 views
Dell announced new Ubuntu Linux-ready OptiPlex desktops, including a power-efficient model claimed to be the "world's smallest fully-functional commercial desktop." In addition to the 9.4 x 2.6 x 9.3-inch, Intel Core 2 Duo-ready OptiPlex 780 USFF desktop, Dell announced a 13-inch Vostro V13 laptop that also offers Ubuntu.
We don't typically cover PC desktops larger than a netbook or nettop, but not only is a Linux-ready PC fairly newsworthy, even for Ubuntu supporter Dell, but the compact, power-efficient OptiPlex 780 USFF model points to the narrowing gap between PCs and embedded devices. In fact, the USFF offers a nettop size, but with desktop features such as an Intel Core 2 Duo processor.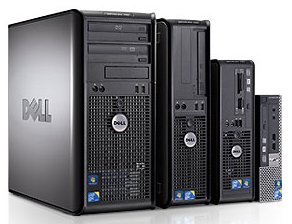 New OptiPlex 780 models, with USFF model on right
Dell actually announced four OptiPlex 780 models, including mini-tower, desktop, small form factor, and ultra small form factor (USFF) versions, as pictured above, but the latter is the one that is being touted as a breakthrough in PC performance/size ratio. The computer measures 9.4 x 2.6 x 9.3 inches and weighs seven pounds, compared to the Intel Atom-based ZaReason Ion Breeze 3770 nettop, which measures 10.4 x 9.0 x 4.4 inches, or the Atom-based Shuttle X270V nettop, which measures 9.85 x 7.3 x 2.75 inches, just to name two recent Linux-ready examples.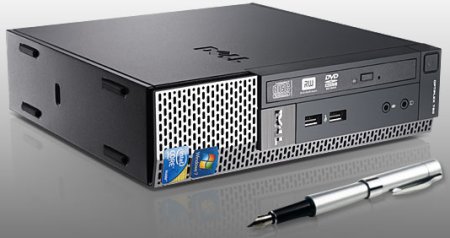 OptiPlex 780 with pen
Remarkably, Dell has managed the small size while also integrating the power supply within the chassis. In a Michelle Maisto story in our sister publication,
eWEEK,
Curtis Campbell, Dell's senior product manager for OptiPlex is quoted as saying "My team is really proud of this. Not only did we manage to make this generation smaller — by 22 percent — but we integrated the power supply, which is that bricklike thing on a notebook, but about three and a half times bigger. Customers really wanted to get rid of that. "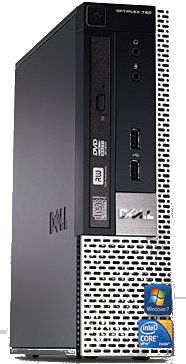 OptiPlex 780 USFF, front and back
The 780 USFF is also energy efficient, relatively speaking. It offers a 180 Watt power supply, compared to 255 and 305 Watts for its larger OptiPlex 780 siblings. The computer comes with various mounting options, including a desktop stand.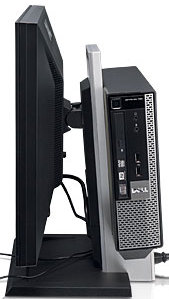 USFF model mounted behind monitor
Processor options for the OptiPlex 780 USFF range from an Intel Celeron to an Intel Core 2 Duo, and the PC incorporates an Intel Q45 Express chipset with an ICH10DO I/O controller, says Dell. It offers no expansion slots, but includes two DIMM slots for up to 4GB of 1066MHz DDR3 SDRAM, says the company.
Storage options are said to include up to a 320GB 2.5-inch SATA hard disk drive, or a 128GB solid state drive. A range of graphics card options is also provided.
The OptiPlex 780 USFF offers the following I/O, says Dell:
7 x USB 2.0 ports
1 x serial port
1 x RJ-45 (gigabit Ethernet)
1 x VGA
1 x display port
1 x eSATA
2 x Line-in (stereo/microphone)
2 x Line-out (headphone/speaker)
In addition to supporting Ubuntu Linux (in select, but unspecified countries), the computer is offered with Windows 7, Vista, and XP. Like the other OptiPlex models, it supports Intel vPro remote management technology, and offers long-lifecycle (15-month) support, says Dell.
Vostro V13
The new Vostro V13 notebook measures 13.0 by 9.1 by 0.65 inches, only slightly larger than high-end netbooks, and it weighs only 3.5 pounds. However, the device's business-like look, featuring a brushed-aluminum casing with reinforced zinc hinges, appears to target users who want a lightweight notebook, but are ashamed that a netbook will look too childish.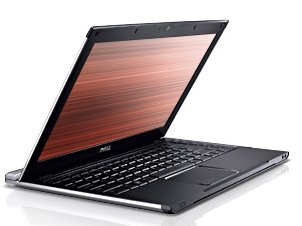 Dell's Ubuntu ready Vostro V13
"You won't be embarrassed to take this out of your purse at the airport," Alison Gardner, Vostro product manager, told
eWEEK
's Maisto in another story. (That assumes, of course, that one is not embarrassed by carrying a purse.)
The notebook uses Intel's GS45 northbridge and ICH9M southbridge, supporting ultra-low-voltage (ULV) Intel processors that range from a Celeron to a 1.3GHz Intel Core 2 Duo ULV, says Dell. A single DIMM slot accepts up to 4GB of DDR3 RAM. Along with supporting various Windows flavors, the device also supports Ubuntu Linux, the company says.
The Vostro V13 is equipped with a full-size, spill-resistant keyboard with a multi-touch trackpad, as well as a 13.3-inch WLED display, says Dell. Storage and peripheral support is offered via a memory card reader, a SATA drive up to 500GB, a USB port, and a USB/eSATA combo port.
Other standard features are said to include a gigabit Ethernet port, audio I/O, Bluetooth, 1.3-megapixel webcam, and a six-cell lithium-ion battery. Options include 802.11n WiFi (with mobile broadband promised soon), and an external DVD or Blu-ray drive, says Dell.
Availability
The Dell OptiPlex 780 USFF is available for order today at prices starting at $630. More information may be found here.
The Vostro V13 starts at $450 with Ubuntu running on a 1.2GHz Celeron 743, or $700 for Windows 7 Pro running on a 1.3GHz Intel Core 2 Duo. More information may be found here.
The eWEEK stories on the Dell OptiPlex 780 USFF and Vostro V13 may be found here and here, respectively.
---
This article was originally published on LinuxDevices.com and has been donated to the open source community by QuinStreet Inc. Please visit LinuxToday.com for up-to-date news and articles about Linux and open source.