Dec 6, 2011 — by Eric Brown — from the LinuxDevices Archive — views
Verizon Wireless announced 4G LTE versions of Motorola Mobility's Xoom 2 tablets, running Android 3.2 — and eventually Android 4.0 — on dual-core 1.2GHz processors. The Droid Xyboard 10.1 and Droid Xyboard 8.2 respectively offer 10.1- and 8.2-inch IPS (in-plane switching) displays plus on-contract prices of $530 and $430, and both include 4G LTE networking as well as five- and 1.3-megapixel cameras.
Motorola Mobility announced its 10.1-inch and 8.2-inch Xoom 2 tablets in early November, launching the devices initially in the U.K. and Ireland later that month in Wi-Fi only models. Now, Verizon Wireless has announced the first U.S. versions, designed for its 4G LTE network.
According to AndroidCommunity, the Xoom 2 tablets also offer built-in GSM/WCDMA support, but this has been disabled by Verizon on the Droid Xyboards. That suggests versions of the Xoom 2 could be heading for T-Mobile or AT&T's networks too, or that the Xyboards could conceivably be hacked to run on those networks.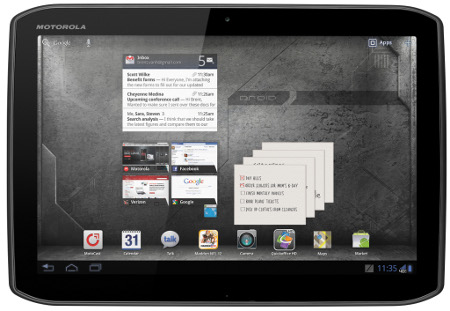 Droid Xyboard 10.1
(Click to enlarge)
Separately, Verizon also announced a white version of its
Droid Razr smartphone
. A discount is available on a Droid Xyboard if one also buys a Razr (see details at the end of the story).
Both Droid Xyboard tablets run Android 3.2 on dual-core 1.2GHz processors with 1GB of RAM, and Android 4.0 ("Ice Cream Sandwich") will be offered as a future update, says Motorola. An Inquirer hands-on review earlier confirmed the Xoom 2 tablets run on a Texas Instruments OMAP4 processor.
Neither Verizon or Motorola mentions any connection to the Xoom 2 tablets, but they appear to be one and the same, available in both 10.1-inch and 8.2-inch "high-definition" In-Plane Switching (IPS) models. The Xoom 2 tablets were said to provide 1280 x 800-pixel screens, which would certainly qualify them as being HD displays.
The Xyboards offer Corning Gorilla Glass, along with a coating of water-repellent nanoparticles to make them splash resistant, says Motorola. The tablets feature magnesium-reinforced bodies with aluminum housing, says the company.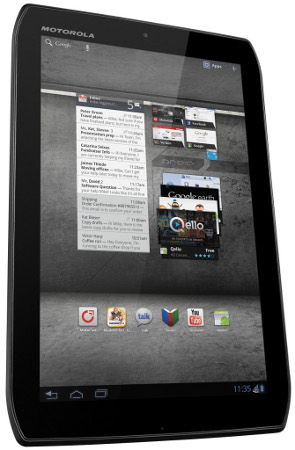 Droid Xyboard 8.2
(Click to enlarge)
Verizon and Motorola offered no dimensional specifications, but the 10.1-inch Xoom 2 tablet was said to be 10 percent lighter and 33 percent thinner than the original Xoom. The Xoom 2 weighs 21.1 ounces and measures 10.0 x 6.83 x 0.346 inches, while the 8.2-inch model — which Motorola called the Xoom 2 Media Edition — weighs 13.6 ounces and measures 8.5 x 5.47 x 0.354 inches.
Both tablets are further equipped with 16GB or 32GB storage, and the 10.1-inch model also offers a 64GB option. The Xyboard tablets appear to lack microSD slots for removable storage, however.
Both Droid Xyboard tablets supply a five-megapixel rear-facing camera, and a 1.3-megapixel front-facing camera, according to Motorola. The main camera offers digital zoom, autofocus, and LED flash, says Motorola.
The tablets provide Bluetooth and 802.11 a/b/g/n, as well as a mobile hotspot capability for sharing the 4G LTE connection with up to eight Wi-Fi-enabled devices. An HDMI port is also said to be available. Motorola has yet to post a full spec list, so it's unclear if features such as GPS are also provided.
Aside from the size and weight differences, the two tablets vary only slightly. The Droid Xyboard 10.1 has more of a business focus and is offered with a Motorola Stylus option designed for note-taking, hand-writing emails, and sketching. The Droid Xyboard 8.2, meanwhile, is targeted more at multimedia entertainment, and adds 2.1 adaptive virtual surround sound, says the company.
Apps include MotoCast (remote access), Quickoffice HD (productivity), Citrix GoToMeeting (collaboration), and Google Talk (video conferencing), says Motorola. GoogleMobile Services include Gmail, YouTube, Google Talk, Google Search, Google Maps, and Google Books.
A "Dijit" app is said to let the tablets function as a universal remote control, and features an electronic programming guide. Dijit supports TVs, Blu-ray Disc players, digital video recorders (DVR), and most other consumer electronics, says the company.
Separately purchased accessories will include an HD station for connecting to speakers and a larger screen, and an HD dock to send content to HDTVs and home theater speaker systems. There's also a Bluetooth-enabled keyboard and mouse.
Availability
The Motorola Droid Xyboard tablets will be available from Verizon Wireless later this month, according to the carrier. The Droid Xyboard 10.1 will be available for $530 (16GB), $630 (32GB), and $730 (64GB) with a new two-year customer agreement. The Droid Xyboard 8.2 will be available for $430 (16GB) or $530 (32GB), with a new two-year agreement.
Customers for both tablets must also subscribe to a Verizon Wireless Mobile Broadband data plan starting at $30 per month for 2GB of data.
More information on the Xoom 2 — the foundation for the Droid Xyboard tablets — may be found on Motorola's Xoom 2 product page.
The new white-colored version of the Droid Razr will be available later this month for $300 with a new two-year customer agreement. Customers will also need a Verizon Wireless Nationwide Talk plan beginning at $40 per month and a smartphone data package starting at $30 per month for 2GB of data.
For a limited time, customers will receive $100 off a Droid Xyboard tablet and $50 off select Motorola accessories if they also purchase a Drodi Razr with a new two-year customer agreement, says Verizon.
---
This article was originally published on LinuxDevices.com and has been donated to the open source community by QuinStreet Inc. Please visit LinuxToday.com for up-to-date news and articles about Linux and open source.