May 2, 2011 — by LinuxDevices Staff — from the LinuxDevices Archive — 6 views
Via Technologies says it's aiming two new low-power, dual-core processors specifically at the embedded market. The 40nm-fabbed Nano X2 E-Series CPUs come in "1.2+GHz or 1.6+GHz" versions and are offered with a seven-year availability guarantee, the company says.
Habitually rather chary about providing specifics, Via did not release model numbers or TDPs for its new Nano X2 E-Series CPUs. (Perhaps attendees at this week's Embedded Systems Conference in San Jose, where the chips are being unveiled, will be treated to these details.)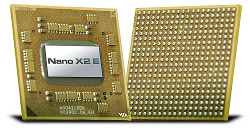 What is clear is that the Nano X2 E-Series devices (right) are embedded-oriented versions of the dual-core Nano X2 chips Via announced back in January. They come in the same 21 x 21mm package size, offer pin-to-pin compatibility, and use the same 40nm production process, according to the chipmaker.
New here is Via's announcement of seven-year availability, matching that offered for the previously released, single core Nano E-Series CPUs. Also, Via says two models will be offered, "running at speeds of 1.2+ GHz and 1.6+ GHz."
Epan Wu, head of Via's Embedded Platform Division, stated, "The VIA Nano X2 E-Series demonstrates how VIA continues to lead the way in bringing highly optimized, power-efficient 64-bit x86 processors to the embedded market. With their advanced performance, these processors provide developers with exciting new embedded system design options."
More about the Nano X2
When it announced the Nano X2 in January, Via said the CPUs dual cores (below) essentially double up performance with applications that have been optimized for multiple threads. Otherwise, the Nano X2s are much the same as the revised single-core Nanos that debuted in November 2009: Like these, they support Intel's SSE4 instruction set extensions, plus Via's VT virtualization technology. (Previous Nanos supported only SSE3, just like Intel's own Atom.)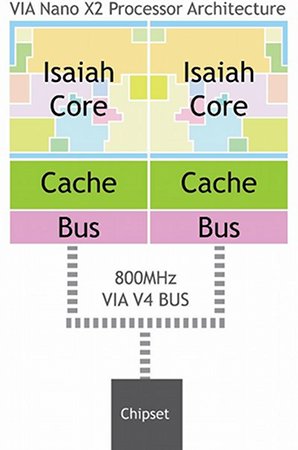 The Nano X2's dual Isaiah cores
(Click to enlarge)
A continuing point of pride for Via is its PadLock security engine, once again featured on the Nano X2 (and, now, the Nano X2 E-Series). Offered at least since the 2003 introduction of the Eden-N, PadLock offers hardware-based Advanced Encryption Standard (AES) functionality, and imposes significantly less overhead than software-based encryption, according to the company.
According to Via, the Nano X2s are not only pin-compatible with earlier Nanos, but also with the earlier C7, C7M, and Eden CPUs. The processor is further said to work with all of Via's previously released chipsets, including the VN1000 introduced in December 2009 and the VX900 from March 2010.
Via didn't provide information about the Nano X2's TDP or idle power consumption in January, either, but did claim the processor offers its increased performance "without consuming more power." The table below summarizes the power consumption data the chipmaker has made available for its previous Nano offerings.
Name
Speed
Idle power
Maximum power
(TDP max)
L3100
2.0GHz
500mW
n/s
L3050
1.8GHz
500mW
n/s
U3200
1.4GHz
100mW
n/s
U3100
1.3+GHz
100mW
n/s
U3300
1.2GHz
100mW
n/s
U3500
1.0GHz
100mW
n/s

U3400
800MHz
100mW
n/s
L2100
1.8GHz
500mW
25.5W
L2200
1.6GHz
100mW
17W
U2400
1.3GHz
100mW
8W
U2500
1.2GHz
100mW
6.8W
U2300
1.0GHz
100mW
5W
Via's previous Nanos
(models highlighted in red debuted in November 2009; U3400, in green, debuted in March 2010)
Background on the Isaiah core
Via's Esther (used in the C7 and Eden) and Isaiah (used in the Nano) microarchitectures were designed by the company's CenTaur chip unit, headed up by Glenn Henry, a former IBM engineering fellow. Whereas Esther — like Intel's Atom — uses in-order execution, for the lowest power and size requirements, Isaiah uses out-of-order execution, similar to Intel's Core Duo architecture.
Isaiah added compatibility with the 64-bit architectures already used by Intel and AMD, plus SSE3 media processing instructions. Another touted Isaiah feature was a reworked floating point unit.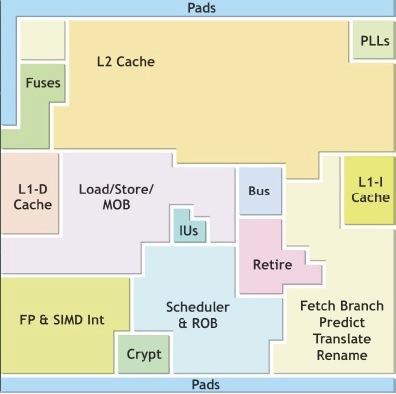 A block diagram of the Via Nano
The Nano processors were the first 64-bit, superscalar, speculative out-of-order processors in Via's x86 platform portfolio. They can decode three full x86 instructions per clock, generate three fused (internal machine instructions) micro-ops per clock, issue (speculatively and out-of-order) seven execution micro-ops per clock to seven execution ports, and retire three fused microops per clock.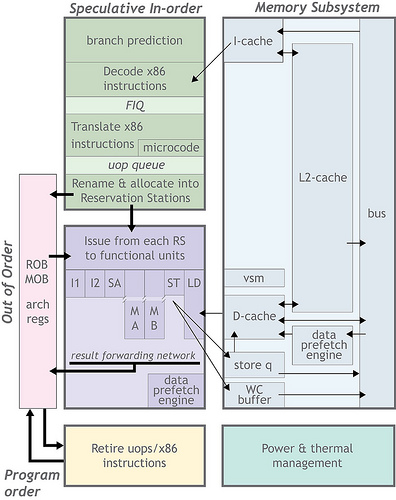 A conceptual diagram of Via's Nano architecture
As the above conceptual picture illustrates, the Nano processors include pipelines that fetch x86 instruction bytes and translate them into micro-ops. The x86 instructions and micro-ops proceed in program order down the top left ("in-order") portion of the pipeline.
The "speculative" label refers to the fact that the processor may not be actually fetching the correct program instructions (in cases of a branch misprediction, for example). "Out-of-order" issue and execution happens when the pipeline components take the translated micro-ops and issue them to the appropriate execution units. This happens whenever inputs are available, not necessarily in program order.
A "completely new algorithm for floating-point results in the lowest floating-point add latency of any x86 processor," the company said in a 2008 whitepaper about the Isaiah architecture. In addition, the integer data path for SIMD integer (SSEx) instructions is 128-bits wide, and almost all SSEx instructions (including all shuffles) execute in only one clock.
Availability
According to Via, its Nano X2-E Series is sampling now, and devices based on it should become available during the second quarter quarter. Further information may be found on the Nano X2 product page.
Jonathan Angel can be followed at www.twitter.com/gadgetsense.
---
This article was originally published on LinuxDevices.com and has been donated to the open source community by QuinStreet Inc. Please visit LinuxToday.com for up-to-date news and articles about Linux and open source.