Feb 2, 2010 — by Eric Brown — from the LinuxDevices Archive — 5 views
Open Kernel Labs and Citrix Systems announced a virtualization-driven, cross-platform reference architecture for smartphones that enables users to access corporate desktops and applications. The Nirvana Phone offers a video-out port for displaying virtualized desktops on an external monitor, plus Bluetooth and USB drivers for controlling keyboards and mice.
Open Kernel Labs (OK Labs) and Citrix announced a partnership last May aimed at integrating the former's desktop virtualization technology with the latter's OKL4 mobile hypervisor in so-called "Mobile-to-Enterprise" (M2E) solutions. The companies say they are working with "key ecosystem partners ranging from semiconductor suppliers and handset OEMs to enterprise IT suppliers and mobile network operators (MNOs)" to bring the combination to market within 12 to 18 months.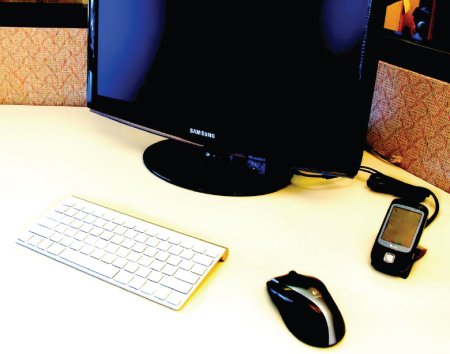 A Nirvana Phone will connect to available monitors, displaying remote desktops in high-res, and enabling input from Bluetooth or USB-connected peripherals
(Click to enlarge)
The new twist announced this week is that in "Nirvana Phone" form, the technology will support docking to full-sized displays, keyboards, mice, and other PC-type peripherals. This is said to enable users to view Citrix virtualized desktops in high resolution and interact with them via tethered peripherals.
In a YouTube video, shown farther below, a user plugs the phone into a monitor's video connection to bring up a virtualized Citrix desktop. The phone can then be used as a mouse pad and can connect via Bluetooth and/or USB with available mice or keyboards. Because the Citrix session is locked away in a separate hypervisor cell, users can continue to use their phones for other purposes, including phone calls, say the partners.
Smells like mobile virtualization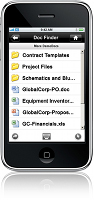 The Nirvana Phone design includes a new version of the Citrix Receiver virtualization client that has been designed to run via OK Labs' OKL4 version 3.0 embedded hypervisor. The OKL4 version of Citrix Receiver is targeted primarily at corporate IT departments and their users, who want to access secure corporate data on consumer smartphones.
Currently offered for Apple's iPhone and Windows Mobile, Citrix Receiver (above right) provides remote 3G or WiFi access to Windows applications and documents hosted using Citrix's XenApp technology. The Receiver delivers data over a secure, encrypted link, provides Windows-style file navigation tailored for a smartphone form factor, and can display multimedia content including web-sites built using Adobe Flash and Microsoft Silverlight technology, says Citrix.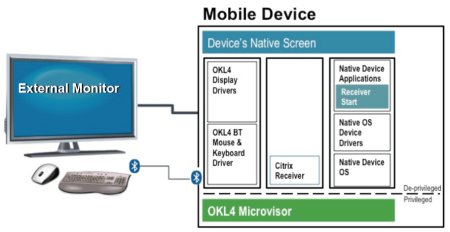 Nirvana Phone architecture
(Click to enlarge)
When Citrix Receiver is run in an OKL4 hypervisor compartment, users can engage in personal communications and Internet access without risk of cross-contamination, says OK Labs (see architecture diagram above). By using separate virtual machines, the technology offers security, isolation, and concurrency of multiple uses on one device, claims the company. The technology is said to enable a "bring your own device" (BYOD) scenario, in which corporations won't need to furnish their employees with restricted, corporate-issue phones that lack personalization features, and employees won't be forced to juggle two phones.
The Nirvana Phone design splits up processing tasks into one compartment for the Citrix Receiver, as well another for an OKL4 program that includes drivers for displays, mice, and keyboards. A third compartment holds the native device applications and operating system.
This mobile hypervisor approach to accessing corporate desktops is an easy and cheap way for handset vendors to provide enterprise data access, especially if they want to implement the technology across multiple models and operating systems, said Rob McCammon, VP of product marketing at OK Labs, in an interview. "You can use a single implementation of device drivers in a lot of different handsets," he added.
According to Chris Fleck, VP of community and solutions development, Citrix, who was also in on the interview, the Citrix Receiver already offers a viewer for scrolling around a virtualized Windows display on a phone. Given current display and input constraints, however, viewing corporate data on a phone is far from ideal.
With its high-res video output capabilities, the Nirvana Phone would fill the need for mobile workers who may want to travel unencumbered by a laptop, Fleck added. He paints a picture of users walking into a guest cubicle and plugging into a corporate workspace with their phones just as easily as they would have with a laptop.
"There is an increased desire by mobile workers to leave their laptop at home," said Fleck. "Now they can."
Nirvana Phone requirements
The Nirvana Phone design can be implemented on any modern mobile operating system, said McCammon. "Likely candidates," however, are said to include Android, Linux, Windows Mobile, BlackBerry, and Symbian.
The spec has only modest processor requirements: an ARM11 processor such as the Qualcomm SoC found on the original HTC G1 Android phone. Other requirements such as Bluetooth, WiFi, 3G, and USB are common even on modestly configured smartphones.
The phones will also need a video out capability, as well as drivers that support computer monitor type displays. Video out is still a rarity on mobile phones, and when available, is designed primarily to stream video to a TV. However, McCammon claims that by next year, many smartphones will offer mini-HDMI ports.
Hardware requirements for the Nirvana Phone design are said to include:
Processor — ARM1136 @528MHz
Memory — 192MB RAM; 256MB flash
Display — 800 x 600 resolution with a virtual graphics driver
Video output — HDMI, VGA, or USB (NTSC and PAL are insufficient)
Wireless:

802.11D WiFi or higher
Cellular 3G
Bluetooth 2.0+ with full HID (human interface device) support

USB — USB 2.0 with Host
Aside from the video port, implementing the Nirvana technology should be relatively cheap for handset manufacturers, said Fleck. Although it will appear first in phones that are frequently used by corporate users, eventually it could be a common checklist item on phones, he added.
Optional extensions for the Nirvana Phone might include a USB docking station, and in the future, wireless video transmission support. (More background on OKL4, Citrix, and the partnership may be found in our previous coverage, here.)
Stated Steve Subar, President and CEO, OK Labs, "The Nirvana Phone will provide groundbreaking capabilities without breaking IT budgets with exotic technology."
Nirvana phone YouTube video demonstration


(Click to play)
Availability
The Nirvana phone reference design appears to be available now to interested OEM customers, and it's said phones equipped with the Nirvana technology should start appearing in 12 to 18 months.
More information on the present Citrix Receiver software may be found on the Citrix website, here.
OK Labs and Citrix will offer a webinar on the Nirvana phone on Feb. 9. Registration and more information may be found here.
---
This article was originally published on LinuxDevices.com and has been donated to the open source community by QuinStreet Inc. Please visit LinuxToday.com for up-to-date news and articles about Linux and open source.