May 29, 2009 — by Eric Brown — from the LinuxDevices Archive — 11 views

[Updated: 3:30] — NComputing has joined a United Nations program to bring 1,000 Linux-based NComputing desktops to schools in developing countries. NComputing also announced that several electric utilities in the U.S. and Canada have qualified its "one-Watt" devices for purchase rebates and rate discounts.
(Click for larger view of NComputing L-Series client device)
Six-year-old NComputing sells virtual desktop software combined with ultra-thin client devices that are touted as being easy to ship and install, require minimal maintenance, and use only a single Watt of electricity per seat (see farther below for more details). The company says it has sold over one million virtual desktops in over 140 countries in the last 24 months, and that more than 20,000 schools and millions of students are using the technology.


NComputing networking diagram using entry-level X300 devices. One PC can be shared by up to seven users via two PCI cards.
(Click to enlarge)
The United Nations program is run by the UN's Department of Economic and Social Affairs (UNDESA) and its Global Alliance for ICT Development (GAID) group, says NComputing. The initiative, which is expected to serve half million schoolchildren by 2012, is starting off with a number of pilot projects in which 1,000 NComputing virtual desktop client devices will be deployed in primary and secondary schools by 2012. In addition to donating the PC-sharing client devices, NComputing is said to be providing logistical and operational expertise. NComputing may also contribute beyond the pilot stage with contributions of both Linux- and Windows-based virtual desktops, said a company spokesperson.
The pilot project is already completed in Burkina Faso, and additional projects in Rwanda, Senegal, and Tanzania are scheduled for 2009. The UN initiative involves other partnerships with commercial enterprises, computer recyclers, universities, and non-profit organizations in Africa and other developing countries, says NComputing.
Stated project organizer Dr. Paul Jhin, "The NComputing virtual desktops give us an important opportunity to significantly expand computing access and simplify deployment. This maximizes the use of donated and refurbished computers and simplifies deployment and power requirements, which are key issues in many parts of the developing world."
PC-sharing catches on with energy utilities
Earlier this month, NComputing announced that several North American energy providers have qualified its virtual desktops for rebate and discount programs. Discounts and/or rebates are available in California, Colorado, Illinois, Indiana, Kentucky, Minnesota, New Mexico, New York, North Carolina, Ohio, Washington, and Wisconsin, as well as in Manitoba and British Columbia in Canada. NComputing is also working with non-utility agencies, such as the Illinois Department of Commerce & Economic Development and the New York State Energy Research and Development Authority, which have also qualified NComputing products for various energy-reduction incentives.
In the Seattle Light program, the utility is offering a $25 rebate on each NComputing device, thereby dropping the net cost of adding a computer to $45 per seat, according to NComputing. Meanwhile, San Diego Gas and Electric, Southern California Edison, and BC Hydro offer rebates that range "all the way up to full product cost," says the company. The rate discounts, meanwhile, offer lower electricity rates for purchasing NComputing products. For example, Duke Energy offers an $.08 per kWh rate reduction.
According to NComputing, 850 million PCs in use worldwide each consume at least 110 watts of electricity. If they were replaced with NComputing workstations, with six seats per PC, energy use would decline by over 120 billion kilowatt hours per year, for a reduction in CO2 emissions by 96 million metric tons, claims the company.
Stated Rob Jung, Trade Ally Rep for WECC/Duke Energy Incentive Program, "As long as there is a peak electric reduction, Duke will provide incentive. We'd be perfectly happy if every business and school qualifies for these rebates."
NComputing background
NComputing's technology taps the "unused capacity" in a PC and shares it among multiple users. Its VSpace virtualization software creates a virtual desktop environment on any Windows- or Linux-based computer, somewhat similar to virtualization solutions from companies like Citrix Systems, Microsoft, and VMware. NComputing also comes with client devices, however, which connect to PCI add-in cards installed on a host PC.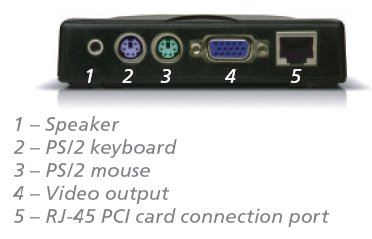 X300 client
The Linux-based software reconstructs the virtual desktop stored in the memory of the shared computer and transmits it down the communications link to the device, which can be attached to the back of a monitor. NComputing offers a variety of client devices, including the entry-level
X300
(see above), which provides a PCI card and three client devices. Two X300 kits can be installed onto a single PC, offering up to seven shared users per PC. Other options range up to the L-Series kits (pictured at top), which can support up to 30 users per PC. The X300 is driven by Altera Cyclone3 FPGAs running proprietary firmware.
Availability
More information on the utility company rebates and incentives for NComputing should be available here. More information on the NComputing technology may be found here.
---

This article was originally published on LinuxDevices.com and has been donated to the open source community by QuinStreet Inc. Please visit LinuxToday.com for up-to-date news and articles about Linux and open source.