Feb 4, 2008 — by Eric Brown — from the LinuxDevices Archive — 5 views

A Canadian firm will soon announce a phone whose plaid case spells "Debian" in Morse Code. Developed by Koolu, whose CTO is Jon "maddog" Hall, the touchphone-based "W.E. Phone" runs Google Apps on top of the Android Java stack on top of Debian.
The "W.E." moniker is based on the company's motto, "Works Everywhere," says maddog, who is CTO and "ambassador" to Koolu. "Besides," said maddog, "Instead of 'I Phone' or 'You Phone,' we thought it could be 'W.E. Phone.'"
In that spirit, the Koolu phone is said to fully support open source development. The phone comes with a Debian Linux software development kit (SDK). A Koolu spokesperson (not maddog) confirmed that the W.E. Phone also runs the Java based Google Android phone stack.
The phone also appears set to ship with Google Apps, including Gmail, Google Calendar, Google Docs (for documents, spreadsheets and presentations), Google Talk instant messaging and VoIP, and Google Start Page. A special Debian Linux tartan edition will be available with a tartan weave skin said to spell out "Debian" in Morse Code. The plaid was reportedly commissioned by attendees of the Debian Linux conference held in Edinburgh, Scotland in June 2007.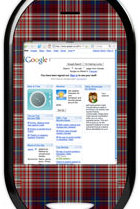 Koolu W.E. Phone mockup (special Debian tartan weave version)


OpenMoko
Neo FreeRunner
mock-up
(Click to enlarge)
The published specs for the W.E. Phone say only that it is based on a 400MHz processor, and that it offers 256MB NAND flash, expandable via a MicroSD slot supporting cards up to 8GB. It has a 640×480 touchscreen, and is enhanced with iPhone-like accelerometers. The phone includes WiFi with VoIP support, as well as Tri-band (900/1800/1900) GSM/GPRS with SMS. A version supporting 850MHz may also become available. The well-connected phone is also said to include USB, GPS, and Bluetooth.
The W.E. Phone appears to have almost identical specs to OpenMoko's recently announced Neo FreeRunner (depicted at right). The FreeRunner is based on a Samsung SoC (system-on-chip) called the S3C2442 clocked at 500MHz. and has 128MB of RAM. Its 4.3-inch, 640 x 480 VGA Color TFT LCD is driven by an SMedia 3362-based 3D graphics accelerator. Both Neo reference designs run the open-source OpenMoko phone stack from the OpenMoko Project, but have open firmware allowing users or manufacturers to install the OS of their choice.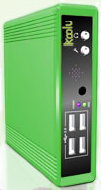 W.E. Appliance
(Click for details)
Last July, the environmentally focused Koolu introduced an Ubuntu Linux-based, thin client-like "Extreme Green Computer." Now called the W.E. Appliance, the $200 box draws less than 10 Watts, and is said to be aimed at environmentally attuned companies, as well as customers in developing countries where lower power means less pedalling on the bicycle-powered generator.
Availability
The W.E. Phone has yet to be formally announced. However, a Koolu web page devoted to the product says the phone will be available only to Google Apps customers, priced at about $400. A limited initial release aimed at Linux developers is slated for March, followed by a more widespread release this summer. More information may be available here .
---

This article was originally published on LinuxDevices.com and has been donated to the open source community by QuinStreet Inc. Please visit LinuxToday.com for up-to-date news and articles about Linux and open source.