Oct 17, 2007 — by LinuxDevices Staff — from the LinuxDevices Archive — 1 views

Motorola has bought half of UI Holdings, owner of the UIQ Symbian software stack for touchscreen phones. The investment could help Motorola profit from an emergent touchscreen smartphone market, while focusing its Linux development efforts around higher-volume mass market phones such as the RAZR2 V8.
The UIQ stack runs on top of the Symbian kernel, similar to Nokia's S60 stack. Among the first phone UIs (user interfaces) to support touchscreens, the UIQ environment integrates a full complement of smartphone features, including an Opera browser, PIM (personal information manager), and synchronization utilities. It supports lightweight operator configuration via skins and other cosmetic changes, and also offers something Motorola has yet to add to its MotoDEV Studio Linux phone customization suite — development tools supporting native C++ development, as well as Java.
Pending regulatory approval, Motorola will purchase half of UI Holdings from Sony Ericsson, which previously owned it wholly. Together, the companies say they will maintain UIQ as a vendor- and chipset-agnostic technology — similar to Symbian itself, which Nokia owns about half of.
Analysis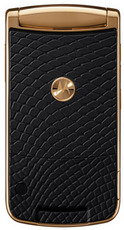 Motorola RAZR2 V8 "Luxury Edition," featuring gold plating and fake snakeskin
(Click to enlarge)
Motorola's move comes at an interesting crossroads in the company's history. Long the second-largest handset vendor behind Nokia, Motorola has struggled recently, and is now deadlocked with Samsung in a tie for second place in the global phone market.
Additionally, Motorola is at a transitional point in its nearly 5-year-old Linux handset strategy. After shipping about 10 million Linux-based smartphones, almost all to Asian markets, Motorola is just now rolling out the first Linux-based model in what it calls its "iconic" line of mass market phones. The first of these, the RAZR2 V8, is a quad-band GSM/GPRS/EDGE model slated for availability throughout Europe and the U.S. later this year. There'll even be a "luxury model" with gold plating and fake snakeskin, Motorola has promised.
Meanwhile, Apple's iPhone has arguably increased consumer interest in higher-end "smartphone" devices that play music, stream videos, and most importantly, have touchscreen interfaces. Believing that Western users prefer the single-handed convenience of hardware buttons, Motorola has long marketed touchscreen phones only in Asia, where alphabets with thousands of characters make optical character recognition the only practical text input method. Thus, Motorola's stake in UIQ may be aimed at buying a better-late-than-never stake in touchscreen phones. The move also suggests that Motorola's greatest interest in Linux is in the higher-volume, lower-end market served by the RAZR2 and other iconic models.


A1200 "Ming"
(Click to enlarge)
Ironically, Motorola's most successful Linux phone so far, the A1200 (aka "Ming"), is actually a touchscreen model with a business card scanner. The Ming reportedly accounts for a respectable one percent of all smartphones sold in China, the world's largest mobile phone market. Unlocked versions of the Ming are also highly popular on eBay, showing that American consumers like the phone. So, why hasn't Motorola managed to interest Western wireless carriers in the Ming and Linux-based designs like it?
Asian phone markets are "wild West" bazaars where most customers buy and supply their own unlocked devices. In Western markets, consumers typically buy their phone through the carrier, which preloads the device with revenue-enhancing applications. And there's the rub.
As noted earlier, unlike UIQ, Motorola's MotoDEV Studio tools for its Linux phones do not support native application development. That's much more of a problem in the smartphone market than in the high-volume markets served by the RAZR2, because customers paying $300 or more for a phone are more likely to subscribe to additional services, like TV, navigation, and music streaming. Such services will offer the best user experience when based on native applications.
So, until Motorola supports native Linux development on its phones in a standardized, maintainable way, the company is likely to have difficulty promoting high-end Linux-based smartphones in Western markets. For the time being, Motorola may have bought into UIQ to improve the appeal of its smartphones for Western wireless carriers.
At the same time, high-end smartphone services will certainly trickle down to lower-end feature phones over time, as hardware becomes more powerful and user expectations rise. Perhaps with an eye toward that eventuality, Motorola earlier this month contracted long-time Linux UI stack partner Trolltech to produce a native Linux SDK for MotoDev. Such an SDK will certainly be welcome not only to Western wireless carriers, but also third-party application developers and Linux-savvy consumers.
---

This article was originally published on LinuxDevices.com and has been donated to the open source community by QuinStreet Inc. Please visit LinuxToday.com for up-to-date news and articles about Linux and open source.