Jun 27, 2011 — by LinuxDevices Staff — from the LinuxDevices Archive — views
Microsoft says it has joined nine other partners in a U.K.-based consortium that will test "white space" networking in and around Cambridge. The wireless broadband technology will initially be trialed by streaming audio and video content to mobile devices in a variety of locations, the company says.
As we review later in this story, white space networking — which has also been called WhiteFi — will rely on radio spectrum that was previously reserved for TV stations. Because available frequencies vary from location to location, the technology will require access points and clients fitted with cognitive radio equipment, which can detect interference and automatically switch frequencies when they need to.
In 2009, Microsoft received an experimental license from the Federal Communications Commission allowing it to build a prototype, "campus wide" WhiteFi system on the company's Redmond campus. But the newly announced tests in the vicinity of Cambridge, U.K, go much further, and exploit that country's "more flexible regulation," according to a June 27 blog posting by Dan Reed, a vice president in Microsoft's Technology Policy Strategy and Extreme Computing Group.
According to Reed, U.K. regulator Ofcom has granted a multi-site license to Microsoft and its partners. In addition to Microsoft, the Cambridge TV White Spaces Consortium includes the BBC, BSkyB, BT, Cambridge Consultants, Neul, Nokia, Samsung, Spectrum Bridge Inc. and TTP, he adds.
Dynamic spectrum access via cognitive radio
Source: Microsoft
(click to play)
The Consortium chose Cambridge for the trial because "it has a long history in developing novel wireless communication technologies and offers an environment for testing diverse uses of the TV white spaces network," Microsoft said in a release. The city is distinguished by a dense mixture of buildings, including the historic stone buildings of its colleges, which "offer a unique opportunity to demonstrate the penetration of TV white spaces signals when compared with other higher-frequency networks such as Wi-Fi," the company added.
Initial trials won't be open directly to the public, but will involve the setup of WhiteFi hotspots at local pubs, other leisure venues, and commercial and residential premises, according to Microsoft. Testing will involve streaming video and audio content from the BBC and BSkyB "to a range of mobile devices, including some from Nokia and Samsung," the company says.
Adaptrum showed off this WhiteFi equipment at April's NAB show
According to Reed's blog posting, the testing will also involve equipment supplied by Silicon Valley startup Adaptrum, which demonstrated prototype WhiteFi networking devices (above) at last April's National Association of Broadcasters show in Las Vegas. The equipment used cognitive radio transceivers and a prototype white spaces database from Microsoft Research, according to Adaptrum.
Managing the white spaces
At the end of 2008, the FCC issued a ruling permitting the use of unlicensed devices in the "white spaces" vacated when analog television signals were switched off. The catch is, any new users are not allowed to interfere with any licensed incumbents, which include not only TV stations but also older wireless microphones.
Last November, therefore, the FCC approved the concept of databases that would identify incumbent users, including full- and low-power stations, that are entitled to interference protection. The databases, which will be privately owned and operated services, would tell white space devices which TV channels are vacant and may be used at their location.
Subsequently, as we reported in January, Google asked to become one of the white space database administrators. Its proposal to the FCC said it would "cooperate … to develop a process for databases to provide to one another, on a daily basis, information about registered cable TV headends, TV translator station receive sites, operating sites of wireless microphones and other low power auxiliary stations, and fixed white space devices."
Unfortunately, however, "there exists no infrastructure today for measuring real-time spectrum occupancy across vast geographical regions," according to a paper presented in March at the USENIX Symposium on Networked Systems Design and Implementation in Cambridge, Mass. According to six researchers — one from the Indian Institute of Science and five from Microsoft Research India — white spaces are heavily under-utilized as a result.
The spectrum analyzers necessary to measure when and where frequencies are available cost from $10,000 to $40,000 apiece. Given that this is such a major hurdle, the paper, "SpecNet: Spectrum Sensing Sans Frontires," proposed a cooperative network that would be used to connect multiple analyzers over a wide area.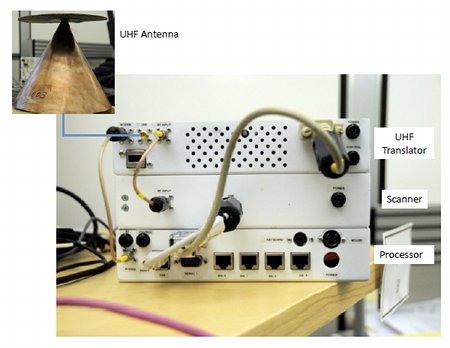 Microsoft's 2009 WhiteFi prototype
(Click to enlarge)
In 2009, meanwhile, Microsoft researchers created prototype hardware (above) for their Redmond-based WhiteFi system. Nicknamed KNOWS, the device included a PC, a scanner, a standard WiFi card, and a UHF translator that converts incoming and outgoing 2.4GHz signals to the 512 to 698MHz band.
The scanner in the KNOWS device used SIFT (Signal Interpretation before Fourier Transform) techniques to detect the presence of TV broadcasts and wireless microphone signals, even when they are intermittent and received over multiple channel widths. WhiteFi provides a "chirping" protocol that lets clients signal when they are disconnected due to a channel conflict, without interfering with a wireless microphone or other primary user, the company added at the time.
Jonathan Angel can be reached at [email protected] and followed at www.twitter.com/gadgetsense.
---
This article was originally published on LinuxDevices.com and has been donated to the open source community by QuinStreet Inc. Please visit LinuxToday.com for up-to-date news and articles about Linux and open source.