May 3, 2011 — by Eric Brown — from the LinuxDevices Archive — 8 views
A day after celebrating its 30th anniversary, Wind River announced the availability of Wind River Linux Secure — said to be the first commercial embedded Linux platform to achieve EAL4+ certification using the GP-OSPP profile. Wind River also announced version 4.6 of its multicore-oriented Wind River Simics virtualization and simulation software, adding new debugging, collaboration, and target system visualization features.
Wind River announced the availability of Wind River Linux Secure and Simics 4.6 at the Embedded Systems Conference (ESC) Silicon Valley 2011, running through May 5. Yesterday, the company celebrated its 30th anniversary as an embedded technology firm, with its last six years being increasingly devoted to embedded Linux (see farther below).
Back in July of last year, Wind River said it was developing a secure version of Wind River Linux. The secure Linux distribution has now arrived, complete with the promised EAL4+ certification.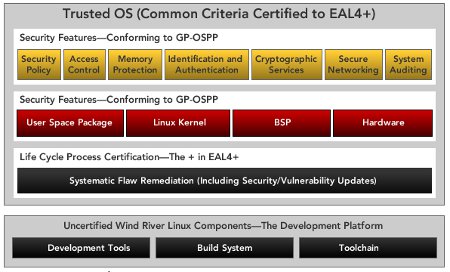 Wind River Linux Secure architecture


(Click to enlarge)
Wind River Linux Secure is designed for the military and other organizations that must comply with strict security and cryptography certification requirements like EAL4+ and FIPS 140-2. EAL4+ is an acronym that describes the Common Criteria Evaluation Assurance Level 4+ certification offered by the National Information Assurance Partnership (NIAP). The certification is said to cover the General Purpose Operating System Protection Profile (GP-OSPP.
In addition, the software's Network Security Services cryptographic library is certified to Federal Information Processing Standard (FIPS) 140-2, says the company.
The hardened Linux operating system is said to enable more affordable secure platforms for military communications, such as software-defined radios (SDRs), command and control ground stations, and combat systems, using off-the-shelf COTS hardware. It also fulfills the growing need for Linux-based secure mobile operating systems, as well as security-certified embedded Linux platforms in networking infrastructure, industrial, energy, and medical systems, says Wind River.
Other major Wind River Linux Secure features include:
based on stable Linux 2.6.27 kernel and GCC 4.3.2 compiler
common Criteria EAL4+ certification on ARM — including hardware from Texas Instruments — as well as Intel and Power (PowerPC) architectures.
full traceability of source code for all Linux modules, enabling product tracking from open source origins through any modifications and additions of patches, packages, or proprietary code
comprehensive security policy, identification and authentication, system auditing, access control mechanisms, cryptographic services, and memory protection
compatible with National Security Agency (NSA) developed Security Enhanced Linux (SELinux) and several Linux system recovery tools
Stated Kenneth Hake, Common Criteria Laboratory Manager at Atsec, which acted as the the Common Criteria Test Lab (CCTL) that conducted the independent evaluation of Wind River Linux Secure, "The EAL4+ certification achieved by Wind River Linux Secure brings important new technology options to companies needing the rich features of embedded Linux and the assurance of medium to high robustness."
Stated Paul Anderson, vice president of marketing and strategy for Linux products at Wind River, "Now organizations can meet their security needs with an open architecture software platform designed to comply with national security criteria, based upon a mature and widely-used Linux distribution."
Simics simultator moves to 4.6
Wind River also announced the latest version of its multicore-focused Wind River Simics system simulator. Simics 4.6 lets developers debug software applications in complex systems "that expand over multiple boards," says Wind River. In addition, the new version adds team collaboration tools, and enables target system visualization and surveillance, says the Intel subsidiary.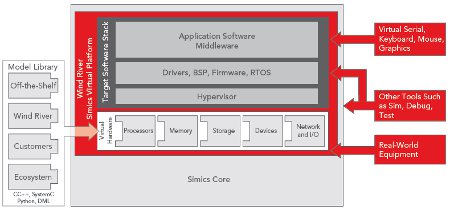 Wind River Simics 4.6 target simulation process


(Click to enlarge)
Wind River Simics 4.6 enables developers to simulate the functional behavior of their target hardware, ranging from a single processor to large, complex, and connected electronic systems, says the company. It is primarily used for the latter, especially in designing, debugging, integrating, and testing entire systems of heterogeneous multicore, multiprocessor hardware.
Wind River Simics can even help visualize systems with different target architectures and operating systems (OSes) from different vendors, says the company. The software enables unmodified target software — including firmware, OS, middleware, and applications — to run on a virtual platform the same way it does on the physical hardware.
Key new features in Simics 4.6 are said to include:
integrated Eclipse source code debugging, taking advantage of Simics' reverse execution capability and OS awareness to cover heterogeneous target systems, including system-wide, high-level applications
improved team collaboration tools to enable sharing of a complete electronic system and its entire state, with teams that are geographically or functionally separated
target system visualization and surveillance, offering customizable graphical output for virtual representation of the end system's interface and visual runtime status
capability to run any target software, including any commercial or in-house OS, supporting hardware architectures including ARM, Intel, MIPS, and Power
30th anniversary celebrated
Yesterday, Wind River commemorated its 30th year "as a pioneer and leader in embedded software," says the company. For the first 28 ½ years, it was an independent company, until the company was acquired in 2009 by Intel Corp., looking to expand its clout in embedded.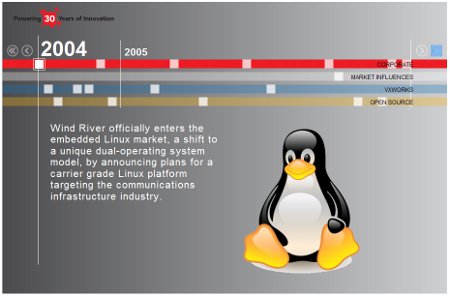 Wind River's timeline, showing entry into embedded Linux market


(Click to enlarge)
Compared to rival MontaVista Software, now owned by Cavium Networks, Wind River arrived late to Linux, introducing its
first Linux tools in 2003
. For several years, Linux was something of a stepchild to its real-time VxWorks and BSD operations. By 2005, however, the company had dropped BSD and embarked upon a
major strategic shift
toward embedded Linux.
Shortly after the $884 billion acquisition by Intel was announced, VDC Research issued a report estimating that Wind River has pushed past MontaVista, taking the top spot among embedded Linux providers. Under Intel, Wind River's Linux operations have been bolstered, along with new platforms such as Wind River Platform for Android . Yet, its traditional VxWorks real-time operating system still appears to dominate revenues of the Alameda, Calif.-based subsidiary.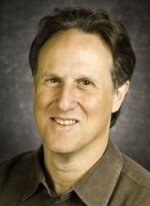 Wind River was founded in May 1981 in a Berkeley, Calif. garage by former Lawrence Berkeley National Laboratory computer scientist Jerry Fiddler (pictured). Named after Wyoming's Wind River range where Fiddler liked to vacation, the company was initially established as a consultancy, with a focus on film editing technology. Early clients included the NFL and Francis Ford Coppola.
The company released VxWorks in 1987, which had its crowning moment in the public spotlight a decade later when the RTOS was featured in NASA's Mars Pathfinder mission. Over the years, Wind Rivers' customers have included Alcatel-Lucent, BMW, Boeing, Bombardier Transportation, Mitsubishi, Motorola, NASA, and Sony. Wind River currently employs over 1,900 employees worldwide and operates in 20 countries.
Stated Ken Klein, president at Wind River, "We look forward to being a major contributor to the proliferation of billions of intelligent, connected devices in the decades to come."
Availability
Wind River Linux Secure is available now, and will be demonstrated at its booth #2002 located in the Multicore Expo Zone at ESC Silicon Valley, May 2-5. More information on the software may be found on the Wind River Linux Secure web-page.
Wind River Simics 4.6 will be available to customers worldwide by May 31, and a webinar on the product will be held June 14. More information on Simics and the webinar may be found on the Wind River Simics page.
An interactive timeline, company backgrounder, and 30th anniversary video may be found at the Wind River 30th Anniversary site. A Facebook page where the public is encouraged to post Wind River memories may be found here.
---
This article was originally published on LinuxDevices.com and has been donated to the open source community by QuinStreet Inc. Please visit LinuxToday.com for up-to-date news and articles about Linux and open source.