Jan 26, 2011 — by Eric Brown — from the LinuxDevices Archive — 29 views
Wind River and automotive component manufacturer Magneti Marelli announced they're collaborating on the first in-vehicle infotainment (IVI) solution based on the open source Genivi Alliance spec. Based on Linux (and MeeGo, most likely), the system will first be brought to market by BMW, says Wind River.
The jointly developed IVI solution supports a range of automotive control module or "head unit" architectures, and is available for all car manufacturers in customizable configurations, says Wind River. It will first appear as the basis for "next-generation entry and mid level IVI systems" for BMW Group vehicles, says the company. Timing was unclear, but it appears that the system may have already been shipped to BMW.
Fiat Group subsidiary Magneti Marelli was said to have led the development of the IVI solution. Meanwhile, Intel subsidiary and embedded Linux software leader Wind River provided an integrated, tested and validated IVI software platform based on the open source Genivi standard. Wind River also offered customization and consulting services, says the company.
Although Wind River did not provide details aside from the Linux foundation of the IVI software, it would appear likely that the system is based on the Linux-based MeeGo operating system. However, it may instead be based on MeeGo's predecessor, Moblin.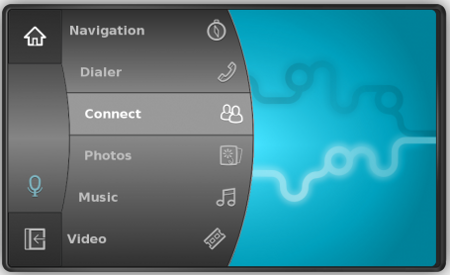 MeeGo IVI UX 1.1 main screen, with carousel interface
The original Genivi Alliance IVI reference platform launched in 2009 was based on Moblin, Wind River Linux, and the Intel Atom processor. (See farther below for background.) In July of 2010, however, the Genivi Alliance announced it would base its
second IVI reference platform
, called "Apollo," on MeeGo and the
Intel Atom E6xx
.
In August the MeeGo project released version 1.0 of the MeeGo for IVI UX (user experience) running on Intel Atom processors. A more polished version was released as part of MeeGo 1.1 in October.
MeeGo for IVI features a distinctive carousel-like scroll-wheel interface (pictured above), as well as a navigation UI (below). It also includes speech recognition capabilities, as well as a sample IVI home screen and taskbar built with Qt 4.7.
In March of this year, BMW joined 26 other organizations in pledging support for MeeGo. The German automaker mentioned the Genivi Alliance in its formal support statement.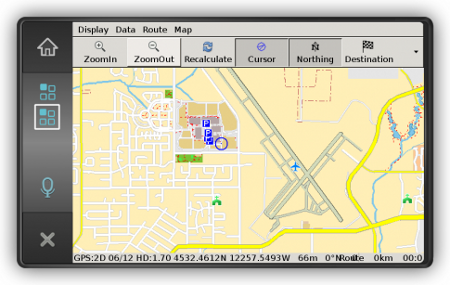 Navigation on the MeeGo IVI UX 1.1
In July, when Wind River announced its
Wind River Framework for Automated Software Testing
(FAST) for Android, the company said it was looking to extend Wind River FAST to support MeeGo and Genivi.
Wind River, Magneti Marelli, and BMW are all founding members of the Genivi Alliance, along with Delphi, General Motors, Intel, PSA Peugeot Citroen, and Visteon. Subsequent members have included Texas Instruments, Freescale Semiconductor, and Cavium-owned MontaVista Software, which is working on a Genivi IVI project with Bosch. More recently, Bosch, TomTom, Jaguar Land Rover, and SAIC Motor Passenger Vehicle Company joined the group.
Launched in Mar. 2009, the Genivi Alliance aims to develop a common open source software architecture and middleware for IVI systems "scalable across product lines and generations." The alliance further intends to avoid duplication of development processes, reduce time-to-market and total cost of ownership for IVI systems, and bring them "closer to the lifecycle of consumer devices" to enable new business models and connected services.
While the early IVI reference platforms have been based on the Intel Atom, future platforms are expected to be released based on Texas Instruments and Freescale processor platforms.
ARM-based TI Genivi system demonstrated
At CES earlier this month, the Genivi Alliance demonstrated two Apollo baseline IVI systems. One ran on the official Intel In-Vehicle Infotainment Reference Design with the Atom E6xx, and the other on Texas Instruments' ARM Cortex-A8 powered BeagleBoard, along with an automotive carrier card. Presumably, this is the new BeagleBoard-xM, which runs on TI's 1GHz DM3730 processor.
It was unclear whether the TI demo system ran MeeGo, which also supports ARM processors in some of its versions. With MeeGo still slow to make much headway in the netbook, tablet, or smartphone markets, one could argue that IVI offers its best opportunity for early success. Still, the seemingly omnipresent Android is entering the IVI market as well.
Stated Alexander Kocher, vice president and general manger for automotive solutions at Wind River, "Starting with BMW, Wind River and Magneti Marelli are providing car manufacturers with an IVI solution, delivering the latest infotainment technologies via open source software, which promotes the acceleration of innovation while reducing time-to-market and development costs."
Stated Giuseppe Faranda, director of the infotainment and navigation division at Magneti Marelli, "The open platform approach can be considered the basis on which the future of in-vehicle life and infotainment will be built."
Availability
More information about Wind River solutions for the automotive industry is available at the Wind River automotive page.
More on Magneti Marelli may be found at the Magneti Marelli website.
More on the Genivi Alliance may be found at the Genivi website.
---
This article was originally published on LinuxDevices.com and has been donated to the open source community by QuinStreet Inc. Please visit LinuxToday.com for up-to-date news and articles about Linux and open source.