Jul 23, 2010 — by Eric Brown — from the LinuxDevices Archive — 6 views
The Genivi Alliance has chosen the Linux Foundation's Intel- and Nokia-backed MeeGo operating system as the basis of its next "Apollo" reference release for open source Linux-based In-Vehicle Infotainment (IVI) systems. Meanwhile, the Genivi Alliance announced Hyundai as a new core member, and said it was planning an ARM reference platform for IVI.
The Linux Foundation offered no more details about the Apollo reference design except to say that it builds upon the recently released MeeGo Handset environment. No timetable was announced for the reference design, but the IVI environment is not expected to ship until October, along with MeeGo 1.1 and a touch interface that will be common to the Handset, Tablet, and IVI environments.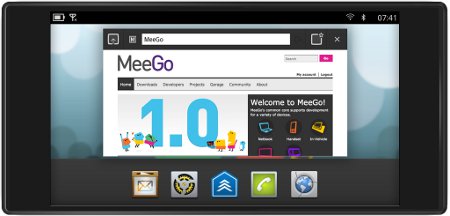 MeeGo Handset switcher in landscape mode
The
MeeGo 1.0 for Netbooks
environment, which, like the current Handset environment, is based on an
Intel Atom Z6xx
("Moorestown") processor, shipped in late May. A second, ARM Cortex version of Handset — expected to be used in upcoming Nokia phones — has yet to be officially released by the MeeGo Project.
The news that the Genivi Alliance has selected MeeGo is hardly surprising, considering that the MeeGo group suggested it would support Genivi on its IVI reference platform when it announced MeeGo in February. What's more, the previous Intel Atom-based Genivi reference design, developed by Intel and Wind River ran Moblin. The open source, mobile Linux operating system forms the basis for MeeGo along with Nokia's Maemo Linux distribution.

A Bosch in-car navigation and infotainment system
In March, Genivi founding member BMW Group announced it was joining MeeGo, and suggested it was working with the Genivi Alliance to develop a new
MeeGo-based reference platform
. Late last month, another Genivi member, MontaVista Software, announced it was
working with Bosch's Car Multimedia unit
on a Genivi-compliant, Linux-based IVI system, although it mentioned nothing about MeeGo.
MontaVista joined the Genivi Alliance last year, along with Texas Instruments and Freescale Semiconductor, and became a member of its board of directors. That move came a day after MontaVista announced a Market Specific Distribution (MSD) of its MontaVista Linux 6 embedded commercial Linux development platform designed for the Moblin v2 Linux stack running on an Intel Atom.
The Genivi Alliance was announced in March 2009, by Intel, Delphi, General Motors (GM), Magneti Marelli, PSA Peugeot Citroen, Visteon, and Wind River. It has the goal of developing open platform IVI reference designs and middleware based on Linux.
The Genivi platform consists of standardized open source middleware, application layer interfaces, and frameworks, says the alliance. The group released the initial Wind River developed reference platform to members in conjunction with the CES show this January.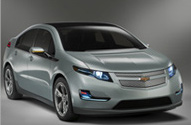 In May, another Genivi member, GM, announced that version 2.0 of the Android version of its OnStar Mobile app for the Chevrolet Volt (pictured at right) will feature Google Maps integration. The voice-enabled feature, which shows a Volt's location on Google Maps, may only be the first step in Android integration with OnStar, said various industry reports at the time.
Genivi announces new members, tips ARM IVI platform
On Wednesday, the Genivi Alliance announced that the Hyundai Motor Company has joined the industry group as a Core member — and the first Korean OEM member — bringing the number of OEM members to six. Genivi also announced nine new Core members: Aisin AW CO. LTD., Altran Praxis, Ericpol Telecom, Nav N Go KFT, NetLogic Microsystems, Nvidia, Sirius XM, STMicroelectronics, and Telemotive AG.
The Genivi Alliance now comprises 75 members, including six OEMs, key first tier suppliers, and the majority of semiconductor providers to the IVI market, says the group.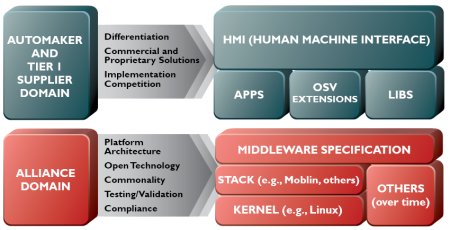 Original conceptual diagram of Genivi IVI platform
The new members joined Genivi's second all-member meeting, held recently in Munich, Germany. There the group was said to have discussed planned features for the second Genivi Alliance platform release (presumably the MeeGo design) as well as support for an ARM-based version.
When MontaVista joined the group in March, the company noted that it could bring its ARM expertise to the group, and it was also noted that ARM Holdings recently joined the alliance.
The initial MeeGo IVI platform is likely to run on an Intel Atom Z6xx. When the MeeGo group announced MeeGo in February, it mentioned that the MeeGo IVI environment "builds on the foundation laid by Moblin IVI for system that comply with the Genivi Alliance."
However, an ARM Cortex MeeGo reference design appears to be in the works for a second IVI release. Meanwhile, since MontaVista also supports Moblin on an Intel Atom, it's unclear which platform the initial Bosch collaboration will run on.
In February, the Genivi Alliance announced that Renault had joined as a Core member. In addition, the Alliance announced Cisco Systems, Marvell International, NXP Semiconductor, Renesas Technology Corporation, Samsung Electronics, and Valeo Interior Controls as new members.
MeeGo for Genivi testimonials
Stated Jim Zemlin, executive director at The Linux Foundation, "For developers, this is a great opportunity to harness the power of the MeeGo APIs to target a variety of devices and architectures and extend their work on handset applications toward vehicles."
Stated Graham Smethurst, President of Genivi, "Working with MeeGo we expect to establish a solution that effectively merges IVI needs with those of the other MeeGo target device categories."
Stated Gerulf Kinkelin, Genivi Director and Innovation Area Manager for Electronics and Telematices, PSA Peugeot Citroen. "PSA supports Genivi's decision and believes the rapid innovation associated with open source and a rich network of contributors available with MeeGo can enable us to define and deliver a faster time-to-market, outstanding IVI experience in our upcoming products."
Availability
Neither the Linux Foundation or the Genivi Alliance offered a timetable for the MeeGo-based Apollo IVI reference platform. More information on the MeeGo platform may be found here, and more on the Genivi Alliance may be found here.
---
This article was originally published on LinuxDevices.com and has been donated to the open source community by QuinStreet Inc. Please visit LinuxToday.com for up-to-date news and articles about Linux and open source.