Oct 21, 2011 — by Eric Brown — from the LinuxDevices Archive — 151 views
The OpenELEC project released an embedded Linux OS designed to run the open source XBMC Media Center home theater PC (HTPC) software on x86 PCs. OpenELEC 1.0 offers a footprint of just 80-130 MB, boots in less than 10 seconds, and is available pre-installed on the Xtreamer Ultra — a mini-PC based on an Intel Atom D525 and Nvidia Ion GPU.
OpenELEC (Open Embedded Linux Entertainment Center) incorporates version 10.1 of the XBMC multimedia HTPC hub platform for IPTV applications. XBMC already underscores the Linux-compatible Boxee platform, as well as Linux distributions such as the Ubuntu-based XBMC-Live. Unlike XBMC-Live, though, OpenELEC is not built upon another Linux distro, but instead is a minimalist, embedded distribution with homegrown code.
Based on the soon-to-be-released Linux 3.1 kernel, as well as X.org 1.10.4 and Mesa 7.11, the distro fits into 80MB to 130MB, making it ideal for installation from USB keys, according to the project. OpenELEC is also claimed to boot in less than 10 seconds.

OpenElec 1.0
(Click to enlarge)
OpenELEC is said to run on most Intel and AMD 32-bit and 64-bit PCs, but especially targets small-footprint mini-PCs. Specific builds are available for Intel- and AMD Fusion-based systems, as well as systems that include the Nvidia Ion graphics processing unit (GPU). The project has also developed a build specifically for Xtreamer's Intel Atom- and Ion-based Xtreamer Ultra mini-PC (see farther below).
The distribution supports most graphics cards, most wired network cards, and some wireless network cards, says the project. Support is said to be provided for a wide range of storage types, including SATA, SD, CompactFlash, and USB. Numerous remote control devices are also said to be supported.
OpenELEC is said to add extensions to XBMC to make it easier to install and use. Installing OpenELEC "takes less than five minutes and requires zero Linux experience," claims the project. In addition, OS updates are said to occur automatically in the background.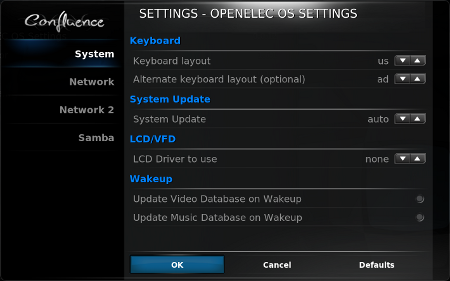 OpenElec configuration screen

An OpenELEC Configuration Add-on lets users configure system settings like networking configuration, update services, and additional hardware features such as LCD displays, says the project. All of this is said to be configurable from one's remote control. "Once OpenELEC is installed, you'll never need your keyboard for your HTPC again," says the project.
Add-ons are available for implementing PVR (personal video recorder) functionality, including DVB and IPTV features. Other add-ons are said to enable newsgroup downloading, BitTorrent support, and rsync services. The open source community is invited to join in and develop their own GPL-licensed add-ons that can be added to the OpenELEC repository, says the project.
Stated Nathan Betzen, Community/Project Manager for Team XBMC, "There is no easier way to get a more 'appliance-like' feel to XBMC than to use OpenELEC."
Xtreamer Ultra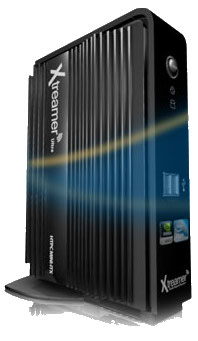 When the Xtreamer Ultra was unveiled at the CeBIT show in March, Engadget called the mini-PC "the baddest little HTPC we've seen here at the show." Like a number of HTPC mini-PCs, the Mini-ITX-based Xtreamer Ultra (pictured) combines a dual-core Intel Atom D525 processor clocked at 1.8GHz, with an Nvidia Ion GPU.
Earlier this month, Xtreamer released a custom, 16GB solid state drive (SSD) for the Ultra which includes OpenELEC pre-installed, along with Xtreamer's own Ubuntu Linux-based Ultra OS. The module runs in a mini-PCI Express slot leaving the Ultra's 2.5-inch SATA hard disk drive (HDD) bay free for storage. The computer is also said to support other Linux distros as well as Windows 7.
The Xtreamer Ultra went on sale in April, and now sells for $400 at Amazon.com. The system ships with 4GB of DDR3 RAM, 512MB of DDR3 video RAM, and an 8GB USB stick, says Xtreamer. Other features include an eSATA port, a gigabit Ethernet port, and six USB 2.0 ports.
Multimedia ports include an HDMI 1.4a port with cable, a DVI-I port, as well as VGA (via an adapter). The Ultra offers 7.1+2 channel HD audio, and ships with an optical S/PDIF port, as well as mic and line-out connections, says the company.
The Ultra ships with an IR remote control device, as well as a separate rechargeable mini-keyboard and mouse combo device, says Xtreamer. Options include a USB Wi-Fi dongle, Blu-ray DVD writer/player, a dedicated graphics card, and motion gaming add-ons.
The 8.4 x 2.2 x 5.6-inch system weighs 4.4 pounds, says the company. The box is said to be cooled via hybrid passive cooling system with a liquid cooling fan and heat sink.
Xtreamer also sells three media streamer devices that do not appear to run Linux or any other stated operating system. These include an Xtreamer Prodigy 3D HD and a SideWinder2 — both based on Realtek RTL chipsets — and an Xtreamer Pro (see link below for more information).
Availability
OpenELEC 1.0 is available now for free download. More information may be found at the OpenELEC website.
The Xtreamer Ultra is available from various locations, including Amazon.com, where it sells for $400. More information may be found at Xtreamer's Xtreamer Ultra product page. Info on the other Xtreamer systems may be found on the Xtreamer website.
---
This article was originally published on LinuxDevices.com and has been donated to the open source community by QuinStreet Inc. Please visit LinuxToday.com for up-to-date news and articles about Linux and open source.