Aug 10, 2011 — by Eric Brown — from the LinuxDevices Archive — 3 views
CompuLab unveiled two hard disk drive-equipped versions of its tiny, Linux-based, Nvidia Tegra 2 powered computer, a discounted price on its Trim-Slice Pro Dev-Kit, plus Trim-Slice support from Arch Linux and MeeGo's Smart TV group. The $319 Trim-Slice H250 includes a 250GB drive, while the $279 Trim-Slice H Diskless lets users add a disk of their own, says the company.

Israel-based CompuLab announced its 5.1 x 3.7 x 0.6-inch Trim-Slice computer in January. Offering a pre-installed Linux build running on the dual-core, 1GHz Nvidia Tegra 2 processor, the Trim-Slice (pictured at right) was promoted as an open platform for ARM software development.
The Trim-Slice was touted as being CompuLab's smallest and most energy-efficient computer to date, running on just three Watts. Since then, we have yet to see another ARM mini-PC that can match its price/performance/power combination.
Now CompuLab has introduced two Trim-Slice H models that offer hard disk (HDD) storage without requiring an external drive plugged into one of the available four USB ports. While the earlier Trim-Slice Pro offered a 32GB solid state drive (SSD), the Trim-Slice H250 includes a 250GB HDD, while the Trim-Slice H Diskless offers room to add an HDD or SSD, says the company.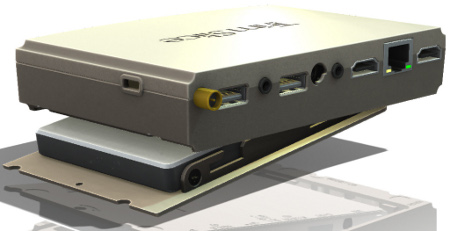 Trim-Slice H, revealing HDD bay
(Click to enlarge)
As a result, the Trim-Slice H is thicker than the Pro, moving up to 0.98 inches on the vertical, but the other dimensions stay the same. Power consumption is listed at the same 2-6 Watts, depending on system load.
Like the Trim-Slice Pro, the H models feature 1GB of RAM, dual SDHC slots (full-sized and micro), and dual-head HDMI/DVI for dual display action, says CompuLab. Other features are also identical, including the gigabit Ethernet port, four USB 2.0 ports, a micro-USB port, serial port, and a Kensington lock.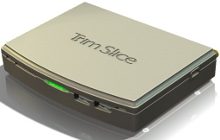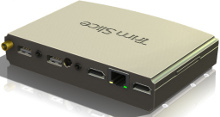 Trim-Slice H, front and back
(Click on either to enlarge)
An internal 802.11n (RaLink RT3070) radio is available, as is a Bluetooth 2.0 USB dongle, says the company. S/PDIF 5.1 audio is delivered via a 3.5mm jack, and a line-in port is also available. A version with PAL/NTSC video is said to be available only to registered developers.
The device supports 12V DC power, and is tolerant of 8-16V input, says CompuLab. The device can handle temperatures ranging from 32 to 113 deg. F (0 to 45 deg. C), says the company.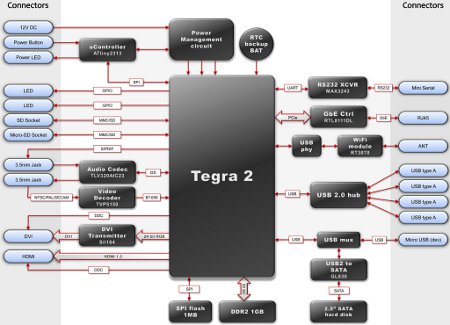 Trim-Slice H block diagram
(Click to enlarge)
The H-250 model offers Linux pre-installed on the 250GB SATA drive. The Diskless model, which like the H-250 lacks SD storage, does not.
Value and Barebone models
CompuLab also offers two lower-end versions of the Trim-Slice Pro that were not announced back in January. These include a lower-cost ($219) Trim-Slice Value model that lacks a DVI-D port, thereby mooting the dual display capability of the Trim-Slice Pro or H models. The Value version also lacks the Bluetooth USB dongle offered with the higher end models, and instead of built-in Wi-Fi, settles for a Wi-Fi USB dongle.
The spec sheet says the Value model has no storage at all, but the block diagram and a second comparison chart show a microSD slot, which the chart says features a 4GB data card.
A $199 Trim-Slice Barebone model, meanwhile, further subtracts the microSD slot and SD card, as well as the Wi-Fi dongle. The Value and Barebone models also lack the video-in port said to be available only to developers on the more advanced models.
Discounted developer kits and MeeGo Smart TV support
CompuLab also announced a 45 percent discount on its Trim-Slice Pro Dev-Kit, available to registered "open-source developers only." The hardware/software development kit, which appears to include the Trim-Slice Pro, complete with video-in, now costs $175 instead of $319.
CompuLab is continuing to reach out to open source developers, says the company. Recently, both the MeeGo Linux project, and the Arch Linux ARM project have announced support for the Trim-Slice, says CompuLab.
MeeGo has adopted Trim-Slice as its first device platform for the Smart TV IPTV sub-project that was announced in March. At the time, the MeeGo Smart TV Working Group announced that its partners included Intel, MIPS, Sigma Designs, Nokia, Amino, MIPS, and Nokia, but mentioned nothing about CompuLab.
The project intends to develop a MeeGo User Experience (UX) for IP set-tops and TVs similar to the UXes it has developed for netbooks, phones, in-vehicle navigation devices, and tablets. So far, the project is working on integrating the open source XBMC platform, which underlies Boxee, as well as the Qt Media Player and Adobe Flash support.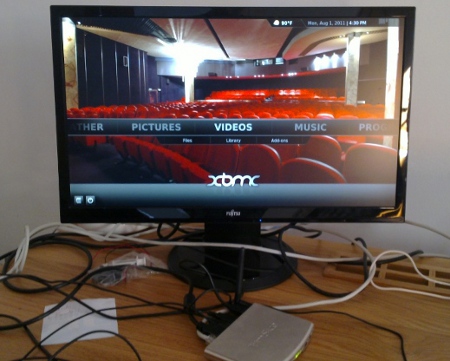 Trim-Slice on early MeeGo Smart TV build, displaying XBMC
As for Arch Linux, the
Trim-Slice joins
a number of ARM-based platforms supported by the popular rolling-release Linux distro. These include the BeagleBoard-xM, the
PandaBoard
, and a variety of devices based on Marvell's SheevaPlug Plug Computer design, including the
Pogoplug
.
Stated Irad Stavi, Director of Business Development at CompuLab, "With Trim-Slice H, ARM users are no longer deprived of choice when it comes to storage."
Availability
Trim-Slice H devices will be available towards the end of the month, says CompuLab. The Trim-Slice H Diskless is priced at $279, and the Trim-Slice H250 rises to $319. More information on the Trim-Slice H may be found at the Trim-Slice website.
As noted above, registered open source developers may now purchase the Trim-Slice Pro Dev-Kit for $175 instead of $319. More information may be found at the Trim-Slice developers community site.
---
This article was originally published on LinuxDevices.com and has been donated to the open source community by QuinStreet Inc. Please visit LinuxToday.com for up-to-date news and articles about Linux and open source.