Mar 2, 2011 — by Eric Brown — from the LinuxDevices Archive — 6 views
The Linux Foundation announced that its Intel-backed Yocto Project, which develops open source tools for Linux-based embedded systems, will align and merge technology with the OpenEmbedded community known for its Linux build system. The Linux advocacy organization also announced new partners in the Yocto Project, including major embedded Linux semiconductor manufacturers and software development firms.
It is not clear to what extent the OpenEmbedded community — which launched in 2003 — which launched in 2003, and the new Yocto Project will combine forces. Perhaps neither side will know until they formally meet in April in San Francisco at the Linux Foundation's Collaboration Summit and Embedded Linux Conference.
It's certainly not a full merger, yet the Yocto Project is indeed "merging technology" with the OpenEmbedded community and "extending governance to include OpenEmbedded representatives," says the Linux Foundation (LF).
In addition, the projects will share a common OpenEmbedded Core (OE-Core) metadata foundation comprised of software build recipes and core Linux components, thereby "preventing fragmentation and reinforcing the OpenEmbedded methodology as an open standard for embedded Linux build systems," says the LF.
Launched in October, the LF-hosted Yocto Project aims to provide open source tools to help companies make custom, Linux-based embedded systems for ARM, MIPS, PowerPC, and x86 architectures. The OpenEmbedded community is more clearly focused on building a common underlying build framework for embedded Linux.
TI joins steering group to boost ARM participation
Previously, there was no formal corporate support for the Yocto Project, but the technical lead and all the maintainers have derived from Intel or its commercial embedded software subsidiary Wind River. Now Intel and Wind River are part of a new Yocto Steering Group that is counterbalanced by ARM-oriented chipmaker Texas Instruments (TI).
The other new members are Atul Banshal from long-time embedded Linux development firm Timesys, as well as well as OpenEmbedded's Philip Balister, and Steve Sakoman, head of Sakoman, Inc., and former Apple and Gumstix developer.
Chipmakers that today announced they are contributing to the Yocto Project, in addition to Intel and TI, include Cavium Networks (MIPS/ARM), Freescale Semiconductor (ARM/PowerPC), LSI (various), Mindspeed (ARM), NetLogic Microsystems (MIPS), and Tilera (MIPS-like).
Embedded Linux development firms that have offered support, in addition to Timesys and Wind River, are MontaVista Software and Mentor Graphics. One hardware vendor — Dell — also vowed support.
OpenEmbedded forms the Yocto foundation
While the LF release is short on partnership specifics, a Yocto Project page for OpenEmbedded Core explains that the original 0.9 release of the Yocto Project software has integrated recipes and other build metadata from the OpenEmbedded project through the related Poky build system, as explained in our initial Yocto coverage.
For the upcoming version 1.0, due in April, as well as future releases, the Yocto Project and OpenEmbedded have agreed to work together and share a common core set of metadata, called OE-Core, which contains much of the functionality previously drawn from Poky.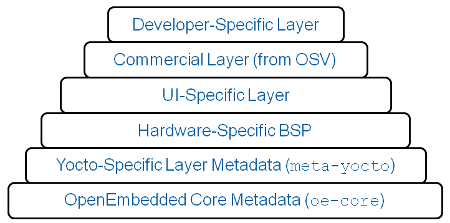 Yocto 1.0 metadata architecture (preliminary)
This results in Poky becoming an integration layer on top of OE-Core, as shown in the preliminary diagram above. While the Yocto Project build system combines other components such as BitBake, scripting "glue," and documentation, the new release will build more exclusively on OE-Core technology wherever possible. This helps the Yocto Project to standardize on "a smaller number of fully featured tools as compared to many different ones," says the project.
While the Yocto Project was always aligned to a certain extent with OpenEmbedded, as is much of the embedded Linux ecosystem, the potential for closer integration was suggested in December when the LF announced that OpenEmbedded developer and Yocto Project maintainer Richard Purdie had been appointed to the position of Linux Foundation Fellow. In addition to Purdie's work on Yocto and OpenEmbedded, he was also the founder of the Poky Build System.
With the new partnership, Yocto 1.0, it appears, will more fully integrate and clarify the role of OpenEmbedded and Poky in the Yocto tools. This in turn will percolate to projects such as the LF-sponsored and Intel-backed MeeGo project.
ARM and major ARM-licensee semiconductor firms have taken a different approach toward somewhat similar goals with their jointly owned Linaro, a not-for-profit development company, which aims to develop standardized Linux tools for ARM Cortex processors. Participation in both ventures by Freescale and TI could point to even further standardization across embedded Linux platforms.
Acquiring dependable source code and other basic components is still a major concern for embedded developers, says the LF. The group cites an Embedded Market Forecasters survey from 2010 that says the two primary factors that contribute to choosing an embedded OS are cost (44.6 percent) and availability of source code (33.1 percent).
Stated Philip Balister, vice chairman, OpenEmbedded Board. "We're happy to be working with the Yocto Project and believe it can advance Linux development efforts for embedded systems and devices."
Stated Grant Likely, Linux kernel developer, Linux Foundation Technical Advisory Board (TAB) member, and president, Secret Lab Technologies, "I'm thrilled that OpenEmbedded and the Yocto members are working together to make building custom Linux systems simple and reliable."
Availability
Yocto 1.0 is expected to arrive in April. More information may be found at the Yocto Project, and testimonials by new Yocto participants may be found in the Linux Foundation's Yocto/OpenEmbedded partnership announcement.
More on OpenEmbedded may be found at the OpenEmbedded site.
---
This article was originally published on LinuxDevices.com and has been donated to the open source community by QuinStreet Inc. Please visit LinuxToday.com for up-to-date news and articles about Linux and open source.