Feb 15, 2011 — by LinuxDevices Staff — from the LinuxDevices Archive — views
Intel made loud overtures in support of MeeGo at Mobile World Congress, getting Toshiba, Fujitsu, Asus, and Acer to stand behind the Linux-based OS, despite Nokia's defection. The MeeGo project also demonstrated the long-awaited MeeGo Tablet User Experience (UX).
Intel says it is standing behind MeeGo, despite Nokia CEO Stephen Elop's Feb. 11 announcement that the phone maker has shifted its primary focus from MeeGo to Microsoft's Windows Phone 7 platform. Intel also demonstrated an upcoming Tablet UX environment for MeeGo (see image directly below and coverage at the end of the story).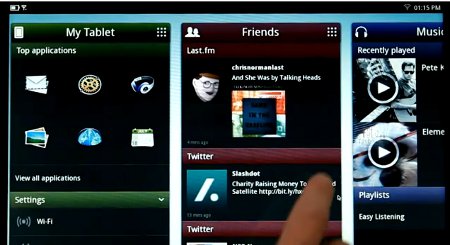 MeeGo Tablet UX prototype


(Click to enlarge)
"Intel is disappointed at Nokia but life goes on," Renee James, senior vice president and general manager of Intel's software and services group, said during a Feb. 14 press conference at the Mobile World Congress in Barcelona,
according to ComputerWorld
.
Along with Intel, James said, a number of companies and operators vowed support for the MeeGo platform and said they would participate in the development of the Linux-based open source mobile operating system. These include AMD — which recently joined the MeeGo project — as well as Texas Instruments, ST-Ericsson, and Novell. Carrier support included Orange, Telefonica, and Sprint. Intel, meanwhile, promises to support the OS via its Wind River Linux software subsidiary.
Intel still expects to see MeeGo-running tablets begin shipping this year, followed by several smartphones, says the company.
Aiming for third place
At the press event, ComputerWorld reported, James said that Intel has hopes of slipping into third place behind Apple and Android, which admittedly already has quite a lead.
Also speaking during the press event, an executive from Orange emphasized the carrier's support for MeeGo, explaining, according to the report, that the carrier first got behind MeeGo because "this industry needed a truly open ecosystem providing a level field for all players. That need is still there."
The remark is perhaps a knock against Android, which despite being open source is still rather exclusively developed by Google.
Despite the enthusiasm, the launch of MeeGo has been a slow one. After introducing the platform at the 2010 Mobile World Congress event, the project launched MeeGo 1.0 for Netbooks in May, followed by other UX releases.
It was not until September of last year that Intel launched a non-beta version of its application store for the OS, called AppUp. Intel combined it with its Atom Developer Program, saying the two were complementary. AppUp can be accessed via the websites of U.S. retailer Best Buy, U.K. retailer Dixons, and Croma, in India.
Intel also announced at the time that the application store would start shipping on every Asus netbook as of October, and later on netbooks from Samsung. A number of the applications — there were 800, as of the store's September launch — are free, and the paid applications come with a 24-hour try-and-buy offer.
Meanwhile, the MeeGo project released MeeGo 1.1 in October, and hopes to release MeeGo 1.2 in April.
Nokia still vows to ship a MeeGo device
Nokia, while not focusing on MeeGo, still plans to ship a MeeGo device in 2011, and in a Feb. 14 press statement, Intel insisted that "attendees at this year's Mobile World Congress will see MeeGo-based products and technologies that are now available and others that will soon make their way into the marketplace."
Among these will be a MeeGo-based Fujitsu notebook, headed for the Asia-Pacific region, an Asus MeeGo-based netbook scheduled to ship during the second quarter, and several Acer devices set to launch during the third quarter, said Intel.
"Acer's next-generation store, Alive, will include Intel AppUp center and will soon be available on MeeGo-based mobile devices to enable a mobile lifestyle," Acer CEO Gianfranco Lanci said in the statement. "MeeGo's open software stack will present our consumers with another choice of a user-friendly, easy-to-use operating system."
In the joint statement, Toshiba Chief Marketing Officer Hidehito Murato also added his support for MeeGo, saying that its "open, flexible" environment was creating rich, future opportunities.
Fujitsu Vice President Lim Tech Sin similarly backed the platform, saying that Fujitsu's MeeGo-running netbook "transcends boundaries" and "serves as the new standard for tomorrow's computing experience."
Meanwhile, MeeGo has made some progress in the in-car infotainment market where its In-Vehicle Infotainment (IVI) UX has been adopted by an industry consortium called the Genivi Alliance.
The netbooks, however, have been slow to arrive. A recent Liliputing report said that OpenSUSE Linux developer Andrew Wafaa has stated that the MeeGo project has "pretty much stopped all work on the netbook operating system, and as a result he's going to stop working on the openSUSE MeeGo project, known as Smeegol."
Tablet UX demo'd
At the Mobile World Congress show, Intel showed off a preliminary version of MeeGo's Tablet User Experience (UX). The Linux Foundation hosted MeeGo project has yet to formally release the tailored environment.
The UI is unique, Intel explains in a video demo of the Tablet UX (see below) in that "it puts the person using the device, and their content, at the center of the user experience, making that experience truly personal."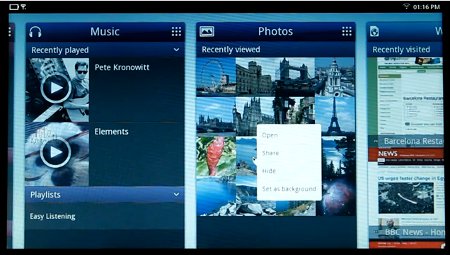 Context-sensitive pop-up menus in MeeGo Tablet UX


(Click to enlarge)
The Tablet UX interface is broken up into columns — entitled Friends, Music, Photos, etc. — that a user can pan across or scroll down individually. The arrangement of the information within each column also varies, depending on the type of content.
Previously, the MeeGo project has said that the Tablet UX, which is based on the Handset UX, is scheduled to be made available with MeeGo 1.2 this spring.
Despite the lack of a optimized support, at least tw

o MeeGo-based tablets have already shipped, according to their vendors. The Atom-based WeTab, offered by a German company of the same name, is a MeeGo-based color e-reader tablet. Trinity Audio Group is offering an Atom/MeeGo based Indamixx 2 version of is musician and audio engineering tablet (pictured at right).
One potentially promising development for MeeGo tablets is Myriad Group's recent announcement of a "Myriad Alien Dalvik" virtual machine claimed to let Android apps run on non-Android platforms, starting with MeeGo later this year. Alien Dalvik enables the majority of Android applications to run unmodified, letting app-store services easily repackage Android Package (APK) files to make the apps MeeGo compatible, claims Myriad.
MeeGo Tablet UX demo'd on YouTube


Source: Intel
(Click to play)
Promotional video on MeeGo Tablet UX on YouTube


Source: Intel
(Click to play)
Michelle Maisto is a writer for our sister publication
eWEEK.
---
This article was originally published on LinuxDevices.com and has been donated to the open source community by QuinStreet Inc. Please visit LinuxToday.com for up-to-date news and articles about Linux and open source.