Jan 26, 2011 — by LinuxDevices Staff — from the LinuxDevices Archive — views
Toshiba announced three new 1.8-inch hard disk drives intended to save space in embedded applications. Featuring special connectors and a footprint that's ten percent smaller than before, the three MK2x39GSL drives are available in capacities of 160GB, 200GB, and 220GB, according to the company.
All three drives, introduced on Jan. 24, feature low-insertion-force (LIF) SATA connectors instead of micro-SATA connectors, Toshiba said. These connectors reduce the footprint required by the drives by about ten percent, which is critical when the drives are designed for use in consumer electronics such as camcorders and portable media devices, according to Scott Wright, a Toshiba product manager.
The drives have a single platter that rotates at 4,200 rpm and have a seek time of 15ms, according to the published specifications (listed later in this story). Toshiba also increased the buffer size to 16MB from the more common 8MB.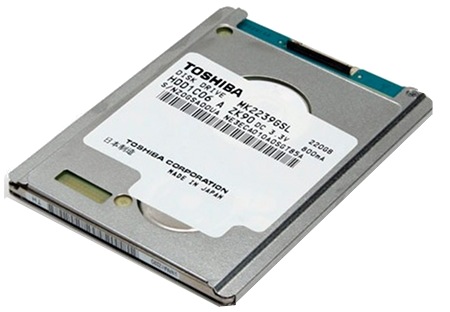 Toshiba's MK2239GSL
The LIF SATA connectors also help send data to the host faster than micro-SATA, boosting the drive's performance, Wright said. While actual data transfer rates or areal density were not disclosed, Wright said these drives delivered largest capacity and performance in a 1.8-inch form factor.
The increased buffer sizes expand the possibilities of what manufacturers can do with their devices, such as letting a device stream high-definition video, Wright said.
"If your device is faster than your system, then you are just introducing latency," Wright said. The drives were designed to reduce, or avoid, that type of circumstance, he said.
These MK2239GSL, MK2039GSL and MK1639GSL drives are different from the kind of drives typically used in a notebook, Wright said. Laptop drives have hot-pluggable connectors, letting users replace or upgrade drives. The latest Toshiba drives are designed to be embedded, so they aren't "field serviceable, but factory serviced," Wright said.
Wright added that the drives can even be used for tablets, which require high capacity and rugged drives, Wright said. "You don't really think about swapping out drives on a tablet," he added.
While Wright did not say so outright, the inclusion of tablets in the list of possible embedded applications for these drives was significant, as the company showed off a Toshiba Android tablet at the 2011 Consumer Electronics Show in Las Vegas in early January.
LIF SATA connectors, by their nature, have low power requirements, said Wright. The 1.8-inch drives consume only 0.35 Watts of power at low idle, he said. The MK2239GSL 220GB drive uses 30 percent less power than previous models, Toshiba said.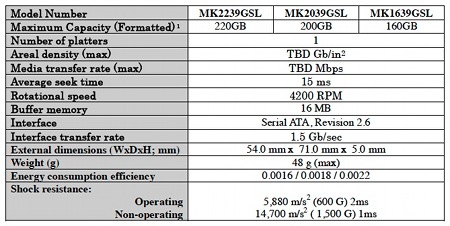 Specifications for Toshiba's MK2239GSL, MK2039GSL, and MK1639GSL
(Click to enlarge)
For manufacturers, Toshiba thinks it's important to provide a "migration path" that maintains the previous form factor they picked, while increasing capacity and performance, Wright said. They built their devices based on the 1.8-inch size and should not be forced to use smaller drive sizes that require them to redesign their devices, he said.
Even though solid-state drives may be the future, until capacities go up and prices fall, demand for hard disk drives will remain strong in consumer electronics. The higher-end devices tend to have higher storage and performance requirements, so these drives enable vendors to expand their products, Wright said.
Toshiba shipped more than 92 percent of all 1.8-inch drives on a global basis in the third quarter of 2010, according to IDC. "The proliferation of devices targeted at media-savvy and media-hungry consumers and businesses have been a major factor in the continued demand for higher-capacity mobile hard disk drives," said IDC Research Director John Rydning, research director of IDC.
Availability
The MKxx39GSL drives will be available for sampling in February with volume shipping by the end of the quarter, said Wright. Pricing was not disclosed.
Fahmida Y. Rashid is a writer for eWEEK.
---
This article was originally published on LinuxDevices.com and has been donated to the open source community by QuinStreet Inc. Please visit LinuxToday.com for up-to-date news and articles about Linux and open source.