May 25, 2010 — by Eric Brown — from the LinuxDevices Archive — 3 views
Digital photo frame (DPF) maker Pandigital announced an Android-based tablet that offers integrated access to Barnes & Noble's eBookstore. The $200 Pandigital Novel 7-inch Color Multimedia eReader is equipped with an ARM11 processor, 1GB RAM, a 7-inch, 800 x 600 touchscreen, as well as 802.11n and SD expansion.
The Pandigital Novel appears to be the first third-party device offering integrated functions that support Barnes & Noble's eBookstore. Earlier this year, the company introduced its own Android-based Nook e-reader with eBookstore integration, and despite some rough edges, this appears to have become a hot seller.

Pandigital Novel 7-inch Color Multimedia eReader
(Click to enlarge)
Like the Apple iPad, WeTab's
WeTab
(formerly WePad) in Europe, and other
recent Android tablets
that tout e-reading capabilities, Pandigital has decided to forego the monochrome E Ink VixPlex display technology typical of e-reading devices.

The Novel offers a single color screen, while the Nook (right) sports a dual-screen design with a 6-inch E Ink gray-scale display dedicated to e-reader functions, and a 3.5-inch color touchscreen run by Android. Another difference is that the Nook's Android display is pretty much dedicated to accessing B&N's eBookstore — there is no open web browser, and there are few of the many features available on Android phones and tablets.
While the Pandigital Novel screens published here features an eBookstore-focused interface somewhat similar to that of the Nook, with personalized bookshelves of book-cover thumbnails, the Novel also appears to offer a full range of Android features. In fact, the Novel supplies features including web browsing, email, DPF functions, and media players, letting consumers "enjoy their favorite music, photos, and video wherever they go," says Pandigital.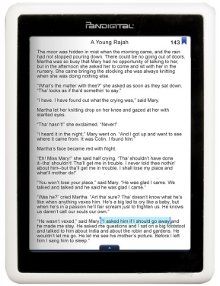 A Novel interface: bookcover thumbnails (left) and e-reading mode with highlighting (right)
(Click on either to enlarge)
The Novel is equipped with an unnamed ARM11 processor, which is likely one of the Freescale processors, such as the i.MX31 system-on-chip found in many
e-reader designs
. The device also supplies 1GB of memory, as well as an an SD/MMC card slot for up to 32GB of storage, says Pandigital.
The 7-inch, 800 x 600 pixel color touchscreen is configured as an edge-to-edge glass screen, says the company. The display is said to be enhanced with night-read mode, a virtual keyboard, and accelerometers for automatic portrait/landscape adjustments.
The 5.5 x 7.5 x 0.5-inch device is said to weigh 16 ounces, says Pandigital. Equipped with 802.11n wireless networking, the Novel offers a mini-USB 2.0 port for transferring files with Windows and Mac desktops. There is also said to be a 2.5mm headphone jack, as well as volume and power buttons.
Nook's LendMe feature available on Novel
As with the Nook, the main e-reader interface is designed to help users browse, sample, buy, and download digital content from the Barnes & Noble's eBookstore, "as well as from their personal Barnes & Noble digital library," says Pandigital.
Novel users will have access to more than one million ebooks, newspapers, and magazines, including a "wide variety" of free ebooks and more than half a million free classics, says the company. Support for PDF and ePUB formats allows users to stray from B&N to read from other sources.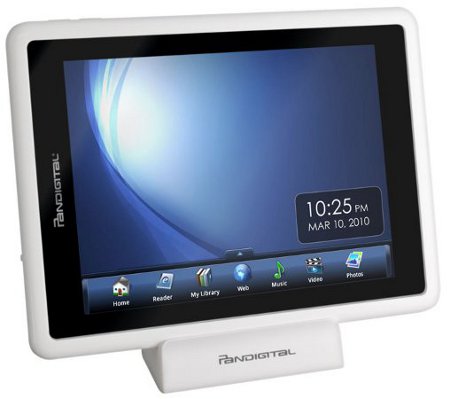 Novel on viewing stand
(Click to enlarge)
Like the Nook, the Novel offers Barnes & Noble's LendMe technology, which allows users to share "many" ebooks with others for 14 days, says Pandigital. Other e-reader focused features are said to include a dictionary, word searches, and notes.
Users can also highlight text, create bookmarks, and change the font size, says the company. Additional Android features are said to include an appointment calendar and alarm clock.
Specs listed for the Pandigital Novel 7-inch Color Multimedia eReader include:
Memory — 1GB
Memory expansion — 2-in-1 card reader (SD/SDHC, MMC/MMC+) for up to 32GB
Display — 7-inch, 800 x 600 digital TFT LCD color touchscreen
Networking — 802.11b/g/n
USB — 1 x mini-USB 2.0
Other features:

1 x 2.5mm stereo headphone jack
Accelerometers
Volume up/down
Power on/off
Viewing stand

Supported formats:

Ebooks — ePUB, PDF
Audio — MP3, AAC, WAV
Video — MPEG4
Images — JPEG, BMP, PNG, GIF

Menu languages — English, French, Spanish
Battery — Rechargeable Li-ion for up to 6 hours in reading mode
Dimensions — 5.5 x 7.5 x 0.5 inches
Weight — 1 lbs
Operating system — Android
Dublin, Calif.-based Pandigital claims to be the U.S. leader in digital photo frames. The company says it sells Pandigital and PanTouch-branded DPFs, as well as PhotoLink scanners, through more than 33,000 retail storefronts in Europe and the Americas.
Stated Dean Finnegan, CEO and founder, Pandigital, "By focusing on delivering superior content from Barnes & Noble, an easy-to-use design and an excellent customer experience, Pandigital is delivering a value proposition not currently available in the eReader category."
Stated Chris Peifer, VP of Business Development, Barnes & Noble.com. "Pandigital Novel users can easily access their existing Barnes & Noble digital content and enjoy sharing a wide variety of eBooks with friends through innovative LendMe technology — whether or not those friends have a dedicated eBook reader."
Availability
The Pandigital Novel 7-inch Color Multimedia eReader (model number PRD07T10WWH7) will be available from several national U.S. retailers beginning in June at a suggested retail price of $200, says the company. More information may be found here.
---
This article was originally published on LinuxDevices.com and has been donated to the open source community by QuinStreet Inc. Please visit LinuxToday.com for up-to-date news and articles about Linux and open source.