May 6, 2010 — by Eric Brown — from the LinuxDevices Archive — 2 views
Adobe has demonstrated a prototype Nvidia Tegra 2-based Android tablet from Google running Adobe's Flash, say industry reports. Meanwhile, Samsung is preparing an "S-Pad" Android tablet, and Bill Gates tips new Microsoft tablet projects, say other reports.
Last month, The New York Times reported that Google was working on a tablet computer based on Android instead of the expected Chrome OS. Now ZedoMax is reporting that Adobe showed a prototype of an Android tablet from Google at Web 2.0 in San Francisco this week, noting that "it runs Adobe's Flash and Air apps flawlessly."
The story offered few tech details, but said that the device was showing Wired's "Google Tablet app," based on Adobe's AIR technology, an implementation of Flash technology that does not require a browser.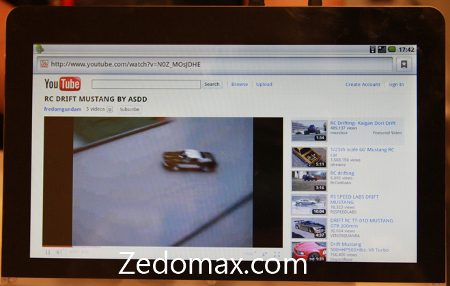 Google's Android tablet prototype running Adobe Flash and Air 2
(Source: ZedoMax)
This morning,
eWEEK
's Clint Boulton reported that Adobe has confimed to the publication that the prototype ran Android, Flash, and Air 2 on an Nvidia
Tegra 2
reference tablet. The Tegra 2 has been the processor of choice among recently announced
Android tablets
. The Adobe spokesperson did not reveal which version of Android it was, although it is likely the upcoming Android 2.2.
ZedoMax also shot some videos of the demo and published several photos of the device, one of which is seen above. The videos appear to show that, contrary to the claims of Apple CEO Steve Jobs, Adobe Flash apps such as YouTube run just fine on tablets — for the most part anyway. Halfway through one (shown below), the YouTube session running on the tablet crashes, and a slight "Ooops" is heard.
Apple's refusal to add Flash to the iPad has caused a considerable rift between Apple and Adobe in recent weeks, with some suggesting that the battle could play out nicely for Google. Android creator and overseer Andy Rubin has recently told the press that the full Adobe Flash 1-.1 will be available on Android 2.2 ("Froyo") , which Google is expected to unveil on May 19.
ZedoMax

video on YouTube showing Flash on Android tablet prototype
(Click to play)

Samsung S-Pad observed
As word arrived this week that Apple's iPad has already surpassed sales of one million units, more and more vendors are swarming to the tablet format. According to Korea-based Etnews, Samsung is planning an Android-based "S-Pad" tablet with a 7-inch Super AMOLED display, WiFi, a USB dock, and 3G connectivity, says the story. Aimed at a Korean audience, the device will be sold by SK Telecom as early as August, with content supplied by Kyobo Books and the Samsung Apps application store, the report adds.
What's up with Windows tablets?
Microsoft's Windows has long dominated the tablet PC market, although over the years Linux has been offered on a fair share of tablets as well. Most have been vertical or corporate-focused tablets, with a focus on stylus-based input, rather than the touch-based consumer variety that have become all the rage with the Apple iPad.
This week, Bill Gates told Fox Business Network that Microsoft is at work on a number of different tablet projects, reports Nicholas Kolakowski in our sister publication, eWEEK. Yet, according to Gates, the focus is still primarily vertical, this time with stylus-based tablets aimed at students.
Microsoft's plans for the consumer tablet market are more uncertain. Lately, signs have emerged that it might not be able to translate its corporate tablet success to consumer realm. For example, Microsoft recently confirmed that it had canceled its long-rumored "Courier" dual-screen tablet project, according to the eWEEK story. Meanwhile, in more bad news for Microsoft on the tablet front, Intel is initially skipping Windows support on its new tablet-focused, energy-efficient Z6xx version of its Atom processor, codenamed "Moorestown."
TechCrunch published a rumor that HP has cancelled its plans for a Windows 7-powered tablet PC, now that it has agreed to acquire Palm and its WebOS. That latter rumor has come into question, however, as more and more sources suggest that HP's move is more likely a delay, not a cancellation.
According to Jonathan Angel, writing an opinion piece for our sister publication, WindowsForDevices, HP may be switching its Slate from Windows 7 to the slimmed down Windows Embedded Standard 7 instead. Responding to a Mary Jo Foley post on ZDNet this week suggesting that Microsoft is working to port Windows NT to ARM processors, Angel suggests that customized builds of Windows Embedded Standard 7 would be a better "silver bullet" OS for tablets.
Availability
The ZedoMax report on Adobe's Flash demo on a Google Android tablet prototype may be found here, and eWEEK's follow-up story should be here.
The Engadget story on the Samsung S-Pad tablet may be found here, and the original Etnews report in Korean should be here.
eWEEK's story on Bill Gates tablet tips should be here.
---
This article was originally published on LinuxDevices.com and has been donated to the open source community by QuinStreet Inc. Please visit LinuxToday.com for up-to-date news and articles about Linux and open source.