Oct 5, 2011 — by Eric Brown — from the LinuxDevices Archive — 1 views
India's "$35" tablet has launched at a price of $61, but may be subsidized by the government to as low as $30 for students, according to one report. Developed by U.K.-based Datawind, the "Aakash UbiSlate 7" tablet runs Android 2.2 on a 366MHz Conexant processor, with 256MB RAM and 2GB flash, and features a seven-inch, 800 x 480 resistive display.
The "$35" Indian Tablet was announced first as a Linux tablet in July 2010, and was revealed to be an Android tablet several weeks later. The much-delayed release of the tablet was tipped with few details earlier this week, but NDTV reported Oct. 5 that the device has finally materialized in the form of the Aakash UbiSlate 7 tablet.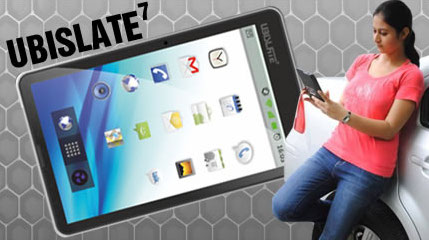 Aakash UbiSlate 7
Delayed for many months, and looking nothing like the original prototype, the Aakash UbiSlate 7 is designed primarily for Indian students from primary schools to universities. It will be sold at a discount through schools in conjunction with India's Human Resource Development agency. The tablet will be manufactured by Datawind in Hyderabad, India, according to
NDTV
.
Depending on how one measures it, the tablet project either grossly missed its $35 mark or will beat it by almost $5. According to an NDTV video clip on YouTube (see farther below) the tablet costs $38 to manufacture, and with transportation and warranty costs, that rises to $50.
The retail list price is 2,999 Rupees ($61), according to a Aakash UbiSlate 7 product page posted by U.K.-based Datawind. The NDTV web story, however, says the Indian government has promised to subsidize the price by 50 percent to students, so the student cost will be 1,500 Rupees ($30.50).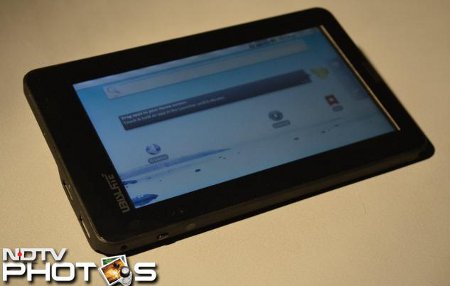 Another view of the Aakash UbiSlate 7
Source: NDTV
The tablet runs on an unnamed processor from Conexant equipped with both graphics and video acceleration, says Datawind. According to
NDTV
, it runs at a lowly 366MHz. (The
Conexant
website shows a variety of audio system on chips (SoCs), codecs, and other multimedia-oriented products, but no full-fledged, Android-ready processor.)
Datawind says the tablet plays HD video, but doesn't define what that means. NDTV claims the device plays full 1080p video, which would be rather remarkable for a 366MHz processor running on a $60 tablet, even with a video accelerator.
Equipped with a modest 256MB of RAM and 2GB of internal flash, the Aakash UbiSlate 7 also supplies a microSD slot for storage expansion, says Datawind. The NDTV video says a 2GB data card is also supplied, although Datawind makes no mention of this.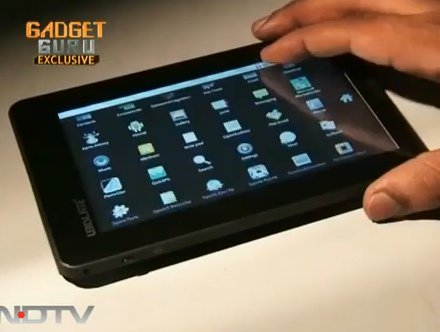 The UbiSlate 7 will offer GetJar apps, but no Android Market
Source: NDTV
The seven-inch, 800 x 480 display uses resistive technology, says Datawind.
NDTV
cites this as the tablet's biggest flaw, especially since no stylus is supplied as standard. A camera is supplied, but not enabled, according to the
NDTV
video.
The Aakash UbiSlate 7 ships with Wi-Fi and GPRS, says Datawind, adding "plug in a 3G dongle and it's a phone!" The GPRS cellular modem will actually come out later, according to NDTV.
Other features listed by Datawind include 3.5mm audio in and out jacks and a full-sized USB 2.0 port. NDTV lists two "full" USB ports, but one of these may actually be a micro-USB charging port.
The tablet's battery lasts up to 180 minutes and can be recharged on a 200-240V AC adapter, says Datawind. The battery is a 2100mAh model and will last three hours (180 minutes) under normal use, and 1.5 to two hours when watching HD video, says NDTV. The tablet is said to measure 7.5 x 4.67 x 0.62 inches (190.5 x 118.5 x 15.7mm) and weigh 12.35 ounces (350 grams).
Educational applications will be supplied on the models heading for schools, says Datawind. No Android Market access is offered, but GetJar apps are available, and Datawind will also provide its own app store, says NDTV.
According to the Register, a version of the UbiSlate 7 will be heading soon to the U.K. for 99 Pounds ($153), but will be 2mm thinner, offer a capacitive multitouch screen, and "come with bundled connectivity."
Datawind lists Internet connectivity prices in India at 98 Rupees ($2) per month for up to 2GB. In 2009, the company launched a Linux-based UbiSurfer netbook, plus PocketSurfer3 and PocketSurfer3 Lite handhelds.
Meanwhile, a new I-Slate tablet that will be sold to Indian primary schools is also aiming for a $50 pricetag. The seven-inch tablet currently runs Android, but may need to switch to "another OS" to support the final version's novel, low-power processor and solar-power input when it ships sometime next year, says the "ISAID" organization developing the tablet.
OLPC is still struggling to get its XO laptop to live up its "$100 laptop" billing, even with partial subsidization. The nonprofit group hopes to hit or beat that mark with an XO3 tablet that will cut costs by losing the keyboard. Like the current XO 1.5 netbook model, it will be sold at with the help of subsidies to school systems in developing countries.
NDTV

report on the the Aakash UbiSlate 7 on YouTube
(Click to play)
Availability
According to Datawind, the Aakash UbiSlate 7 is now available for purchase by the public for 2,999 Rupees, or about $61. Government subsidies to students may bring that down to $35 or $30. More information may be found at the Datawind Aakash UbiSlate 7.
---
This article was originally published on LinuxDevices.com and has been donated to the open source community by QuinStreet Inc. Please visit LinuxToday.com for up-to-date news and articles about Linux and open source.