Oct 19, 2011 — by LinuxDevices Staff — from the LinuxDevices Archive — views
ARM announced a 28-nanometer MPCore processor claimed to offer five times the energy efficiency, one fifth the size, and 50 percent better performance than the Cortex-A8. The Cortex-A7 supports designs up to four cores, offers all the features of the high-end Cortex-A15, and will be deployed with the A15 in a "big.Little" SoC design that interconnects the two at 20 microsecond speeds.
ARM Holdings, whose low-power chip designs dominate the booming smartphone and tablet markets, is unveiling its most energy-efficient chip yet. ARM also announced a new "big.Little" processing model for its future system-on-a-chip (SoC) designs that incorporates the processor.
ARM announced the Cortex-A7 MPCore chip during an Oct. 19 event in San Francisco, calling it the most energy-efficient application-class chip the company has ever developed. Codenamed "Kingfisher," the Cortex-A7 is said to be five times as energy-efficient as the current Cortex-A8 (which was announced back in 2005 and is widely used in mainstream smartphones and other embedded devices). Not only that, the A7 is one fifth of the A8's size, ARM officials added.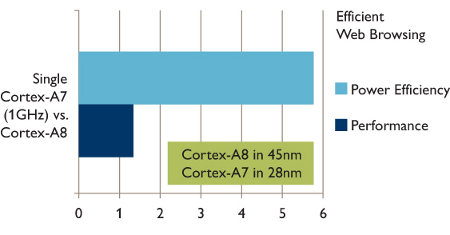 Cortex-A7 speed and power comparison with Cortex-A8
At the same time, a single-core, 28-nanometer fabricated Cortex-A7 offers up to 50 percent better performance than the 45nm-fabricated Cortex-A8, bringing a better overall user experience to low-end, entry-level smartphones, claims ARM.
The 28-nanometer chip will first appear in 2013, in a single-core version for sub-$100 smartphones, and will offer the same level of performance found in current $500 high-end devices, according to officials. While the clock rate is not listed, compared to a 1GHz Cortex-A8 processor such as the Texas Instruments OMAP3 the Cortex-A7 would likely clock in at about 1.5GHz.
Unlike the Cortex-A8, but like the faster Cortex-A9 and the upcoming, 2.5GHz Cortex-A15, the Cortex-A7 is an MPCore processor, enabling multicore operation. Up to four cores are said to be possible with the Cortex-A7.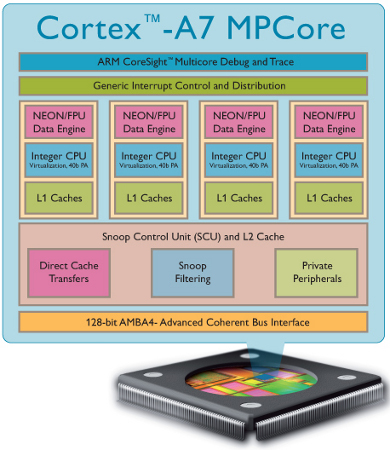 Cortex-A7, simplified architecture
The Cortex-A7 is fully compatible with other Cortex-A series processors and incorporates "all of the features of the Cortex-A15 processor," according to ARM. These are said to include virtualization, large Physical Address Extensions (LPAE), NEON, advanced SIMD, and AMBA 4 ACE coherency.
The processor also supports the Snoop Control Unit for managing interconnects among multiple processors in a multicore design. (A full list of carried-over A15 features is available via the link at the end of this story, and many are explained in our previous Cortex-A15 coverage.)
The Cortex-A7 will provide 32KB instruction and 32KB data Level 12 caches, and supports up to 4MB of Level 2 cache. At this point, however, ARM did not detail the 3D graphics engines or video acceleration hardware that might be added to the core by its licensees.
The Cortex-A7 announcement comes a day after ARM and manufacturing partner Taiwan Semiconductor Manufacturing Co. (TSMC) taped out the 20-nanometer multicore version of the Cortex-A15 design, which ARM announced a year ago. While the Cortex A7 and multicore Cortex-A9 are set to handle entry-level and mainstream smartphone and tablet designs, respectively, the Cortex-A15 will address high-end smartphones and tablets, and also move up the ladder into PCs and low-power servers in the data center.
big.Little uses Cortex-A7 as A15's Mini-Me
The Cortex-A7 and Cortex-A15 also will be the key players in a newly announced big.Little architecture for higher-end devices. According to ARM officials, the big.Little design is a way of addressing users' seemingly conflicting demands for greater performance and longer battery life with lower power consumption.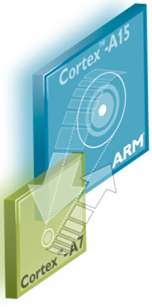 The idea behind the architecture is to have both a Cortex-A7 and a Cortex-A15 reside on the same SoC, as suggested by the ARM illustration at right. The lower-power Cortex-A7 would be used for basic tasks like social media, audio playback, telephony, and running an operating system.
The Cortex-A15 would be used for the more compute intense workloads, such as navigation and gaming. Power management software would select the right processor for the right jobs in a fashion that would be transparent to the user, enabling up to a 70 percent extension in battery life, claims ARM.
ARM officials said switching from one chip to another in the big.Little design will take 20 microseconds, assisted by ARM's AMBA 4 ACE Coherency Extensions. AMBA 4 ACE is said to enable the switching of workloads between two processors, while ensuring full cache, I/O, and chip-to-chip coherency between the processors and across the system.
Also participating in the interplay between the two processors are ARM's CoreLink Cache Coherent Interconnect for networking, as well as its Vectored Interrupt Controllers, which aim to reduce interrupt latency. The combination of these technologies results in highly optimized processing for each workload and increased energy savings, claims ARM.
ARM doesn't make processors, but instead designs basic cores and then licenses those designs to chip-makers, which integrate them with other components into SoC designs. ARM Partners initially proclaiming their support for the Cortex-A7 and big.Little designs include Broadcom, Compal, Freescale, HiSilicon, LG Electronics, Linaro, OK Labs, QNX, Redbend, Samsung, Sprint, ST-Ericsson, and Texas Instruments. (Nvidia, currently a Cortex-A9 SoC licensee, was a notable no-show, however.)
Freescale announced Oct. 19 that it has licensed the Cortex-A7 chip design and had previously licensed the Cortex-A15. The designs will be used for Freescale's i.MX applications processors for such industries as embedded, automotive infotainment, and smart mobile devices.
Stated Bernd Lienhard, vice president and general manager of Freescale's Multimedia Applications Division, "ARM Cortex-A7 technology, coupled with big.Little processing and Freescale's multicore expertise, will enable us to innovate and deliver exciting new products to our customers."
Availability
ARM announced no sampling schedule for the Cortex-A7 MPCore processor and big.Little SoC designs, although logically the Cortex-A7 would need to come first. ARM did say the Cortex-A7 would begin to appear in sub-$100 smartphones by 2013.
More information on the Cortex-A7 may be found on ARM's Cortex-A7 page, and more on big.Little may be found on its big.Little page.
Jeffrey Burt is a writer for eWEEK. Eric Brown also contributed to this report.
---
This article was originally published on LinuxDevices.com and has been donated to the open source community by QuinStreet Inc. Please visit LinuxToday.com for up-to-date news and articles about Linux and open source.