Oct 12, 2010 — by Eric Brown — from the LinuxDevices Archive — 53 views
Acer announced a dual-boot Windows 7/Android netbook, featuring Intel's dual-core Atom D550 or single-core Atom N450 processors. The Acer Aspire One Happy offers a 10.1-inch, WSVGA display, up to 2GB of memory, a 250GB hard disk drive (HDD), plus 802.11b/g/n, Bluetooth, Ethernet, three USB ports, and eight hours of battery life, says the company.
In Acer's Aspire One Happy press release, the vendor lists major features, but no availability information. However, Notebook Italia, which says the netbook will ship in Italy in November for 349 Euros (about $483), did post extensive specs and photos that appear to come straight from the manufacturer.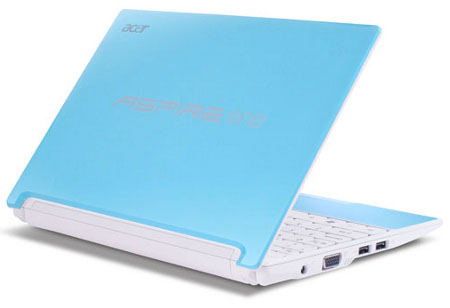 Acer Aspire One Happy with "Blue Hawaii" coloring
Acer's Aspire One Happy is yet another variation on a line of 10.1-inch, dual-boot Aspire One Windows/Android netbooks that first appeared last fall. (See later in this story for background.)
It appears that once again, Acer's "InstantOn" version of Android plays second fiddle to Windows as a fast-boot alternative OS. In this way, it acts much like Linux quick-boot products such as MontaVista's MontaBello (Dell's Latitude ON), Phoenix Technologies' HyperSpace, and Xandros' Presto.
In its release promoting the machines, Acer claims, "When you need top productivity just switch the OS to take advantage of Windows functionalities with no need to reboot." We're hard-put to see how changing operating systems without a reboot is really possible, unless memory images are being swapped to disk or the devices are equipped with a hypervisor. (Unlikely, given the apparent target market.)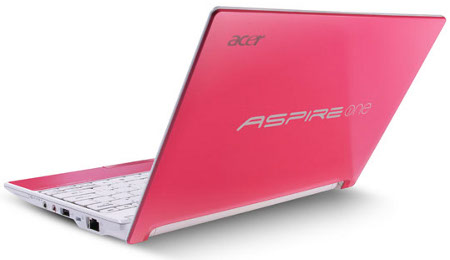 The Happy wearing Candy Pink
The Aspire One Happy runs Windows 7 and Android on either a 1.6GHz Atom N450 or yet another Atom flavor, the dual-core, 1.5GHz
N550
. Announced in August, the N550 features 1MB of second-level cache, and an 8.5 Watt TDP, higher than the 5.5 Watts of the N450, but lower than the 13 Watt TDP of the previous, dual-core "Pineview" cousin to the N450, the 1.66GHz D510. Like other Intel Atom processors released in recent months, it also supports DDR3 memory.
According to Notebook Italia's spec sheet, meanwhile, Happy customers can also choose N455 or N475 flavors of the Atom.
The Happy pairs one's Atom of choice with an Intel NM10 controller and 1GB to 2GB of system memory, says Acer. A multi-in-one card reader is supplied, as is a 160GB or 250GB HDD, says the company.
In Acer's press release, the Happy is touted less for its specs than for its choice of Candy Pink, Lavender Purple, Lime Green, or Hawaii Blue colors. As the Acer press release puts it it, these colors are "sweet as a candy, scented as a field of lavender, brisk as lime juice, or fresh as the ocean."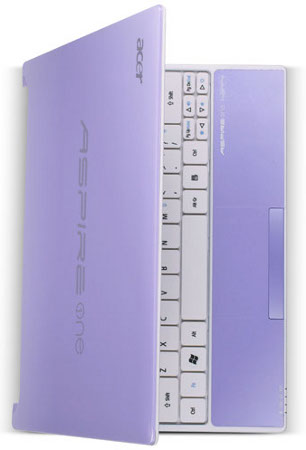 The Happy in Lavender Purple
The 10.17 x 7.28 x 0.95-inch (285.5 x 185 x 24mm) netbook weighs 2.76 pounds (1.2 kg) with a six-cell battery, according to the Acer specs shown on
Notebook Italia.
The 10.1 inch (28cm) WSVGA (1024 x 600) display is said to offer a 16:9 aspect ratio, 200-nit brightness, and an LED backlight. A keyboard and multi-gesture touchpad are supplied, along with an Acer Crystal Eye VGA webcam, says Acer.
The Aspire One happy provides 802.11b/g/n Wi-Fi, Bluetooth 3.0 or 2.0 EDR, and an optional 3G connection, according to the Acer spec list. The netbook is said to offer 10/100 Ethernet, as well as three USB 2.0 ports, a headphone jack, and a microphone jack.
The six-cell 4400mAh battery supports up to eight hours of usage per charge, says Acer. A three-cell battery is also available, offering half the battery life. The netbook also ships with an Acer MiniGo adapter, offering interchangeable AC converters, says the company.
It is unclear whether Android, which is not yet optimized for high-resolution displays, runs full-screen or in a window. In any case, there does not appear to be general Android app compatibility or Android Market access, and neither screen resolution nor the lack of touchscreen support are likely to be issues.
Background
In August, Acer was said to have unveiled an Acer Aspire One D255 netbook that offered a dual-boot Android/Windows XP install on an Atom N450 processor at a Taiwan computer show.

The Aspire One D255 was a follow-on to the dual-boot, Atom-powered Acer Aspire One D250-1613 (right) announced last October, itself an update to the earlier, Windows-only AOD250.
In July, Acer said it would release an Acer Aspire One D260, featuring both Android and Windows 7. The D260 was said to offer an Intel Atom N455 along with DDR3 memory. But, the AOD260 subsequently appeared, in the U.S. at least, with only Windows 7. Processor choices on the model, meanwhile, actually turned out to be either the N450 or the 1.83GHz N475, according to the company's website).
Availability
According to Notebook Italia, the Acer Aspire One Happy will ship in Italy in November for 349 Euros (about $483). It may well be appearing elsewhere, as well, but Acer did not publicly provide availability information.
A translated version of the Notebook Italia story may be found here.
The Happy may well soon appear on Acer's netbook site, here, which lists an Aspire One Happy link that was not working at the time of writing.
---
This article was originally published on LinuxDevices.com and has been donated to the open source community by QuinStreet Inc. Please visit LinuxToday.com for up-to-date news and articles about Linux and open source.