Apr 20, 2011 — by LinuxDevices Staff — from the LinuxDevices Archive — 7 views
Acer's forthcoming Aspire One 722 netbook will include a dual-core AMD C-50 "accelerated processing unit," with discrete graphics, an "HD" screen with 1366 x 768 pixel resolution, and more than seven hours' battery life. Meanwhile, AMD will upgrade its "Fusion" processor range with the C-60, adding 1.33GHz Turbo Core functionality and Radeon HD 6290 graphics, the Macles website further reports.
Acer has not announced the Aspire One 722 itself, but high resolution press photographs appeared Apr. 18 on the Macles blog, whose coverage focuses predominantly on this vendor's products. As we'll discuss later in this story, Macles also offered what appears to have been a scoop on Apr. 17, detailing AMD's upcoming C-60 APU (accelerated processing unit).
In January, AMD announced its first "Fusion" APUs — which incorporate x86 CPUs and HD video-ready graphics processing units (GPUs) on a single die — in January with single- or dual- Bobcat cores on board. The 2011 low power platform," formerly codenamed "Brazos," combines an E-Series (formerly "Zacate") or C-Series (formerly "Ontario") processor with the A50M "Hudson" controller hub, a southbridge based on the previously released SB800.
Both the C-Series and E-Series have shown up in a plethora of portable computers, including HP's Pavilion dm1z which we favorably reviewed, noting laudable battery life, decent performance, and even the ability to run Ubuntu Linux and Windows XP Professional in virtual machines. (See Pavilion story for links to other Fusion-based devices.)
Most of the above vendors employed the dual-core E-350, which is clocked at 1.6GHz and has an 18-Watt TDP. Acer, however, adopted the C-50, a dual-core version that runs at 1.0GHz and uses only 9 Watts, for the 10.1-inch Aspire One 522 netbook it launched in January.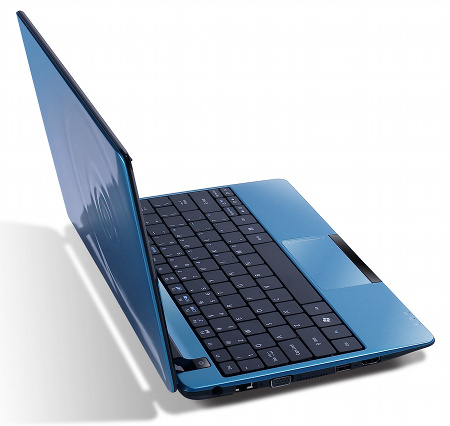 Acer's Aspire One 722 has an 11.6-inch screen and "water droplet" case
(Click to enlarge)
According to Macles, Acer is using the C-50 again for a larger model known as the Aspire One 722 (above). It's said this device will have an 11.6-inch screen with a resolution of 1366 x 768 pixels, along with a stylized "water droplet" case design.
No specifications about the device's RAM complement or hard drive size have been offered, but it's clear from the photos that the Aspire One 722 will match the smaller 522 in having three USB ports, an Ethernet port, a VGA output, and an HDMI port. Macles' anonymous author adds that the larger portable will provide seven hours of battery life instead of the six Acer touted for the 522.
More Fusion APUs
AMD has been doing well with its Fusion APUs. As a result, the chipmaker quickly built on its initial success by releasing G-Series variants — the 1.6GHz T56N, 1.4GHz T48N, 1.0GHz T40N, 1.5GHz T52R, and 1.2GHz T44R — for embedded devices, touting TDPs of either 9 Watts or 18 Watts.
At last month's Embedded World conference in Germany, the chipmaker hereannounced "headless" versions that omit the other Fusion chips' ATI-derived GPUs. These were initially un-named, but AMD has since detailed them [PDF link] as follows:
the T48L, with dual cores, 1.4GHz clock speed, and an 18-Watt TDP
the T30L, with a single core, 1.4GHz clock speed, and 18-Watt TDP
the T24L, with a single core, 800MHz clock speed, and 5-Watt TDP
Now, according to Macles, AMD is planning to add a new device to the "Ontario" range in the form of the C-60. This has the same two cores, 1.0GHz clock speed, and 9-Watt TDP as the C-50 but can switch up to a 1.33GHz Turbo Core frequency, the website claims. It's said that unlike Intel's similar TurboBoost technology, Turbo Core can also kick up the C-60's Radeon HD6250 graphics from its 276MHz base to 400MHz.
We first heard about Turbo Core in the context of a March report by Xbitlabs writer Anton Shilov, who said the feature would also be added to two new entries in AMD's E-Series: the 1.3GHz E-300 and the 1.6GHz E-450. At the time, Shilov said these higher-end Brazos variants would go on sale during the third quarter, which suggests a similar time frame for the newly revealed C-60.
We've combined information provided by Xbitlabs and by Macles to create the table below, summarizing what we now know about AMD's E-Series and C-Series APUs.
| | | | | | | |
| --- | --- | --- | --- | --- | --- | --- |
| Model | CPU Cores | Basic Clock speed | Turbo Core CPU speed | Radeon brand | GPU clock speed (normal/Turbo Core) | TDP |
| E450 | 2 | 1.65GHz | ?? | HD 6320 | 508/600MHz | 18W |
| E-350 | 2 | 1.6GHz | — | HD 6310 | 492MHz | 18W |
| E-300 | 2 | 1.3GHz | ?? | HD 6310 | ?? | 18W |
| E-240 | 1 | 1.5GHz | — | HD 6310 | 500MHz | 18W |
| C-60 | 2 | 1.0GHz | 1.33GHz | HD 6290 | 276/400MHz | 9W |
| C-50 | 2 | 1.0GHz | — | HD 6310 | 280MHz | 9W |
| C-30 | 1 | 1.2GHz | — | HD 6250 | 280MHz | 9W |
AMD's E-Series and C-Series APUs
(unofficial information from Xbitlabs or Macles highlighted in red)
Jonathan Angel can be followed at www.twitter.com/gadgetsense.
---
This article was originally published on LinuxDevices.com and has been donated to the open source community by QuinStreet Inc. Please visit LinuxToday.com for up-to-date news and articles about Linux and open source.